Blue Collar Comedy, Gilkyson and the Roller Girls



by Chris Aaland
I was turned on to stand-up comedy in 1983 by Eddie Murphy's "Delirious," which seemed to air weekly on HBO. I was 15 at the time and thought that anyone who dropped the F-bomb 270 times in a 70-minute special was my kind of guy. It's still difficult for me to get through a conversation without using the F-word interchangeably as a noun, verb, adjective and adverb. Some people are bilingual. Big deal. I can curse in English, Spanish, French, Italian, German, Navajo and sign language.
Through the years, countless other comedians have augmented this skill. Certainly Sam Kinison, Andrew "Dice" Clay, Chris Rock, Louis C.K., Bill Maher and Wanda Sykes have taught me new ways to swear with gusto in crass, classy, political and poetic fashions. But Southerners tell jokes like no others.
Redneck comedy comes to the Sky Ute Casino Resort in Ignacio at 7 and 9 p.m. tonight (Thursday) in the form of Ron White. Best known as part of the Blue Collar Comedy Tour that featured Jeff Foxworthy, Larry the Cable Guy and Bill Engvall, White epitomizes the drunken good ol' boy. He's a bit of a bad role model for 40-year-olds who refuse to grow up. While Foxworthy makes fun of Southern life and the Cable Guy dresses the part, "Tater Salad," as White is known, lives it. His routine largely deals with life's excesses while he puffs a cigar and swills scotch onstage. White earned his dues by spending nearly two decades as a struggling comedian driving from one gig to the next in a beat-up Nissan pickup. Then, from 2000 to 2003, the Blue Collar gang netted $15 million and became household names. Expect plenty of new material, too: a tip led to White's drug bust for possession of a small amount of marijuana when his private plane landed in Vero Beach, Fla., last year. Yee-haw!
One of my favorite songwriters comes to town tonight as Eliza Gilkyson performs a fund-raiser for Great Old Broads for Wilderness at 6:30 p.m. in the Smiley Auditorium. She tackles everything from the Bush Administration's failed foreign policy ("Man of God" and "Hiway 9") to sacrifices made to the music biz ("Beauty Way") to just plain, old-fashioned folk-blues melodies ("Richmond Boy"). Eliza comes from good stock: her father, Terry Gilkyson, was a folkie of the first order in the '50s and '60s, penning such classics as "Bear Necessities" and "Memories Are Made of This." Her brother, Tony Gilkyson, was a longtime lead guitarist for X and Lone Justice. Nina Gerber, one of the truly innovative guitarists in Americana music – and someone who has lent her talents to the likes of Dave Alvin and Mollie O'Brien – will accompany Eliza. Local bluegrass act Wild Mountain closes the show.
Throughout the history of bluegrass, family bands have influenced that genre's vocal harmonies and instrumental tightness. One of the best family bands in recent years, Cherryholmes, plays the Community Concert Hall at 7 p.m. Friday. Led by dad Jere (bass) and mom Sandy (mandolin), the sextet also features their four children, Cia (one of the best young banjo players around), Molly (fiddle), B.J. (fiddle) and Skip (guitar). With three albums to their credit, they're regulars at the Grand Ole Opry, have received multiple Grammy nomi
Got guitar? Juan Carmona certainly does and he'll be playing it at San Juan College's Henderson Fine Arts Center in Farmington at 7 p.m. Saturday. As one of the world's top flamenco guitarists, the French-born Gypsy spent nearly a decade studying the nylon-stringed music in Andalusia, Spain. His recording career includes forays into Moroccan music and "Sinfonia Flamenca," recorded with the Belgian Symphony Orchestra.
The Deedles, a rock band with a bluegrass heart, play the Summit on Friday. Led by the husband-and-wife songwriting team of Garrett and Jamie Briggeman from the nationally-touring bluegrass band, the DeWayn Brothers, the Deedles turn up the distortion and play rock music like we grew up with.
The Summit also welcomes Durango's RedEyedDjinn, a Dead-influenced jam outfit, on Saturday.
Does it get any better than free pizza, dollar beers and girls on roller skates? The Starlight hosts a fund-raiser for the Durango Roller Girls starting at 6 p.m. Saturday featuring all of the above plus music by DJ P of the Henchman Car Club. The Starlight's schedule this week also includes live jazz with the Bob Hemenger Trio from 6-9 p.m. Friday, the Daydreamers at 9 p.m. Tuesday and Jonezy's Club Meds at 9 p.m. Wednesday.
The Kirk James Blues Band plays three sets at the Purple Haze this weekend, starting with happy hour from 5-7 p.m. Friday. They also play from 8 'til midnight Friday and Saturday.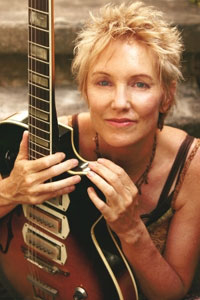 Songwriter Eliza Gilkyson performs a fund-raiser for Great Old Broads for Wilderness at 6:30 p.m. tonight (Thursday) in the Smiley Auditorium
Tonight's free show in the Vallecito Room of the FLC Student Union features the rock of Oatie Paste.
The Fort Lewis College men's soccer team is but one hurdle away from the NCAA Division II Final Four. The No. 1 Skyhawks host defending national champion Cal. St.-Dominguez Hills at 1 p.m. Sunday at Dirks Field. Although the two don't have a long history of competition, it's safe to say a rivalry was born in 2005 when FLC prevailed 3-2 en route to the national title. That game featured, among other things, a large, fully naked man in a bucket hat and boots streaking the length of the field in near-freezing November weather. It also pitted two future Major League Soccer teammates — FLC's John Cunliffe and Dominguez's Kai Kamara — against each other. Each team has appeared in three NCAA title games, with FLC claiming a championship in '05 and Dominguez in '00 and '08.
This week's Top Shelf list recognizes comedy that busts my gut:
"Curb Your Enthusiasm." Larry David is a god. The last episode of the season airs this Sunday.
"Real Time with Bill Maher." A bed-wetting liberal with teeth and claws.
"Chappelle's Show." Crackhead humor at its finest.
"South Park." In particular, the "Fantastic Easter Special" episode.
Kenny Mayne. The ESPN anchor changed sports broadcasting with his dry wit. •
He likes to turn the other cheek? Email me at
In this week's issue...
March 17, 2022

Lake Powell drops below threshold for the first time despite attempts to avoid it
March 17, 2022

Purgatory Resort set for expansion but still faces hurdles
March 10, 2022

New health care studio takes integrated approach to healing