Making music happen
Stillwater Foundation helps youths, adults discover musical sides

SideStory: Stillwater hosts fund-raiser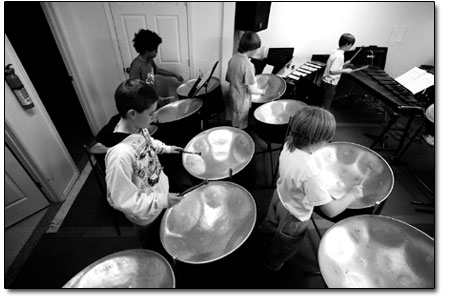 The Stillwater Foundation steel drum band practices at its Tech Center studio for the upcoming 'Make Music Hpappen' benefit performance. A nonprofit organization established in 2005, Stillwater provides year-round music programs for youth and adults in everything from jazz, rock and blues to funk and world music./Photo by Stephen Eginoire
by Jules Masterjohn
What should a one-time flutist, turned musically mute woman, do when she recognizes a growing desire to reunite her lips with a silver mouthpiece to learn some jazz riffs? After 35 years of abstinence, how would one find her way back to music? The answer to this question – a question that may be asked more often than we know – is to enroll at the Stillwater Foundation.
A nonprofit organization established in 2005, the Stillwater Foundation, filled a niche that had been missing in our area's music scene by providing year-round after-school and evening music programs for youth and adults. The foundation is novel in its concept – it offers opportunities for budding musicians of all ages to come together to study, play and perform jazz, rock, blues, funk and world music. The program even includes a steel drum ensemble.
The foundation's music director, Steve Dejka, a percussionist and music educator who founded the steel drum band at the Excel Charter School, brought his love of steel drums and all things percussive with him to Stillwater's dynamic music program. Dejka and Jesse Ogle, a professional jazz musician who recently moved here from Oregon, offer a comprehensive musical experience to their students, young and old alike.
Currently, 75 children and 20 adults ranging in age from 6 to 60, study at the Stillwater studios, located on Tech Center Drive. The Stillwater bands include a beginning and intermediate percussion group; steel drum band; beginning, intermediate, and advanced jazz combos; two rock bands; an adult blues band; and an adult Latin/funk band. Though private lessons are offered, the students gain much of their proficiency with their instruments while playing with the bands. During the band sessions, the students also study music theory and song arrangement, and learn how to operate sound equipment. A recent songwriting workshop brought the students in contact with an award-winning songwriter. According to Dejka, the students learn a lot more than technical skills. "As professional musicians, Jesse and I offer real life experiences to these kids," he said.
This immersion into the "life" of a musician is one of the most unique aspects of the Stillwater program. Dejka has taken to heart a bit of wisdom passed down to him by one of his early mentors, who said, "Never turn down a gig!" Band members' time in studio rehearsals leads to frequent gigs in the community, most recently playing at the Durango Senior Center, the Durango Coffee Fest, and Music in the Mountains. By taking the bands out into the community, the students learn both the business and the performance sides of music. Money generated from paid gigs goes back into the foundation, and the players divide up the tips. The bands also participate in the Metro State Jazz Festival in Denver and other competitive festivals that allow them to garner feedback from other professionals.
Mentorship is one of the main concepts in the advanced jazz combo, Giles X, an intergenerational group consisting of six high school students and three adult players. I caught one of their gigs this summer at Moe's Starlight Lounge. The young people's musicianship was impressive and their enthusiasm was delightful. The adult mentors appeared to be truly excited about playing as well. I enjoyed hearing some classic jazz standards along with spiced up renditions of more popular tunes. Mostly, though, it was moving to know that the opportunity exists for serious young musicians to partner up with experienced players – to learn, listen and be supported in their passion for music.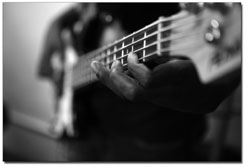 Stillwater student Ashanti Schmitt play bass guitar during a rehearsal for next week's performance at the Smiley Building./ Photos by Stephen Eginoire
Alicia Whitman is one of Stillwater's passionate young musicians. The Animas High School freshman plays tenor saxophone and flute in Giles X and was recently invited into the adult blues band. For Whitman, the Stillwater Foundation has deepened her desire to play music professionally. "Everything we do gives you a taste of what it's like to be a professional musician," she said. "You realize that it's not easy, and you have to put work into it. It's hard to get together a bunch of gear and then make it work. My perspective has changed because I am realizing how hard it can be – and that it can be totally worth it!"
Whiteman's mother, Sandra Butler, has seen her daughter grow tremendously during her two years playing with the Stillwater Foundation. "Her confidence has improved along with her playing," she offered. "Part of that has been the influence of working with the adult group. As they have mentored her, surprisingly, she has mentored them, especially the women who play in the adult Latin band."
It seems that the enthusiasm and passion of youth can be inspiring and supportive to adults as well.
Terri and Tony Gasaway are the founders of the Stillwater Foundation. Through their own experiences as parents with musically inclined children, the foundation was born. Their daughter, Frankie, a Durango High School senior, is the vocalist for Giles X. Terri is the foundation's director and is intimately involved with the programs. "I went into it with a little bit of trepidation, but to watch what these kids can do and see how their lives change is what it's all about," she said. "Parents tell me that their kids are doing better in school and getting along with their peers. It's been amazingly rewarding." For the Gasaways, it has been immensely satisfying to be able to offer scholarships to students who would otherwise be without music in their lives.
So, if you start to feel the blood coursing through your veins in a syncopated rhythm, call the Stillwater Foundation quick! Or, if you support the good work of the foundation, attend the upcoming "Make Music Happen" benefit concert. The event features music performed by students ages 6-18 and includes works in African and Latin percussion, jazz and rock. Remember Whiteman's words, too: "The most rewarding part is seeing how playing affects people. I was really touched when a complete stranger thanked me for my playing!" •