Bidding war, Genuine Cowhide and piano love


by Chris Aaland
Drinking holidays are for amateurs. They let people with zero tolerance and even fewer social skills out of their cages to parade around as morons. This year's Halloween, which fell on the night that Daylight Savings Time changed, gave revelers an extra hour to get trashed because the clock magically was set back to 1 a.m. once it hit the state-mandated closing time. Fortunately I was snug as a bug in a rug at home, as I typically avoid indulgence on Halloween, New Year's Eve, St. Patrick's Day and the Fourth of July. Call me Scrooge.
A charity auction with free booze and food, though, is another matter. I've seen Durango's double martini and white wine sect stumble around like teen-agers at their first kegger while raising thousands of dollars for worthy causes. It's top shelf entertainment.
At one such fund-raiser – the Skyhawk Sports Spectacular at the Doubletree Inn in 1997 – I watched my little buddy (the Space Cowboy, to those of you who know his nickname) go mano-a-mano during an auction with a wealthy fitness club owner who was trying to impress his barely-legal date. The more wine my pal drank, the more outrageous the bids got. By the end, several of us had him pinned him to the ground, yet he bid with his feet. Little buddy walked out of the joint with a framed Jim Kelly football jersey for $1,605 just to prove a point.
Since then, the Space Cowboy and I have attended dozens of these things: TLCs for FLC, wine tastings and auctions for the Community Concert Hall and one-off bidding wars for a host of local environmental and educational causes.
My favorite, which work has prevented me from attending recently, is the KSUT member's party and silent auction. Said event happens from 5:30-9:30 p.m. Saturday at the Ska Brewing World Headquarters. Admission is $20 per person and comes with Durangourmet food and Ska brews. Auction items include music, collectibles, trips, ski packages, artwork and more. Today is the RSVP deadline, so visit www.ksut.org or call 563-0255.
One of my favorite bands, Genuine Cowhide, plays the Abbey Theatre at 8 p.m. Friday. The Austin-based outfit does honky-tonk the way it should be: dirty and loud, with reverence for country legends like Hank, Merle and Lefty yet a keen ear to alt-country, rockabilly and classic spaghetti westerns. "Think BR-549 meets the Sons of the Pioneers in a dusty cowtown on Saturday night and buys 'em a beer after a Sergio Leone triple feature," notes MyTexasMusic.com. Dale X Allen, the singer, guitarist and musical vision behind Cowhide, knows the Four Corners well, having played here countless times as lead guitarist for Dave Insley's Careless Smokers. Jaki & the Joysticks open.
Got beard? Then shave it off and enter the 2010 Snowdown beard growing competition. Show up to Carvers clean-shaven at 8 p.m. Friday to get your picture taken. Then let your razor rust until Jan. 28. The three-month-long "beard race" awards prizes to the furriest, longest, best colored, best Hemingway and greatest beer absorption beards. This year's Snowdown theme is "Life's a Beach," so I'm expecting many of you to dress as Tom Hanks in "Castaway." Wilson volleyball not required.
St. Louis' FolknBluesGrass brings its eclectic mix of folk, blues, bluegrass (hence its name), plus jugband, reggae and rock to the Summit on Saturday and Sunday. The quartet plays the usual instruments – guitars, mandolin, doghouse bass – plus concertina and junk percussion, including a drum built from a Weber BBQ grill. Other Summit events include First Friday with the Smob, Diabolical Sound Platoon, DJ Mowgli and a live visual artist, and an 18+ college night dance party with DJ Wreck on Wednesday.
Boxcar reunites for a free set of tunes from 5-7 p.m. tonight (Thursday) at Ska. After warming up at the brewery, head to the Vallecito Room (formerly the Memorial Student Lounge) in the FLC Student Union for a free bluegrass show by the Scrugglers, which starts at 7.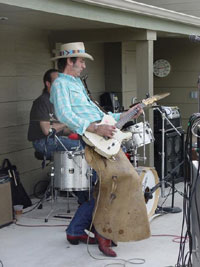 Austin honkytonkers Genuine Cowhide plays the Abbey this Friday

The Starlight's lineup this week features a new twist: Grammy-award winning jazz producer Tom MacCluskey from 6-9 p.m. Friday night. Whether seated at a piano, behind a drum kit or engineering a classic album, MacCluskey's a veritable encyclopedia of music history. The Starlight also has Peter Robot at 9 p.m. Saturday, Kentucky Deluxe at 9 p.m. Tuesday and Jonezy's Club Meds at 9 p.m. Wednesday, in addition to its regular weekly offerings.
Elsewhere: the Kirk James Blues Band gets its groove on at the 8th Avenue Tavern at 8 p.m. Friday; CC&N, with Larry Carver, Randy Crumbaugh and Nina Sasaki, rock the Derailed Saloon from 6-10 p.m. Friday; Larry & Randy are back at the Derailed on Wednesday from 6-10; Night Owl plays the Purple Haze from 9 p.m. 'til 1 a.m. Friday and Saturday.
In honor of the KSUT member's party, this week's Top Shelf list recalls some treasures I've brought home from various charity auctions:
1. Autographed Drive-By Truckers "Decoration Day" lithograph, scored at a KSUT shindig, circa 2004.
2. Autographed Nitty Gritty Dirt Band "Will the Circle Be Unbroken, Vol. 3" lithograph, purchased a few years earlier at a KSUT gig.
3. Bottled water dispenser, with 5-gallon refillable bottle and a fancy electric toothbrush. These were originally for the wife, but I've found myself getting nervous and edgy when the big jug gets low.
4. Grateful Dead package, TLC for FLC. Featuring a famous, framed Jonas Grushkin photo of the audience toasting the band with champagne at the closing of Winterland in '78.
5. Dinner for two with Charlie Daniels, Skyhawk Sports Spectacular. Shelly and I got to dine with the Longhaired Redneck and his lovely wife, Hazel, at Francisco's.
6. Shelly. The Space Cowboy walked out of the DoubleTree in '97 with autographed baseballs, jerseys and other sports memorabilia. I left with my future wife. •
Say you don't need no diamond rings? E-mail me at chrisa@gobrainstorm.net.