A piece of local pie
Local First expands efforts to help mom and pop

SideStory: Local living economies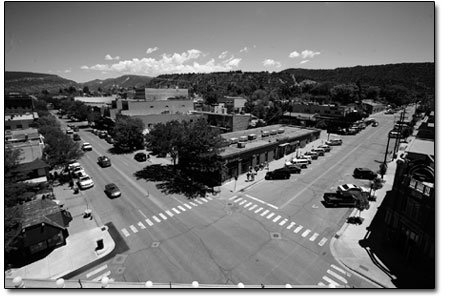 A hub of downtown Durango, the corner of Seventh Street and Main Avenue, bustles with activity. Keeping downtown, independent businesses thriving is one of the goals of Local First. Vibrant local economies is one of the big steps toward economic sustainability for any area./Photo by Stephen Eginoire
by Missy Votel
In order to get people thinking about shopping local this holiday season, and well into the New Year, Durango's Local First is enlisting that all-American staple: pie.
"Except in this case, it's an economic pie," said Local First Chairman Marcus Renner. "The idea is that we not only want to make it bigger, but we want to make it richer and to make it last."
He said the metaphor of the local economy as a hand-crafted, homemade pastry is apt because much of the same process is involved in creating a quality version of both. "We can make a strong local economy using ingredients that are more locally based, mixing them together, adding some creative heat, and coming out with a delicious pie," he said.

To illustrate the idea, students working for Fort Lewis College's Environmental Center, where Renner is executive director, made a massive apple pie – using local ingredients – for last month's Homegrown Festival. "It was a triple-decker, 2-foot wide pie. It took 12 hours to bake," he said of the creation, which was cooked in a commercial oven at Nature's Oasis. "It was meant to symbolize what we at Local First and the E.C. would like to communicate
Naturally, people ate up the concept, quite literally. "They ate the whole thing," Renner said.
Likewise, Renner would like to see such success replicated in Local First's campaign efforts. Founded last year simply as "Local," the buy-local group changed its name recently in an effort to clear up ambiguity and confusion. "We decided to change the name because it was hard grammatically for people to understand," he said.
Nevertheless, the goal of the group remains the same: to encourage a thriving, self-reliant and resilient community that includes independent, locally owned businesses working together to improve everyone's quality of life, as Renner puts it.
"One of Local First's assumptions is that we're all in this together," he said. "Durango is isolated, we're kind of an island. We all contribute to the future of Durango and the health of the local economy."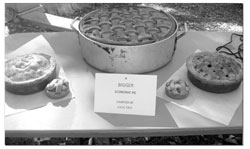 The apple pie created for the Homegrown Festival by the Fort Lewis College Environmental Center was 2 feet wide and took 12 hours to cook./Courtesy photo
According to Local First, a business qualifies as independent and locally owned if: it is not publicly traded; more than 50 percent of controlling ownership lives in La Plata County; owners have full autonomy in business decisions; and owners pay all of their own expenses.
A varied and strong local-based economy benefits the community by not only providing jobs but insulation from national downturns. Furthermore, economic studies show that money spent at locally owned businesses stays in the community longer than that spent at outside retailers and service providers. Known as the "multiplier effect," the theory holds that this money, in turn, is spent at other local establishments, furthering the benefit to local residents. "Quality of life is the ultimate source of wealth," said Renner.
For its inaugural buy-local effort, Local First launched the popular "Be Local" coupon book last November. The book, which contained 160 coupons for local businesses, sold out all 2,000 copies in a matter of weeks. This year's book, which should be available Nov. 20, will double its run to 4,000 copies, said Local First Marketing Director Carol Clark. The book will also more than double in size, featuring 328 coupons, cost $15, and be available at 18 locations, including Durango Natural Foods, Nature's Oasis, Durango Coffee Co. and Maria's Bookshop.
Aside from the coupon book, Local First organizers say they would like to expand the focus, influence and presence of the group. "Our goal is to bring in speakers, sponsor joint events and also help businesses with becoming more energy efficient," said Clark.
Local First also recently joined Business Alliance for Local Living Economies, also known as BALLE. The national network, based in San Francisco, includes 77 similar buy-local organizations throughout the United States and Canada.
Using BALLE as a springboard for new ideas, Renner said he would like to expand the vision of Local First to include not only established businesses but local entrepreneurs as well. "There are certain things as a community we will never be able to provide," he said. "But there are a lot of things we can provide and don't. We should have an eye to that. There is a lot of untapped economic potential out there."
Also central to the effort is the spirit of collaboration, where small businesses work together for the common good. He said gone is the old business mentality of dog eat dog. "By working together, businesses can generate new sources of wealth." •
For more information on Local First, to become a member or be listed in the online local business directory, visit www.local-first.org .