Conspiracy theory
Co-Conspirators go their separate ways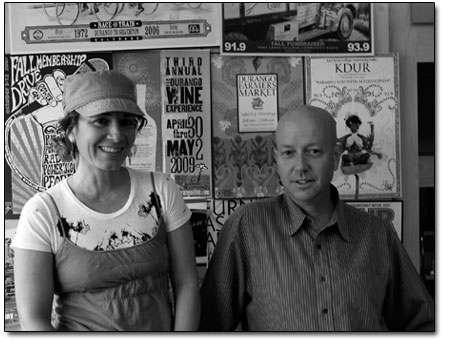 Former Creative Conspiracy partners Kris Hickcox and Neil Hannum pose for a shot among the numerous posters they have created in their 12 years in business together. The two first met working at outdoor apparal manufacturer Bula, which was once based in Durango./Photo by Stephen Eginoire.
by Stew Mosberg
It's been 12 years since Kris Hickcox and Neil Hannum formed Creative Conspiracy Inc., a successful graphic design company based in Durango. But come June 1, the partners will be going their separate ways.
After working together in the art department at Bula, the snow apparel manufacturer, Hickcox and Hannum forged a joint venture that has left an imprint on Durango's visual psyche. It is impossible to walk more than a block or two along Main Avenue without seeing or experiencing the firm's designs, promotions or branding impact.
With a unique blend of artistic talent and marketing savvy, Hickcox and Hannum have created brand identities and promotional material for the town's restaurants, brew pubs, museum, an engineering firm, land developers, beverage and food companies, a bank, and a radio station.
Most companies that design for industry typically go unnoticed, rarely garnering credit from the general public. Maybe, if worthy enough, they win an occasional award from their peers. So, for many, the best way to get recognized is through time-honored word of mouth. One proven method for achieving such recommendation is by producing consistently good work that generates memorable and effective results. And that is just what Creative Conspiracy has done.
So why are the two principals going separate ways? Martin and Lewis, Simon and Garfunkel or the Beatles, might come to mind, although when listening to Neil and Kris talk it becomes obvious that they still have great respect for each other's talent. They are also grateful for having had the opportunity to collaborate on so many fascinating and challenging projects. What it came down to was Hannum might have the trappings of a mid-life crisis. According to Hannum, his interests began to deviate a while back, "I'm interested in what drives the economy. I've always been interested in the sustainability discussion, and I will explore opportunities in that paradigm. You need to pursue what makes you happiest."
Such a remark could be misconstrued as antipathy, but in reality, it grew out of his desire to do more things than he had time for. The friendship and creative bond he and Kris share helped him to make his decision. He plans to continue working with her, but as an outside consultant on special projects.
Having provided pro bono service to a number of nonprofit organizations, along with more than 100 design programs they've completed in 12 years, the firm has been an integral part of the community.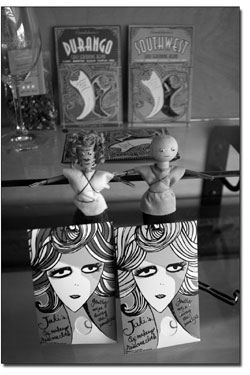 Creative Conspiracy's work and design influence is visible all over Durango. Over the course of 12 years, Kris Hickox and Neil Hannum have put their personal stamps on posters, labels, logos and public art. /Photo by Stephen Eginoire.
Hickcox, who knew at the tender age of 10 that she wanted to be a designer, will continue in the business, but under the name of "Pool." The moniker might at first seem an odd choice for a creative services firm, but by way of definition, Kris believes it as an apt choice, "A pool of ideas," she muses, "a collection of thinking, transparency in business."
Kris came up with the Creative Conspiracy name for her design business in Eugene, Ore., and resurrected it for the partnership with Neil. However, retaining it now doesn't seem right she says, "It became us. Creative Conspiracy has always been Neil and Kris in Durango."
Even though Kris will carry on without her long-time partner, clients do not appear concerned. Nearly three years ago Moni Helling, vice-president of Business Development and Public Relations at the venerable First National Bank of Durango, hired Conspiracy to put together an updated marketing strategy and collateral material. "They really understood who we are as a business and how to exemplify our persona," she said, "When we come up with a new product or need a unique strategy, I'd certainly call on Kris."
Ellen Stein, development director at KDUR, says the relationship between the station and Hickcox has been very productive. One highly successful fund-raising program Kris helped to create was the "People Powering Radio, Radio Powering People" campaign. The posters from that series have become something of a collector's item.
Bill Manning, owner of High Desert Foods, is a kindred spirit with Neil and Kris. A steward of sustainable food resources and organic growing, Manning doesn't hold back on his company's website when it comes to agri-business giants. He writes, "Their products are seen simply as commodities, the aliveness squeezed out of them, sitting on grocery store shelves nearly indistinguishable from the garishly packaged processed foods that surround them."
To avoid that same appearance and to characterize High Desert's philosophy, Manning hired Creative Conspiracy to craft a line of packaging that was simple, attractive and unique. The resulting design could hold its own on a shelf with expensive cosmetics, and makes a subtle, yet effective statement in the specialty food category where it resides.
One of Creative Conspiracy's longest running client relationships has been with Steamworks Brewing. They started working together on the restaurant and brewery logo and some limited-edition bottle labels, and have been together ever since.
At a time when many enterprises are slowing down or even closing, Hickcox's attitude about the errant economy and her decision to continue in business are reflected in her strong marketing principles. "During times like these," she says, "a business can't just disappear. Marketing and visibility is important to let people know you are still around."
By combining her range of experience and talent, the idea of jumping into the "pool" without her co-conspirator doesn't seem to be so daunting. Sink or swim, Kris Hickcox is ready. •