A dirty hangover, Waybacks, and Book and Beck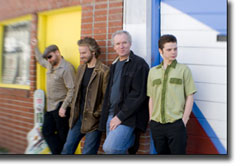 A revamped Waybacks return Sunday night to play the Durango Arts Center

by Chris Aaland
When it comes to gardening, hangovers can wait. Bryant Liggett had called me last Friday suggesting a road trip to see Sarah Borges & the Broken Singles. The Boston rocker and her band were playing the Dolores River Brewery that night. Saturday morning came hard and fast after countless pints of stouts, porters and ESBs.
Of course, Otto doesn't care if Daddy has a hangover. He started squawking at 6:30 a.m. and no amount of coffee or water could make the drum corps between my ears stop pounding. I wandered out on the back deck to survey what Saturday had to offer. I glanced at our three garden boxes, ready to roll into the new summer. One was converted into a compost bin last spring, and its rich soil was ready to be spread. The smallest garden box had volunteers already taking over, carrots and onions from past seasons. The third begged for plants.
We started by driving to Bayfield to buy tomatoes, peppers, lettuce and herbs, plus a big assortment of flowers. By noon, I was ready to crank up the rototiller. We were fortunate to find some other volunteers – green-leaf lettuce and Swiss chard in one garden box, assorted squash sprouting out of the compost.
By the time Otto went down for his afternoon nap, the throbbing was gone from my head, replaced by a surly stomach ache and some serious cottonmouth. We finished working the soil and planting by 4 p.m. Then the skies opened up. It rained for nearly 18 hours.
When I went outside to fire up the grill Monday night prior to the fourth game of the Nuggets/Lakers series, I glanced again at my three garden boxes. Happy plants followed the setting sun, surrounded by soft, wet and rich dirt. Goodbye snow. Hello summer. Festival season starts in a week.
The Waybacks return to town in a DAM production, this time at 7:30 p.m. Sunday at the Durango Arts Center. The last time these guys played here, it was my 38th birthday. Since that 2005 gig, Stevie Coyle, one of the Waybacks' founding fathers and frontmen, departed for the greener pastures of a solo career. Strangely, they got better. James Nash, the band's other guitarist/vocalist, started playing as much electric guitar as acoustic. Warren Hood, a newcomer to the Waybacks at their '05 DAM date, is now a full-fledged member who writes and sings much of the band's material. If you (wrongly) categorized the Waybacks as bluegrass before, then you'll be shocked to hear that their sound now ventures much further into rock, swing and jazz territory. In the past five years, they've collaborated with the likes of Bob Weir and John Cowan, performing tributes to the Grateful Dead and Led Zeppelin, among others, at their annual Merlefest gig.
Travis Book & Anders Beck are old friends of ours, having burst onto the scene many years ago with the Broke Mountain Bluegrass Band — an outfit that went on to win the RockyGrass band competition and finish second in the Telluride band contest. Since then, they've gone on to bigger things. Book slaps the bass and sings lead vocals with the Infamous Stringdusters, a band that won numerous International Bluegrass Music Association awards a few years back. He's also sold-out the Hank in the past with the Colorado Playboys. Beck plays dobro with Greensky Bluegrass, a Michigan outfit that's blazing new trails. He also turned heads with the Durango-based Wayword Sons. Book and Beck perform at the Hank at 8 p.m. tonight (Thursday).
Relive Woodstock — or at least one of its highlights — as Country Joe McDonald plays the Abbey on Saturday. Doors open at 8 p.m. McDonald, along with former lead guitarist Barry Melton, formed Country Joe & the Fish back in the '60s. This band released several psychedelic landmarks, but was best known for McDonald's solo rendition of his "I-Feel-like-I'm-Fixin'-to-Die Rag" at Woodstock. McDonald is no one-trick pony, with 33 albums and more than 100 original tunes to his credit.
Tonight, the Summit hosts Fat Maw Rooney, a band that combines blues, rock and funk. Fat Maw has shared the stage with a veritable who's who of jam bands, including Trey Anastasio, Widespread Panic, Los Lobos, String Cheese Incident, Black Crowes and others.
The Summit also welcomes guitarist Todd Tijerina and his Tijerina Band on Friday; local outfit RedEyedDjinn on Saturday and funky San Diego jazz, soul and funk group On the One on Wednesday. The latter band features drum king John Staten, of Karl Denson's Tiny Universe, and saxman Jesse Molloy, of Giant People.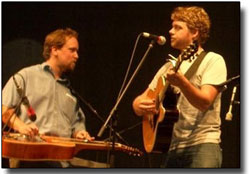 Anders Beck and Travis Book, formerly of Broke Mountain Bluegrass Band, will reunite Thursday

A busy week at Moe's Starlight Lounge features Salsa Night with Twelfth Night at 8 p.m. tonight, FAC with Eric Keifer of Aftergrass at 6 p.m. Friday, a villains theme party with Spark Madden at 9 p.m. Saturday, "Musica del Mundo" with DJ X and Maize at 8 p.m. Sunday and a Texas hold 'em tournament for you card sharks at 7 p.m. Monday. The Durango Cruzers meet at the Starlight at 6 p.m. Saturday for their weekly shenanigans. This week's Cruzers' theme is a pajama party.
Formula 151 has a new formula. Joining guitarist/vocalist Dave Mensch are Mike Kornelson on bass and Ben Simpson (formerly of Ralph Dinosaur & the Fabulous Volcanoes) on drums. The occasional violinist or cellist may sit in from time to time. Check out the new 151 at 9:30 p.m. Saturday at the Bear Creek Saloon in Pagosa Springs.
High Altitude Blues plays at Rubio's in Aztec at 5 p.m. Saturday and at JJ's Upstream Restaurant & Pub in Pagosa Springs at 6 p.m. Sunday.
Regardless of the outcome of the Nuggets/Lakers series, my faith has been restored. This week's Top Shelf list recounts some of my favorite Nuggets highlights:
- Seeing Dan Issel score his 25,000th career point.
- Watching on TV as the eighth-seeded Nuggets somehow came from a 2-0 deficit to knock off the top-seeded Sonics in 1994.
- Playing before the Nuggets/Lakers in a prep/pro doubleheader in 1984. The Lakers – including Magic and Kareem – high-fived us after the game.
- The resurrection of Birdman.
- Seventh row season tickets during my junior high and high school years. •
You got more moves than Ex-Lax? E-mail me at chrisa@gobrainstorm.net.