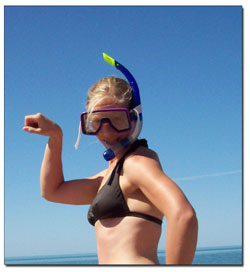 Diver:Phoebe Sunflower
Interesting facts:Phoebe is a Jill of all trades: Montessori school teacher, landscaper and gardener, and Carver's server
Got a dirty little secret?
Looking for guidance to remedy a sticky situation?
Seek help from the master of the kitchen! The Dish Diver has solutions to life's little messes. Send your problems to "Ask the Diver." - By mail to Durango Telegraph - Attn Diver -534 Main Ave., Durango, CO 81301; by email at telegraph@durangotelegraph.com, or by fax at 259-0448.
Dear Diver,
What ever happened to Tony Danza? Has anyone seen Tom Selleck slinking around Hollywood? What about Richard Dean Anderson (aka MacGyver)? Where did they all go? Are all of the 1980s television icons living the high life on a secret island somewhere?
– Tubular Tammy
Dear Tammy,
Personally, I think all of them are hanging out with Elvis, David Hasselhoff, DB Cooper, and Tears for Fears in the Bermuda Triangle singing, "Shout" at the top of their lungs. They all hit it good, if you think about it. TV in the '80s was quality, nowadays, it's reality show trash. It seems sad that people watch other people's lives on television instead of living their own. Needless to say, I am glad you are interested in our wholesome '80s stars. Let me fill you in on their current glamorous lives: Tony Danza is racing (read crashing) with the stars, racing Indy and Nascar stars in go-carts, in the next level of reality television…painful but very fun. From time to time, he also stars in Broadway musicals. Tom Selleck, considering he is a DILF, easily returned to sitcom TV on "Friends" as Monica's sugar daddy in 1996 and again on the sitcom "Las Vegas" in 2007. Richard Dean Anderson put all of his pennies into the geek squad movie "Stargate," only to watch it bomb with everyone except for a cult of pubescent boys. Now he tries to pay the bills with cameos promoting Pepsi on SNL's "MacGruber." All have something special in common, though. They have all been referenced or appeared on one of the only quality shows remaining, "South Park."
– Diver
Dear Diver,
I appear to have put on a little bulge over the winter, and as a raft guide, I'm expected to be svelte and shirtless for much of the summer. How about a few pointers on getting back to my fighting weight? I should mention that the liquid diet hasn't been working.
– Jim (not my real name) in Durango

Dearest Jimmy,
First, lay off the cold ones. Next, go get a really comfortable toilet seat, one of the cushy vibrating ones, like in the Sushitarian bathroom. Then, go drink some unfiltered creek water below a beaver dam.This will aid you in acquiring a natural parasite pound-shedding diet. Now binge … purge … binge … purge. If this is too rough for you, go for a walk to any of our three fine natural food stores and try one of the seven -14 day cleanses. Pair this with some yoga, go for a walk, get on some shortie shorts or go for a jog up Horse Gulch. You might even be able to catch a few last-minute turns shredding in the 'Nuche.
– Diver
Dear Diver,
Wedding season is just around the corner, and I've already received four "Save the Date" cards. What's the perfect wedding gift? Bear in mind that I have to buy four of them, and at least three will have to fit into the overhead bin.
– Always the Bride's Maid
Dear ABM,
The most portable items, which can provide hours of fun and fit into an overhead bin include: Inflatable doll, inflatable chair, inner tube, air mattresses, inflatable autopilot, or my personal favorite, an inflatable yard snowglobe. But, in my humble opinion, cash is really the best. Plus, if you get them cash, your friends can get what they want and won't need to return it (which is a painstaking task), or smile awkwardly when you give them something they don't need, and then sell it in a yard sale. However, my best advice is to tell your friends to elope and go away, far…far…far…away. Mini-Elvis and Las Vegas. If you are actually buying four plane tickets out of Durango, this could potentially put you back at least 2G's… in my book, your presence is the present. Your friends should be psyched just to see you, and if materialism is more important, just send a big wad of cash in an envelope.
– Diver