Mascot madness, great Gourds & Cherryholmes


by Chris Aaland
Large, furry, stuffed critters must be quite frightening to those of us whose realities aren't yet aligned with actual reality. Just ask your mayor.
Last weekend, I took a much needed road trip with my 2-year-old, Otto, and Uncles Steve and Billy to Pueblo for the Rocky Mountain Athletic Conference men's and women's basketball championships. For the most part, the trip sucked. Fort Lewis College's talented women's and men's cagers fell victim to spirited and equally talented opponents, questionable officials' calls, and the realities of economic geography. In layman's terms, CSU-Pueblo's women's team played the game of their lives, a few guys made some bad calls against "The Bull," and a No. 4 seed hosted the league playoffs for the fourth straight year because of its centrality and proximity to the RMAC offices. As they say, tough shit.
What went well: Otto loves mascots … from a distance.
The RMAC hired J.J. Jumper, the official mascot of NCAA basketball, to entertain youngsters at the tourney. Otto was enamored with the green-and-orange, androgynous creature. But when J.J. encroached my little guy's comfort zone, all hell broke loose. At one point we posed for a picture, just Otto, Daddy and J.J. Bad idea. The next go-around, J.J. tried to woo my boy by nibbling his foot in his garbage-can-sized mouth. Worse idea. Later, J.J. uttered a "Sorry, dude" to me. I thanked him for the autographed photo and refrigerator magnet that Otto will surely treasure. Then I nearly wet my pants laughing.
Strangely, J.J. barely made the medal podium in terms of mascot shenanigans that I've witnessed. Back in the mid-'90s, I sat second row in left field at Coors Field when the Rockies' lovable stegosaurus, Dinger, bounded over the railing into the front-row seats and surprised a blind couple and their two seeing-eye dogs. Just picture the canines' view: a giant, purple-and-white dinosaur bounding into the laps of your owners. Let's just say purple fur flew.
Another happened two weekends ago at a Skyhawk home basketball game. My family and I walked from the FLC Booster Club's hospitality area toward the gym when we passed the training room. Western State players were having their ankles taped when Otto spotted Skyler the Skyhawk taking a much-needed breather. The fellow inside the costume had removed his head; Otto pointed to it and uttered "Uh-oh," at which point we all – parents, medical professionals, visiting players and Wes, the human behind the Hawk – laughed our asses off. Dr. Otto had correctly diagnosed Skyler as having been decapitated.
Sometimes winning isn't the only thing. I still think refs suck. But I love the pageantry of NCAA playoffs for the sole reason of toddlers spotting mascots with their heads cut off. Bad calls are wrong. Headless hawksmen are really wrong.
For the record, FLC's women's and men's hoopsters qualified for March Madness yet again – with first, (and hopefully) second and third round games in Mankato (women's) and Marshall (men's), Minn., from Friday through Tuesday. Let's
For those of us staying in D-Town, this week is a great one:
First, The Gourds come to the Hank on Friday in a 21-and-over affair. Let's get a few things straight: The Gourds are the greatest thing to come out of the Lone Star State since that little ol' band grew beards in the '70s. The Gourds later recorded the soundtrack to "Growin' a Beard," a documentary about hairy Texans. You connect the dots. But hurry: Durango loves 'em. It'll sell out.
Next, Cherryholmes plays the Community Concert Hall at 7 p.m. tonight (Thursday). They play lightning-quick high-and-lonesome sounds with harmonies that only family bands deliver. Ricky Skaggs is a huge fan, and you should be, too. All the kids play frighteningly fast, and the daughters are beautiful. Just don't tell their daddy, Jere, who slaps the bass … and looks like he taught ZZ Top how to grow a beard. Despite their often psychedelic album covers, sparklers and tracers do not always appear at Cherryholmes shows. Then again, they sometimes do. The Badly Bent opens.
There are few icons in music who carry Prince's weight. His Purple Highness discovered and has frequently endorsed Grupo Fantasmo, a 10-piece Austin group that incorporates elements of funk, mambo, meringue and cumbia. Grupo Fantasmo plays the Community Concert Hall at 7 p.m. on Saturday. They won a Grammy in 2008 for Best Latin Rock/Alternative album.
The Oakland-based hip-hop duo Zion I plays the Abbey at 10 p.m. Saturday. They're known to their followers for DJ AmpLive's futuristic production techniques and MC Zumbi's positive and socially conscious lyrics.
A taste of New Orleans comes to Heritage Plaza at Telluride Mountain Village the next two Thursdays. Beginning at 3 p.m. today, the subdudes take their Gulf Coast R&B and Rocky Mountain rock 'n' roll to T-Ride in a free gig. One week later, part of the first family of Crescent City funk, Porter, Batiste & Stoltz , brings the noise.
Jaki & the Joysticks play rockabilly and punk-influenced rock at the Hollywood Bar in Dolores at 9 p.m. on Saturday.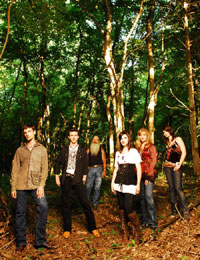 Cherryholmes plays the FLC Concert Hall Thursday at 7 p.m.

The Derailed Saloon hosts Formula 151 at 9 p.m. Friday and the bluegrass of Wild Mountain at 8 p.m. on St. Patrick's Day (Tuesday).
Steamworks' monthly theme party happens this Friday the 13th with "Fright Night." Come dressed the part for a free drink and free cover.
Durango DOT Comedy performs "Vintage Homegrown Comedy" at 8 p.m. Saturday at the Durango Arts Center. Durango DOT Comedy has honed its craft since 2002.
This week's Top Shelf list recalls my 10 favorites Gourds songs:
1. "Lament" from "Stadium Blitzer." Gods lost and found.
2. "Hooky Junk" from "Heavy Ornamentals." Pure fun.
3. "Ghosts of Hallelujah" from the album of the same name. Righteous.
4. "Ants on the Melon" from "Cow Fish Fowl or Pig." Melons, titties and BBQ.
5. "El Paso" from "Bolsa de Agua." Retarded Texas girls. How utterly P.C.
6. "Gin and Juice" from "Gogitchyershinebox." Duh.
7. "Lower 48" from "Blood of the Ram." A geographical shout-out.
8. "I Ate the Haggis" from "Stadium Blitzer." Jimmy, WTF?
9. "Steeple Full of Swallows" from "Noble Creatures." Rare Gourds melancholy.
10. "Jesus Christ (With Signs Following)" from "Bolsa de Agua." Welcome to the band, Max!
Cause your mama ain't home? E-mail me at chrisa@gobrainstorm.net. •