The Culture Czar
Local artists ponder possible Secretary of the Arts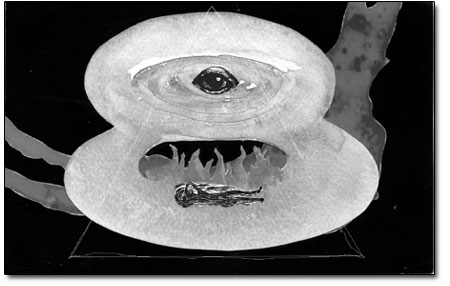 This collage by Jules Masterjohn, "Watching Creativity Sleep," is from the writer's ongoing visual explorations from the Big Brother series, which contemplates the nature of power and the locus of authority./Photo by Jules Masterjohn
by Jules Masterjohn
As the Obama administration completes its appointments to various cabinet posts, discussions are brewing in consideration of a new position: a Secretary of the Arts. Most sectors of society are represented with high-level advisors. Quincy Jones, award-winning musician, composer and producer, believes the arts need to be among those represented. Jones said in a radio interview recently, "Artists help define a society and send the message that a county values its arts." He plans to talk with President Obama soon about creating an umbrella agency that would promote and protect arts and culture inside and outside the U.S.
On NPR's "Morning Edition" last month, Jones made the point that if we need to "physically defend our county," then the arts should be represented because they provide "emotional defense." Currently, various independent governmental agencies, among them the National Endowment for the Arts and National Endowment for the Humanities, are charged with shepherding arts and cultural interests. Americans for the Arts supports Jones' idea, citing the current "fragmented representation" of arts and culture within the global community. An online petition, inspired by Jones' statements, has gathered more than 237,000 signatures in support of, as a New York Times article refers to it, a "culture czar."
Not all arts and culture advocates are in favor of establishing a cabinet-level agency. David Smith, author of Money for Art, believes that such a post would create misguided impressions of the arts in the U.S. "Maybe the greatest thing about the arts in America is their decentralized nature, and I think that the perception would be detrimental to that decentralized vibrancy if you ended up with something as ponderous as a Department of Culture," he stated in the radio interview.
The time seems to be ripe for this discussion as, on many levels, our country's priorities are being reevaluated. Listening to the national dialogue via newspaper, radio and Internet reports, I was curious about what local artists and art advocates might be thinking about a Secretary of the Arts. I also posed the question of why the U.S. is behind other countries in establishing such an agency.
As in the broader debate, those who live among us have mixed thoughts and feelings. Artist and landscape architect Linda Robinson offered, "It is an important dialogue. The reason that a minister of culture would be good right now would be to integrate the arts into the bigger picture of life, to make sure they are looked upon as valuable pieces of that bigger picture, and to make sure they are supported." Arts advocate Felicity Broennan responded, "What a great, necessary idea, and how egregious that we don't have a Secretary of the Arts. What a reflection of our current level of maturity and our prioritization of the arts." Artist Niara Isley added, "Art is connected to our very souls, as an expression of our deepest feelings and desires. A Secretary of the Arts should understand and appreciate all of this about what we call 'art.'"
Designer and artist Jeff Madeen wants to see the cabinet-level director put art education in all grade schools, promote and provide more venues and money for all types of artistic expression, and be aware of the current and past movements in the art world. "This person must be passionate and persuasive," he said. Artist Elizabeth Somers agrees, "The role of a Secretary of the Arts is to educate, rekindle, ignite, broaden public and political support, interest and funding."
Somers also noted that, "The U.S. is behind other countries because beginning in the 1950s, we emphasized technology and consumerism – all but ignoring the arts and culture." This has, perhaps, led to an attitude and reality that is prevalent today. Isley observes, "In the U.S., great emphasis has been placed on making art another marketplace commodity." True this seems to be, for according to Americans for the Arts, the nonprofit arts and cultural industry generates more than $160 billion each year and is an important economic engine.
Isley protests this perspective, adding, "This interferes with the creative process for its own sake as artists always have in the back of their mind, will their art make them 'successful,' i.e. affluent financially and bring them personal acclaim."
Retired public school educator and former Durangoan, Danielle Freeman, remembers when the idea for a Department of Education was being discussed. Then a graduate student in education, she recalled, "We debated it some. In a lot of ways, it has been a flop because it has little actual say over schools, which are operated at the state and local level. It has required that special needs be addressed and that certain civil rights must be honored but it hasn't really had the power to help avert the disaster that the schools have become."
Photographer Dean Conger adds, "I'm not sure creating another bureaucracy is the answer. The private sector arts have done just fine on the international scene. The New York Philharmonic went to North Korea last year. A ping pong team broke the ice with China in the early 1970s. During the Cold War ,there were cultural exchanges with the Soviet Union – with U.S. diplomatic assistance."
Though I am hopeful that President Obama can do more than a cosmetic makeover for Big Brother, I share Freeman's cautious perspective. "To have a department that would promote and protect the artistic soul of America might be a good idea … except that government doesn't often achieve our hopes. The design of the department, its duties and responsibilities, the scope of its reach, all these would need to be carefully drawn. I would call it the Department of Arts and Culture … then I would be as scared as could be to have the government regulating areas that need to be free, as the creative spirit requires."
For information on the petition for a Secretary of the Arts, visit www.petitiononline.com/esnyc/petition. •