Ladysmith, Lipbone and Broke Mountain beginnings



by Chris Aaland
Steve Earle begged Woody Guthrie to come back to us in "Christmas in Washington," Earle's 1997 anthem that warned of dark times on the horizon. Sure enough, Earle was right, and the Grand Old Party stole an election or two a few years later.
Like the Carter Family and Jimmie Rodgers before him, Woody brought rural folk music to the masses. The difference was Woody waved his freak flag high. Woody stood up to McCarthyism when it meant jail time at worst or becoming a social outcast at best. If other populist folkies were Socialists, then Woody was a Commie. His guitar famously sported a sticker that proudly stated "This Machine Kills Fascists." Through it all, he was the voice of freedom.
Strangely, Woody would have been both proud and ashamed of America the past few months. The popular and electoral vote gave us our first black president, yet white America still found a way to support wealth and greed. Some of us voted black, yet still flaunted our racist views. Woody would have been both triumphant with one hand raised in solidarity and ashamed with one hand shielding his tears. Why do we pat ourselves on the back with one hand and slap ourselves stupid with the other? That's our challenge. Woody would have been elated that we even have to face this dilemma.
A bunch of torchbearers with nearly direct musical lineage to Woody grace our town tonight (Thursday) for a 7: 30 performance of the "Ribbon of Highway, Endless Skyway Tour: A Tribute to Woody Guthrie" at the Hank. Woody's songs will be performed by Jimmy LaFave (a white-boy bluesman whose voice rivals Gregg Allman's), Slaid Cleaves (a Maine-raised, Austin-schooled songsmith) and Gretchen Peters (an occasional duet partner of Tom Russell's), among others.
Ladysmith Black Mambazo brings South African traditionals and Christian gospel to the Community Concert Hall at 7 p.m. Friday. Half a world away, yet kin to Woody Guthrie, members of Ladysmith Black Mambazo toiled in South African mines in the early 1960s and sang on their rest days. If you had a pulse in the '80s, you heard them on Paul Simon's "Graceland" album. If you didn't, don't miss this once-in-a-lifetime opportunity.
Lipbone Redding returns to town, this time for a Saturday show at the Hank with his Lipbone Orchestra. Rooted in jazz, Redding is best known for playing the trombone parts with just his mouth.
Anders Beck comes home with Greensky Bluegrass for a 10 p.m. Tuesday gig at the Abbey. Beck, who is part of Durango's first family of bluegrass, officially joined Greensky on New Year's Eve 2007. Their new album, "Five Interstates," shows a band on the rise.
The Badly Bent plays its first-ever Purgy's slopeside gigs from 2-5 p.m. Friday and Saturday.
KDUR's Jonezy spins underground house and techno records at Steamworks at 9:30 p.m. Friday.
Go to the Summit tonight for live rock, reggae, hip-hop and blues by Bold Bird, the jam-rock of Joey Farr & the Fuggins Wheat Band on Friday, and live stuff by Stonefed with local songstress Gigi Love on Saturday.
If you're up in Telluride today, don't miss jazz legend Charlie Hunter at 3 p.m. for a free performance at Heritage Plaza in Mountain Village. Hunter is best known for fusing jazz with funk, reggae and other styles on custom-built seven- and eight-string guitars that allow him to thump bass lines while playing rhythm and solos. For those wanting to plan powder and tunes a week in advance, check out the subdudes on Thurs., March 12, in Mountain Village.
Like IPAs? You can drink green as both Ska's Modus Hoperandi and Steamworks' Third Eye are now available in 12-oz. aluminum receptacles. Drink. Drank. Drunk. Then recycle.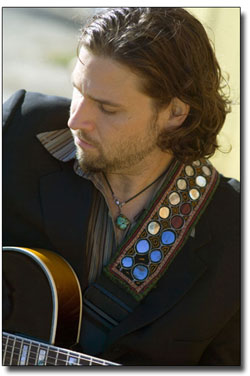 Lipbone Redding

In honor of Greensky Bluegrass, this week's Top Shelf list features 10 bands and projects that Broke Mountain Bluegrass Band alumni have graduated to. The Broke Mountain boys consider their former outfit to be the top farm club for major league bluegrass:
• Infamous Stringdusters: Sure, Travis Book and Co. won three International Bluegrass Music Association awards for their efforts. But I like to think of them as the best Kenny Rodgers tribute band alive.
• Wayword Sons: Largely a vehicle for the songs of Benny "Burle" Galloway, the Sons also featured Robin Davis and Anders Beck. They once played the main stage at the Telluride Bluegrass Festival.
• Colorado Playboys: Travis, Jon Stickley and Andy Thorn tour occasionally with their good buddy, John Frazier. You may remember Frazier from the Hit & Run Bluegrass Band.
• Greensky Bluegrass Band: Two years after winning the Telluride Bluegrass Festival's band contest, this Michigan group added dobro player Anders to their lineup. He co-wrote numerous songs on their latest CD.
Robin Davis: His self-titled, solo album features many of Robin's originals that you may know, like "It Keeps on Snowin'" and "100 Rifles," as well as traditionals like "Whiskey in the Jar-O" (Metallica does this one) and "Columbus Stockade."
Biscuit Burners: The Virginia-based old-time band once recruited Jon to join them on mandolin and guitar. He later left the Biscuit Burners with original member Shannon Whitworth to play electric and acoustic guitar in her solo band.
Larry Keel & Natural Bridge: Andy was the first to defect from Broke Mountain by joining this guitar-picking legend. In addition to a well-groomed, mustachioed Keel, the eponymous album sleeve features Andy grinning from ear to ear.
Emmitt-Nershi Band: Andy plays banjo in this Colorado jam-grass heavyweight. Half Salmon and half Cheese, Emmitt-Nershi is all that both bands aspired to be, remaining true to their bluegrass and Americana roots.
Bryn Davies & Hickster: Love hurts. For a short-but-sweet time last summer, Robin and former Peter Rowan bassist Bryn Davies joined forces with Burle to meld Big Mon's high 'n' lonesome with Townes' lonesome tunes.
Rock & Rye: Robin was an integral part of this Durango band which always acknowledges the Appalachian roots of bluegrass.
In the shadow of the steeple, you saw your people? Email me at chrisa@gobrainstorm.net. •
In this week's issue...
May 11, 2023

New hostel offers hikers, skiers and other frugal fun hogs place to hang their hats
May 4, 2023

Proposed apartments spur efforts to preserve historical burial grounds
May 4, 2023

Small mountain hamlet to remain resort-free, for now