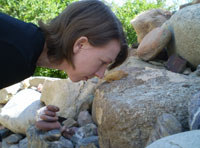 Diver: Marissa Tiroly, of Raider Ridge Café
Interesting facts: Marissa has not been the same since Helen, the deaf and blind skunk who lived under her porch, has disappeared. "Has anyone seen her?"
Got a dirty little secret?
Looking for guidance to remedy a sticky situation?
Seek help from the master of the kitchen! The Dish Diver has solutions to life's little messes. Send your problems to "Ask the Diver." - By mail to Durango Telegraph - Attn Diver -534 Main Ave., Durango, CO 81301; by email at telegraph@durangotelegraph.com, or by fax at 259-0448.
Dear Diver,
I woke up this morning to find my live-in boyfriend's cat standing on my chest and peeing on the comforter. Unfortunately, it was not an isolated occurrence. Much of my wardrobe and several rooms in the house stink of "eau de feline." What tips can the Diver offer for getting rid of that most peculiar smell (or dealing with a most peculiar cat)?
– Debbie in Durango
Dear D2,
In my younger days, I had a pink Big Wheel. No streamers coming out of the handlebars, just pink with white accents, and maybe some subtle flowers molded into the plastic. When not in use, the Big Wheel was parked in our garage. On several occasions, I would go into the garage to find my Big Wheel vandalized with something yellowish-tan. I was told it was the squirrels that would sneak into our garage and pee on my Big Wheel. After reading about the trials you are having, the pieces are coming together, and I believe the trend is that animals like to pee on things that are pretty. It was easy enough to hose off the plastic Big Wheel, but I don't imagine it would be the same with your comforter or wardrobe. Frankly, I don't know how to get out the smell of cat pee, and I've heard it's a nightmare. But since you likely will have to replace all of these things, replace them with something more drab, maybe in the hue of cardboard. Additionally, try planting some pink flowers in the litter box. That should make the decision of where to pee easier for any kitty.
– Diver
Dear Diver,
It's been years, but I think I'm ready for another summer festival (please don't ask about my last trip to the medical tent). Which "fest" would you recommend for a nearly middle-aged, newly single, father of two? I should mention that I recently lost my taste for bluegrass.
– Rick, via e-mail
Dear Rick,
Myself, I do not know if I am ready for another festival. There are few that stand out as memorable. But maybe that is due more to my spotty attendance than it is to the festivals themselves. However, I do recall attending the Cleveland Air Show as a girl with my brother and father. In the midst of the crowd, it suddenly felt like my head was on fire. I nervously looked for my brother, and he discovered that someone had ashed their cigarette onto my head (I was much shorter then). I suppose it depends on the festival, but there seem to be more people with little respect for their neighbors at festivals, which may be why I feel less inclined to seek them out. However, if you have the time, I have always been interested in Burning Man, though you need to be able to devote a month. If you go, I'd love to hear about your experience. Also, back on the other side of the Mississippi, Twinsburg, Ohio, hosts an annual twins festival. If you got a twin, or someone who could pose as one, that would be where I would send you. How surreal would that be to see doubles or triples of every person?
– Diver
Dear Diver,
It's that time of year again, and I'm out scrambling for a Father's Day gift for my husband. What's the perfect present for my child's dad? Please keep your answers in the sub-$100 realm. "Kiss the Chef" aprons need not apply.
– Ready to shop
Dear Consumer,
Not having kids, I will have to do my best long-distance Vulcan mind-meld to imagine what trying to find the perfect gift for my child's dad would feel like. I do have a father, so hopefully that will aid in my quest. I have to say, I am confused by the notion that the wife should be the sole provider of Father's Day treasures. Wouldn't that be more like Husband's Day? Why not ask the kid(s) what they would like to get Daddy, or how you could do something special for him, whether that involves a shopping trip or not. At the very least, buy something you could all use together and try not to worry about trumping last year's gifts. If by the time you read this you are still searching for ideas for something to put under the Father's Day tree, you might have to consider the "This is what the world's best dad looks like" mug, as time is running out till the big day. And depending on Dad's interests, Durango can be limiting for the gift buyer. Good luck this year.
– Diver
In this week's issue...
July 21, 2022

Land swap approved in Southwest Colorado, but not without detractors
July 21, 2022

The latest strategy to save the San Luis Valley's shrinking aquifer: paying farmers not to farm
July 14, 2022

Despite SCOTUS ruling, San Juan Generating Station plans to shut down