Daddy time, 'Honoring the Sun' and return to Town Park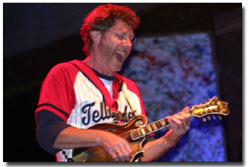 Put on your sailing shoes: Sam Bush returns to the Telluride Town Park stage this weekend

by Chris Aaland
Father's Day has always been a tricky one for me. I didn't know my biological dad until I was 19 years old, having been led to believe he never returned from Vietnam. He did, albeit bitter, confused and screwed up. Getting shot will do that to you. By the time he was ready to start a relationship with me, I was enamored with the independence that college life afforded. It wasn't as if I didn't want to spend time and develop a relationship with him. I just didn't make the time.
Father's Day has taken on a whole new meaning the past couple of years since I've become a dad. One common love that Otto and I share is music. My little guy has become somewhat of a festival freak. He had a blast in Pagosa Springs two weeks ago and was totally infatuated when the kids in the bluegrass camp played the main stage. He survived last weekend's Silverton Jamboree even through the rain, sleet and wind. When Shelly has evening meetings or errands to run, Otto shouts "gee tar" until I let him hammer on an old Hondo electric guitar that I picked up from a friend for 50 bucks 15 years ago after his wife filed for a divorce. The red axe came with a used couch, a bike helmet and two Frisbees. I still own all five items.
Otto also likes the drumsticks that I've acquired in 12 years of producing live concerts. He has a mini drum kit comprised of old cookie tins and alternates between the percussion and six-stringed instruments, sometimes using the sticks on both.
So spending five days with Otto listening to live music in a spectacular box canyon makes for an unforgettable Father's Day. The 36th annual Telluride Bluegrass Festival, which started yesterday with free Mountain Village shows and runs through Sunday, features all the usual suspects plus Rock & Roll Hall of Famers Elvis Costello and David Byrne, the dirty Aussie country of Kasey Chambers & Shane Nicholson and the honky tonk bluegrass of the Steeldrivers. It's my 13th straight Telluride. Hard to believe it's Otto's third.
Main Avenue shuts down from 11 a.m. - 5 p.m. Saturday for the fifth annual Who's Your Daddy fest benefiting the Durango Discovery Museum. Numerous local and regional bands from a variety of genres take the stage, including the Americana sounds of Baby Toro (11 a.m. - noon), rockabilly from the Soda Jerks (12:15 - 1:15), folk rock by Taos' Brent Berry Band (1:30 - 2:30), the Western garage of the Lawn Chair Kings (2:45 - 3:45) and alt-country from Dave Insley's Careless Smokers (4 - 5). There's also food, craft brews and fun for the whole family.
I'll admit I'm a bit of a cheerleader for Dave Insley. His latest release, "West Texas Wine," made my Top 10 list of 2008 albums and I play him often on my Cask Strength radio program. Throughout his career, he's played countless fund-raisers for a variety of local nonprofits and shared bills with like-minded Durango acts. He's a good friend to KDUR, Durango Acoustic Music, the Lawn Chair Kings and the Beautiful Loser Society. The former Trophy Husband has released three solo albums that
Absylom Rising is a Mississippi band with a split personality. Sometimes they take the stage as Big Wooly Mammoth, a Widespread Panic tribute band. They'll do this tonight (Thursday) at the Summit. On other days, they play their own original blues and Southern rock jams as Absylom Rising, which they'll do Friday. Local Grateful Dead tribute band RedEyedJinn opens both nights.
The aforementioned Brent Berry Band follows its Daddy Fest appearance with a late-night show at the Summit on Saturday. The band combines folk, reggae, bluegrass, blues and Latin into an original sound. Their instrumentation includes a kick drum, mandolin, bass, percussion and Berry's rhythmic classical guitar lines.
4c (Conscious, Community, Cultural, Connection) presents A Summer Solstice Celebration, Honoring the Sun and the Soul from 10 a.m. - 9 p.m. on Sunday in Buckley Park. This free family-friendly, day-long event features local performers and vendors, healing arts, workshops and more. Entertainment includes A Dub Rock Band, Megaphon, Molly Venture, Reed Nettlingham, African dancing, Kirtan, belly dancing and more. Workshops, classes and healing arts include permaculture, botanicals, composting, home brewing, Tai Chi, massage and acupuncture.
Following the free celebration, the Summit hosts a Summer Solstice after-party and 4c fund-raiser at 9 p.m. on Sunday. Entertainment at the $3 event includes Smiley Coyote, Diabolical Sound Platoon and Aftergrass.
The Starlight's musical lineup this week includes Salsa Night with DJ Twelfth Night at 8 p.m. tonight, FAC with Cyle Talley at 6 p.m. Friday, The Formless at 9 p.m. Saturday, Musica del Mundo with DJ X and Maize at 8 p.m. Sunday, and Kentucky Deluxe at 8 p.m. Tuesday.
Formula 151 performs at the Derailed Saloon at 9 p.m. Friday and the Schank House at Vallecito at noon Sunday.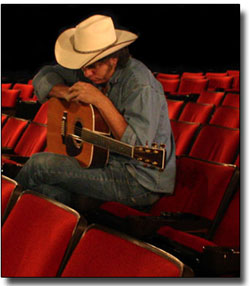 Dave Insley returns to Durango this Saturday for two shows

Soak and listen to guitarist/ songwriter Pete Giuliani at Trimble Hot Springs from 1-4 p.m. Sunday.
Jack Ellis & Larry Carver bring their "High-Altitude Blues" to El Patio at 5 p.m. Friday.
This week's Top Shelf list was provided by Brian Eyster, the marketing and communications guru for Planet Bluegrass, the folks who produce Telluride Bluegrass, RockyGrass and Folks Fest. Brian shares 10 things to look forward to at this year's Telluride Bluegrass Festival.
1. Counting how many guests join in during Elvis Costello's set
2. Watching the bluegrass purists boogie down to David Byrne
3. The first notes from Tim & Jerry opening the festival on Thursday
4. Seeing Chris Thile rip some down-stroke Monroe-style licks as Punch Brothers play & sing bluegrass
5. Watching Gaelic Storm's bagpiper wrestle with the oxygen
6. Jim Lauderdale with the John Cowan Band's workshop at Elks Park
7. Béla and Toumani — 5 strings vs. 21 strings
8. Mike Farris' Sunday morning gospel shout
9. Australian grit of Kasey Chambers & Shane Nicholson
10. Mike Compton & Stuart Duncan, 'nuff said
From the moment I could talk I was ordered to listen? E-mail me at chrisa@gobrainstorm.net. •
In this week's issue...
July 21, 2022

Land swap approved in Southwest Colorado, but not without detractors
July 21, 2022

The latest strategy to save the San Luis Valley's shrinking aquifer: paying farmers not to farm
July 14, 2022

Despite SCOTUS ruling, San Juan Generating Station plans to shut down