Rodeo's wildest two minutes
Fiesta Days brings wild horse racing back to town

SideStory: Fiesta Days at a glance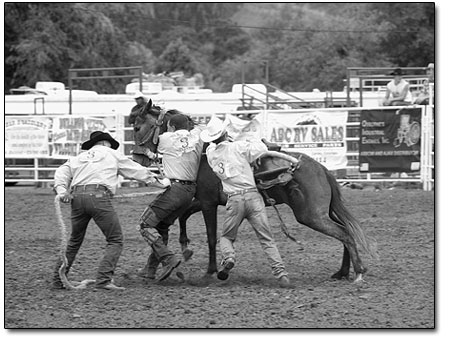 A mugger,rider and shank man attempt to get the saddle on a wild horse at last year's rodeo. Cowboys come to Fiesta Days's wild horse races from all over the West for a shot at staying in the saddle and winning the event's $3,000 purse. The 74th annual Fiesta Days Rodeo returns this year on July 24-26 and wild horse races kick off each day's festivities./Courtesy photo
by Michelle Duregger
It takes a lot of nerve to draw that horse's number, even for 6-foot, 4-inch, 240-pound ex-semi-pro football players like Durango's Bert Poulton. But the crowds love it, and the competitors keep coming back for more.
"Wherever they don't have a wild horse race, it's a sad place," says Poulton.
The competition – which returns to Durango this weekend as part of the 74th annual Fiesta Days Rodeo – is a reenactment of a time when cowboys could not spend weeks and months breaking a wild horse. They simply had to grab on and go, and those skills and excitement are alive and kicking today.
The buzzer goes off a few seconds after the chutes open to reveal a striking, biting, bolting, range horse. "When they come out of the chute they are trying to run," says Pete Hess, current president of the Fiesta Days Committee.
The "shank man" anchors the steed and barks out orders while the "mugger" quickly moves up the lead rope. He slips his arm over the eyes of the ornery equine in an effort to subdue it. This buys the rider a precious 15 to 20 seconds to throw the modified bronc saddle onto the horse's back and tighten it down with a quick-release cinch. Then the rider hangs for dear life as the tornado of man and beast rages its way across the ring. Riders must make it past a barrel and across two finish lines, with the first one to cross the winner. "These horses can buck," chuckles Hess. "It's the wildest two minutes of rodeo, wilder and woolier than any bull ride you'll ever see."

Fiesta Days competitors vie for $3,000 in prize money plus up to $300 per ride in "day money" for the first three placings of the day. The most coveted prize, however, is the champion belt buckle and boasting rights for the year.
Wild horse racing is popular in the Western United States as well as Canada, where Hess once competed. The fast-paced rodeo event charges its way into Durango every year for the Fiesta Days Rodeo, which runs this year from July 24-26. Along with local teams, competitors also come from Pueblo, Cheyenne, Wyo., and other various hardscrabble Western towns.
As for the horses, they are a jaded bunch, with many of them once marked for slaughter after being culled from regional sale barns. They are horses deemed unsuitable for human companionship, but the race is their second chance. Not only are they allowed to give cowboys a piece of their mind, but there is the hope of being sold as a halter-broke horse after the festivities
The best teams are well-oiled machines, working together quickly and fluidly. They control the horse just enough to get the job done and then let it go. "You have 18 guys and six wild horses in the ring all at the same time," said Hess. Poulton calls it "controlled chaos." And everyone loves it. But, there is a "rhythm and a timing to the whole deal," says local shank man Ben Breed.
As shank men, Breed and others like him, whom for the most part are in their 50s and 60s, are at the center of that "controlled chaos." In their roles, they effectively serve as team managers, setting the tempo and controlling the timing of the whole operation. They size up horses and pick the equipment and strategies for the team. Their vantage point "behind the scenes" also offers them a little more safety from the flailing hooves.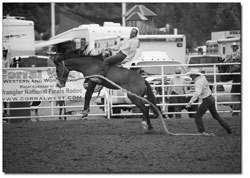 A rider and a "mugger" brace themselves for a big buck during last year's Fiesta Days celebration. Wild horse racing has become a mainstay for the longstanding local event and involves breaking horses and cowboys' bones the old-fashioned way. /Photo by Claudia Carlin
And while the race may look violent and frenzied, statistics show it's more common to see a domestic horse get hurt in rodeo competition than a wild horse. In addition, People for the Ethical Treatment of Animals is present at every event.
"People actually love to watch it because usually the horses win," says Hess with a smirk. "You see these big, ol' boys come back with their clothes ripped off, the horse either bitin' or kickin' em and ripping their shirts off."
Poulten broke his arm last year and accepted his champion buckle on another occasion with two black eyes. During that incident, he momentarily went blind while his shank man, Breed, held him in position with the lead rope. "Often the horse will throw his head and catch you in the face," Poulton says. "I heard Ben barkin' at me, and I just held on."
But the event is not a free-for-all. For starters, there are rules about the fair treatment of the horses as well as dismounting for safety. "We don't let teams come in and slap the horses around. They get disqualified," explains Poulton.
And anyone who comes in overconfident soon gains a new respect for the event. Last year, the cowboys gathered at the registration trailer, eyeing the wild horses in pens nearby. Hess recalls one competitor came who sized up the horse and said, "'Looks like a piece of cake to me.' He ended up in the hospital with broken ribs."
Perhaps most importantly, though, the event is put together by people passionate about the power and spirit of wild horses. The majority competitors are professional teams traveling from rodeo to rodeo for a chance to win some cash. "Some of these guys make $1,500 in prize money for three days of man-killing work," says Hess.
But all the teammates are playing on borrowed time.
"It's not a question of 'if' you get hurt in rodeo, but 'when,'" says Poulton.
But the thrill and the belt buckle win them back every time. "There is a lot of camaraderie," says Breed. "I like mentoring the next generation of racers." •
In this week's issue...
July 21, 2022

Land swap approved in Southwest Colorado, but not without detractors
July 21, 2022

The latest strategy to save the San Luis Valley's shrinking aquifer: paying farmers not to farm
July 14, 2022

Despite SCOTUS ruling, San Juan Generating Station plans to shut down