Lovett, Lost Gonzos and The Porter Draw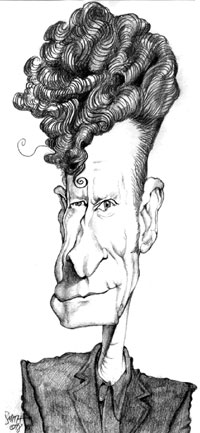 Lyle Lovett plays Ray Dennison field Monday night for a FLC scholarship concert

by Chris Aaland
You can have Greenwich Village. I'll take Texas. The best folk music of the past 40 years hasn't come out of New York City, but rather Austin, Lubbock, Monahans and Klein. This week's musical offerings in Durango echo that tenfold.
Lyle Lovett & his Large Band play Ray Dennison Memorial Field in the latest Concert for Scholarship to raise money for Fort Lewis College on Monday. The bill also includes cowboy crooner Greg Ryder at 5:30 p.m., the sultry-voiced Lisa Blue Trio at 6:15 p.m. and singer/songwriter Bob Livingston at 7 p.m. Lovett starts his 2½-hour set at 8 p.m. From the minute his eponymous debut hit the streets in 1986, he was something different … someone who immediately commanded the respect of country-folk artists like Guy Clark and Townes Van Zandt, yet had an ear for the blues, big band, jazz and pop. Within three years, he'd added the classics "Pontiac" and "Lyle Lovett & his Large Band" to his canon and hasn't looked back since. While his contemporaries spit out songs about boozers and losers, Lovett's dark characters are stalkers, pedophiles and people who keep bodies in their closets.
Speaking of Bob Livingston, he'll have another set at 8 p.m. Tuesday at the Abbey. Livingston is best known for his work with Jerry Jeff Walker, Ray Wylie Hubbard, Michael Martin Murphey and the Lost Gonzo Band – artists who are synonymous with the Armadillo World Headquarters era of the Austin Music Scene that ultimately spawned the Outlaw Country movement. Livingston's 2004 album, "Mahatma Gandhi and Sitting Bull," drew rave reviews. He's promoting a new compilation record called "Original Spirit" and has toured the world as an ambassador of Texas music for the U.S. State Department, visiting places like Vietnam, India and Pakistan. Bob's work as a producer holds special meaning to me: 13 years ago, he and Lloyd Maines produced an album by my step-brother, J.D. Winningham. I've been waiting a long time to thank him for it.
Texas music doesn't end there, either. Two of the best songwriters from the Land of Bluebonnets — Kelly Willis and Bruce Robison — are part of Music in the Mountains this weekend. Willis is the headliner at 7 p.m. Friday in the Festival Tent at Durango Mountain Resort, preceded by a fine beer and cheese tasting hosted by Steamworks at 5:30 p.m. at Hoody's. Robison will guest star on the musical program. At 6: 30 p.m. Saturday at BootJack Ranch in Pagosa Springs, Robison will take center stage with Willis as his guest. Although they're married with four children, their careers are largely separate ones. Willis' "What I Deserve" is a masterpiece, while Robison is best known for penning country hits for the Dixie Chicks, George Strait, Faith Hill and Tim McGraw. Alt-country hipsters also know him as part of the third wave of Texas troubadours along with his brother, Charlie Robison, and Jack Ingram.
Thirteen Colorado microbrewers are raising money for local charities by bicycling 426 miles over 13 mountain passes and 42,000 vertical feet this week in the inaugural Brewers Tour of Colorado. After sampling suds at Breckenridge Brewery, Eddy Line Brewpub (Buena Vista), Eldo Brewpub (Crested Butte) and Ourayle House (Ouray), the pack will arrive at the Ska Brewing World Headquarters at 5 p.m. Friday for the tapping party for Wheelsucker Wheat Ale, a collaborative effort by Ska and Avery. The Soda Jerks will perform live rockabilly and, in keeping with the soda theme, radlers will be served. For those of you not in the know, "radler" is German for bicyclist, but it also means a drink that mixes light soda with dark beer. Profits from pint sales, raffles and auctions will benefit the Safe Roads Coalition of La Plata County
Shortly after The Porter Draw last played the Summit in May, KDUR Station Manager Bryant Liggett and Lawn Chair King frontman Erik Nordstrom raved to me about the Albuquerque quintet. By fusing bluegrass with punk energy, the group is reminiscent of Split Lip Rayfield. Their debut album, "Trouble," certainly doesn't disappoint. They return to the Summit on Friday.
Pizza T and the Z Kamp Extravaganza 2009 is a revolving door of psychedelic musicians that travel with a busload of their "phriendz" from town to town. They arrive in ours tonight (Thursday), where the Olympia, Wash., outfit will seek inner peace through music at the Summit.
Congratulations, which features four members of the 13-piece improv funk/jazz powerhouse Sol Kitchen, plays the Summit on Saturday. Influenced by Zappa, P-Funk, Yes, Miles and Stravinsky, they've recently released their first full-length studio album.
The Starlight's bill of fare includes Salsa Night at 8 p.m. tonight, FAC with Doug Phillips at 6 p.m. Friday, musica del mundo with DJ X & Maize at 9 p.m. Sunday and live music with The Daydreamers at 9 p.m. Tuesday.
Waiting on Trial brings bluegrass to the Eighth Avenue Tavern at 8 p.m. Friday.
This week's free show in the Telluride Mountain Village Sunset Concert Series is blues guitarist/vocalist Coco Montoya. Tunes start at 6 p.m. Wednesday at the Sunset Plaza in Mountain Village.
And then there's RockyGrass: Earl Scruggs, Hot Rize, the Del McCoury Band, Steve Earle & the Bluegrass Dukes, Danny Paisley & the Southern Grass, Steep Canyon Rangers, Michael Cleveland & Flamekeeper and countless others. The festival runs Friday through Sunday on the banks of the St. Vrain River in Lyons and has been sold out for months. Two Durango bands – the Badly Bent and Wild Mountain – are competing in the prestigious band competition. I'll be there with dozens of fellow Durango bluegrass nuts.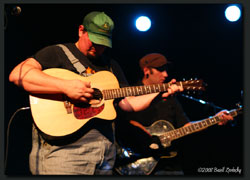 Albuquerque's The Porter Draw returns to the Summit this Friday night

This week's Top Shelf list features my favorite creepy Lyle Lovett songs:
"Pontiac" – An old war veteran sits in his car and watches a little girl play in the park.
"Creeps Like Me" — Uncle Leon's in the closet.
"L.A. County" — That old .45 kisses them goodbye.
"On Saturday Night" — A family tools about town taking little pills.
"An Acceptable Level of Ecstasy" — WTF?
"Fat Babies" — They got no pride.
"Family Reserve" — A ditty about the family graveyard.
"Church" — Shut up and pass the cornbread.
"She's No Lady" — Ain't it the truth?
"Fiona" — One-eyed Cajun girls.
Kiss my ass, I bought a boat? E-mail me at chrisa@gobrainstorm.net. •
In this week's issue...
July 21, 2022

Land swap approved in Southwest Colorado, but not without detractors
July 21, 2022

The latest strategy to save the San Luis Valley's shrinking aquifer: paying farmers not to farm
July 14, 2022

Despite SCOTUS ruling, San Juan Generating Station plans to shut down