Affordable green
Partnership leads to solar arrays on Habitat homes

SideStory: Solar start-ups: New technology opens solar to the masses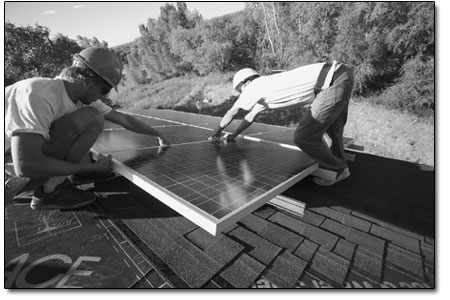 Peter Carey and Jesse Dudley, of Four Corners Solar, install photovoltaic panels last week on a Habitat for Humanity duplex under construction in Fox Farm Village in Bayfield. An innovative partnership made the install possible, and the renewable energy system will be donated to the future homeowners after five years./Photo by Stephen Eginoire
by Will Sands
Habitat for Humanity and two future homeowners stepped into the sunlight last week. Courtesy of an innovative partnership and numerous donations, two affordable homes in Bayfield will soon boast their own solar systems. A parallel effort is also under way to green an affordable home in Ignacio.
The path to Habitat's solar arrays started more than a year ago. At that time, Habitat for Humanity was awarded Green Communities Certification and grant funding for eight affordable housing units under development at Fox Farm Village in Bayfield. The duplex homes are targeted toward La Plata County residents who earn 80 percent of median income. Green Communities provides guidelines to encourage healthy homes and neighborhoods and is the first program of its kind targeting affordable housing. The green standards serve a double mission and also cut costs for future homeowners.
"Last year, we committed to having all of our homes Energy Star rated and to doing whatever we can to increase energy efficiency at our projects," explained Nadine Chaney-Orantes, executive director of Habitat for Humanity of La Plata County.
The plan to green Fox Farm Village set off another search for funding and the eventual receipt of a $2,500 grant from Front Range utility Xcel Energy. Habitat put Xcel's contribution toward adding solar-ready wiring to the two halves of a duplex currently under construction in Fox Farm Village. At that time, Habitat entered into conversations with Four Corners Solar, and the talks snowballed into a major boon for two long-time Durango families.
"We've been very fortunate and busy for the last two years," said Chris Dippold, of Four Corners Solar. "And we know that Habitat for Humanity is a very worthy local project. These are long-term Durango residents, and Habitat offers a hand-up not a hand-out."
Four Corners Solar decided to contribute to this hand-up by donating 1.8 kilowatt solar systems to each of the homes currently under construction. The total value of the two photovoltaic systems is approximately $35,000.
In addition, groSolar came on board and donated inverters to the project, and LPEA's Green Power Program is making it possible for the homes to tie into the grid. Four Corners Solar will retain ownership of the systems for five years in order to redeem tax credits, but then will transfer the titles to the homeowners.
"The systems will greatly reduce the power load at the homes," Dippold said. "Considering the sizes of the houses and who will be living there, there could be no load and no monthly power bill."
Chaney-Orantes noted that the donation will be of great help to the homeowners and make a strong statement about the value of adding solar systems to all types of homes in La Plata County.
"This will be an amazing boost to the families," she said. "The systems will offer an amazing savings and of course are the environmentally responsible thing to do. People who believe in affordable housing understand this is a good thing for our community and sets a strong example."
Four Corners Solar plans on helping to set this example for years to come. Jordan House, CEO of Four Corners Solar, has committed to donating similar arrays to each of Habitat's remaining four homes at Fox Farm Village
"We're hoping we can structure this so we can do it on a regular basis and provide systems to each of the units out there," House said. "I think we should be able to do this year after year."
Meanwhile, a separate partnership is undertaking a similar effort in Ignacio. When they break ground this fall, Colorado Housing Inc. and the Regional Housing Alliance of La Plata County hope to introduce "net-zero affordable housing" to the region. The team has acquired a lot in Ignacio and plans to build a house that will offset all of the energy it consumes through renewable sources such as on-site solar thermal and solar electric panels. Just like Habitat, the housing authority hopes the build will send a strong message.
"I confidently believe that each time a building owner, designer or builder decides to push the envelope everyone else around them has their success to learn from. CHI's commitment to net-zero will undoubtedly result in benefits reaching far beyond the homeowner and the organization," said Ophelia Wilkins, RHA's Rose Architectural Fellow.
And if solar systems are finding their way onto La Plata County's most affordable homes, they can also make it onto some of the more expensive ones. With a little creativity, residents all over Durango should be able to harness the power of the sun, according to House and Dippold.
"In the long run, anyone can take advantage of these same tax credits and install solar systems," Dippold said. "The fact is that you would eventually be spending that money on your monthly power bill anyway."
In this week's issue...
July 21, 2022

Land swap approved in Southwest Colorado, but not without detractors
July 21, 2022

The latest strategy to save the San Luis Valley's shrinking aquifer: paying farmers not to farm
July 14, 2022

Despite SCOTUS ruling, San Juan Generating Station plans to shut down