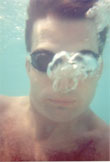 Diver: Kenny B – KSUT Operations Director
Interesting facts: Kenny B has been a Durango resident since 1985 and still doesn't get recognized by anyone while shopping at City Market.
Got a dirty little secret?
Looking for guidance to remedy a sticky situation?
Seek help from the master of the kitchen! The Dish Diver has solutions to life's little messes. Send your problems to "Ask the Diver." - By mail to Durango Telegraph - Attn Diver -534 Main Ave., Durango, CO 81301; by email at telegraph@durangotelegraph.com, or by fax at 259-0448.
Dear Diver,
What happened to all of the newspaper boxes in downtown Durango? One day I could easily locate my favorite and not-quite-favorite publications along Main. The next they'd mysteriously vanished. Who's to blame? Thieves from south of the border? Newsprint loving aliens?
– Mr. Reader, via email
Dear Mr. R.,
Well, it appears that the familiar news racks that line the sidewalks of downtown Durango are disappearing like the dogs that used to be leashed to them. In fact, the last time I saw a news rack it was being towed up 8th Street by some kind of Black Lab/Malamute hybrid with a couple of ripped up issues of Southwest Homes spilling out. As with the Durango City Ordinance banning unattended dogs on downtown sidewalks, there's a new law governing the location and appearance of downtown newspaper racks. The City is just trying to clean up the appearance of our wonderful town. Now maybe all of you puppy-draggin', coffee shop loiterin', free newspaper readin', graffiti sprayin', sticker pastin' free loaders will get the idea.
– Diver
Dear Diver,
What's wrong with kids these days?
– Bradford, via email
Dear Bradford,
Don't even get me started. Because if you do, you may not want to hear what I have to say. If you don't have any kids, then maybe you're wiser than most people who write in to Ask The Diver! I used to want kids until I became an uncle for the 18th time. I finally realized what happens when you become a parent. The problem is not the children. The problem is the "kids" the parents become once they procreate. Something strange happens in the whole metamorphosis from responsible adult to parent. Sometime within the first year, proud new parents find themselves becoming more controlled by their kid instead of the other way around. It's not so noticeable at first… baby cries at 3 a.m., parent responds, baby learns. Before you know it, the child is in complete control and it only gets worse as the years progress. Pretty soon, anything the kid wants, the kid gets.
So actually, the problem is not the kids per se, but the parent-child who can't ever get the upper hand. Pretty soon the kids are running rampant, blasting their hip-hop, texting while driving and telling Ma & Pa how much money they're going to need for the week.
–Diver
Dear Diver,
Where did the King of Pop's body really go? They don't expect us to believe that Michael Jackson is really gone, do they? Where's the "Thriller" hiding out? Who orchestrated the disappearance? Was it an attempt to dodge bankruptcy? Can we expect a new album? Please help, my mind is moonwalking out of control.
– Billie Jean, Durango
Sorry BJ,
Indeed, the "Thriller" is gone, but not gone in the truest sense. I, like yourself, could not believe that Mickey J just up and overdosed without fulfilling his promise for a comeback. I couldn't sleep for a week after the news. Every night I tossed and turned, drifting in and out of horrible nightmares. It's like I was living in a Tim Burton movie with the main character all pale and sequined doing some strange backward/forward dance and then melting down into a pool of … what? Was it wax? I awoke with a gasp, my mind echoing with a high-pitched squeal only to realize my ipod was stuck in a loop of "Don't Stop Till You Get Enough." Unable to shake the dream, I decided to conduct an investigation into some sort of conspiracy and discovered the horrible truth.
Of course, MJ didn't overdose, he's way too sweet and innocent to get all mixed up in drugs. His supposed death was a bunch of smoke and mirrors so that a big time movie guy could finally get the film he'd been after for years… and it all came to me in my "Nightmare Before Independence Day." It turns out that Tim Burton secretly struck a deal with Madame Tussaud's Wax Museum to acquire Jackson's body. It was a win-win situation. Tussaud's would have the real-life wax figure they've always coveted, and Burton would finally have the model for his next stop animated fantasy film with a heavy hip-hop soundtrack. It's called "Thrillaz Gettin' All Waxed-Up." Look for it this fall.
– Diver