Grandma's house, Band of Heathens and Johnny Deadly


by Chris Aaland
i realize how fast life goes by every July. By-and-large, Fort Lewis College's summer break is relaxing for its employees. May and June welcome vacations, baseball games, fishing trips, music festivals and backyard cookouts. But by the time mid-July hits, my day – like many of my colleagues – gets filled with one meeting after another in preparation for the late August arrival of the new freshman class. Once my annual pilgrimage to RockyGrass is over in late July, I can kiss the summer good-bye.
This year, the speed of life takes on a particular significance. My grandmother, who turns 88 on Sunday, will have all of her children, grandchildren and great-grandchildren under her roof for the first time. The changes she's seen are remarkable. When she moved from South Dakota to Colorado Springs with her family in the mid-1950s, they had indoor plumbing for the first time. Now she'll watch us update Facebook pages, listen to ipods, text friends and pop Baby Einstein DVDs into portable players.
I'll miss out on some great music this weekend, but I couldn't think of anything more satisfying than watching Grandma chase after Otto and his cousins.
The Iguanas return for their fifth annual KSUT benefit dance concert at Buckley Park on Saturday. The New Orleans band has a long history with Durango, dating back to the mid-90s. Gates open at 4 p.m., the Lawn Chair Kings take the stage at 5, and the Iguanas get started at 7. The 1200 block of Main Ave. will be closed to traffic to make room for a block party featuring Zia Taqueria grub and margaritas, Ska beer and more. Sorry folks, it ain't a freebie. It's a fund-raiser.
For those of you interested in wet fun, check out KDUR's second annual River Relay Race. Check-in begins at 11 a.m. at the 32nd St. bridge with the race slated for noon. Teams of three must navigate the Animas in a tube, a ducky and a raft. Teams must provide their own tube, ducky, raft and personal floatation devices. Costumes are encouraged. The post-party features live music, Ska beer and pizza. Call Bryant Liggett at 247-7261 to register.
One of Austin's fastest rising groups, The Band of Heathens, plays the Abbey at 10 p.m. Wednesday. These guys are steeped in Texas music, taking inspiration from legendary Lone Star singer-songwriters who mixed folk, country, blues and rock. Their self-titled album was nominated for Americana Music Association awards and earned them an appearance during Austin City Limits' 35th anniversary season. Some big-time Americana acts took notice. Ray Wylie Hubbard produced and played on their album, as did heavyweights Patty Griffin and Stephen Bruton.
Fridays at the Fort continues to bring free music to the Community Concert Hall as Formula 151 plays the second in the summer series. Doors open at 5 p.m. and music continues through 8. Unlike most shows at the Concert Hall, food and beverage will be sold and allowed into the hall.
Music in the Mountains presents its Pops Night benefit dinner and concert, featuring Cleveland Pops Orchestra founder and conductor Carl Topilow leading the festival orchestra at 5:30 p.m. Wednesday at the festival tent at Durango Mountain Resort. Classic hits from the Big Band Era, including those by Irving Berlin, Glenn Miller, Tommy Dorsey and Benny Goodman, will be performed. The three-week classical music festival began July 10 and runs through Aug. 2 at a variety of venues in Southwest Colorado. Visit: www.musicinthemountains.com for a complete schedule, including details about the July 24-25 performances by Kelly Willis and Bruce Robison (more on that in next week's Top Shelf
Durango DOT Comedy performs "Gummi Madness" at 8 p.m. Saturday at the Durango Arts Center. As always, Durango's award-winning improv comedy troupe takes cues from the audience.
Singer/songwriter/guitarist Pete Giuliani appears on the lawn at Trimble Hot Springs from 6-8 p.m. today.
The Starlight's slate of music this week includes FAC with Cyle Talley at 6 p.m. Friday, Johnny Deadly & the Outsiders at 9 p.m. Saturday, Musica del Mundo at 8 p.m. Sunday and Kentucky Deluxe at 8 p.m. Tuesday.
The Summit welcomes Waiting for Decay and Sunbury tonight, plus freebies by Megaphon on Friday and the Good Neighbors on Saturday.
Next week's free concert at Telluride Mountain Village features singer/songwriter James McMurtry at 6 p.m. in Sunset Plaza. None other than Stephen King has cited McMurtry as "the truest, fiercest songwriter of his generation." With each passing album, McMurtry's music gets louder while his lyrics get more political. Check out his last two releases, "Just Us Kids" and "Childish Things" to hear his wrath. He regularly paints in the dark shadows about life in America, with songs about crystal meth addicts, aging Gulf War veterans and religious zealots.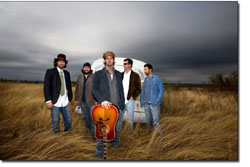 Austin's Band of Heathens plays the Summit next Wednesday

This week's Top Shelf list looks at my 10 favorite albums of 2009 at the midpoint of the calendar year:
1. Levon Helm, "Electric Dirt." It doesn't get any better than his version of "Tennessee Jed."
2. Buddy & Julie Miller, "Written in Chalk." Buddy is a musical god, but I think I've written that before.
3. Songs from the Road Band, "As the Crow Flies." Members of Steep Canyon Rangers, Town Mountain and the Colorado Playboys get their honky-tonk on.
4. Willie Nelson & Asleep at the Wheel, "Willie and the Wheel." Bob Wills would be proud.
5. John Doe & the Sadies, "Country Club." X's bassist and Canada's best export play countrypolitan favorites.
6. Various Artists, "Man of Somebody's Dreams." Dave Alvin produced this tribute to the late Chris Gaffney, and everyone from the Gourds to Alejandro Escovedo contributed tunes.
7. Steve Earle, "Townes." The late, great Townes Van Zandt was Steve Earle's mentor – in good and bad ways. This collection is a loving tribute.
8. Wayne Hancock, "Viper of Melody." Sadly, Wayne's lead guitarist, Izzy Zaidman, pummeled and hospitalized steel guitarist Tony Locke four nights before the CD release party, dampening what should've been the Train's career-defining album.
9. Sarah Borges & the Broken Singles, "The Stars Are Out." Glorious, pop-infused alt-country.
10. "The Further Adventures of Los Straitjackets." Two-minute surf songs at their finest.
Don't get set to hear no hidden family legend? E-mail me: chrisa@gobrainstorm.net. •