Something fishy, Doo-Dah and Slippy LaRue


by Chris Aaland
For the most part, dust collected on my long rods the past three summers as daddy duty kept me off the river. The need to burn some 160 hours of vacation that I'd lose at the end of June forced me into waders, though. For three days last week, that meant quality water on the San Juan River below Navajo Dam. I caught and released a lot of 20-inch rainbows and browns, fished alongside well-heeled visitors and scruffy guides, and caught the bug for the first time in years.
The crowded, famous waters reminded me of how much I love the solitude of high-country creeks, where a good fish is a 10-inch brookie. So, on Fourth of July weekend, I hit the creeks above Silverton and up La Plata Canyon. Instead of peace and quiet, I found the moshpit of the unofficial Bubbapalooza Festival, as thousands of ATV-roaring hicks from Texas, New Mexico and Grand Junction arrived. The mountains attract two types: the tree-hugging, war-protesting, bluegrass-singing, microbrew-drinking sect (which I consider myself a member of), and the gas guzzling, flag-waving, Top 40 country-listening, Budweiser-swilling crowd (which I consider my sworn enemies). In one-horse towns like Howardsville, La Plata City and Dunton, the noise reached its zenith.
Fortunately, July 4th is the high-water point for redneck activity. Slowly but surely, the whine of dirt bikes and ATVs will fade, just as hoppers and ants begin falling into the creeks. The next three months are golden ones for fly-fishing in the Four Corners, with each weekend getting progressively less crowded (save the hiccup of Labor Day, of course). For me, it means less time in music halls and dive bars and more time in Mother Nature. Of course, a few things have piqued my interest this week:
The mothership will land in Telluride when KOTO hosts its 13th annual Doo-Dah at 6 p.m. Saturday in Town Park. Inducted into the Rock & Roll Hall of Fame in 1997, George Clinton & Parliament Funkadelic ripped the roof off the sucker in the '70s with a string of mind-melting and genre-defining albums like "Chocolate City," "Mothership Connection" and "Funkentelechy Vs. the Placebo Syndrome." Pittsburgh jam-band Rustëd Root, best known for its 1995 hit "Send Me on My Way," opens. The freaks will surely be out. Since camping is available in Town Park, some of the freaks won't go to bed until it wears off.
The fourth annual Animas River Blues Festival takes place from noon until 10 p.m. Saturday at Riverside Park in Aztec. Headlining the fiesta is Shemekia Copeland, the daughter of blues guitar legend Johnny "Clyde" Copeland and no stranger to Four Corners blues fans. The bill also includes Mem Shannon and the Membership, Blues Wizard and the Masters of Humility, Sugarhouse, the Edgar Mac Blues Band and Robby Overfield.
Chris Brecht & the Dead Flowers bring indie bluegrass to Steamworks at 10 p.m. tonight (Thursday). A Coloradan who moved to Austin to pursue his dream, Brecht spent his first few months in the Lone Star State living in an $18-per-night motel with drunks, whores and crackheads. His lazy drawl has been compared to Ryan Adams and Bob Dylan. He's joined by two members of the Taos-based Brent Berry Band for his Durango gig
Instrumental improvisationalists Slippy LaRue play the Summit tonight. The Missouri trio combines elements of instrumental music, songwriting and a tasteful use of effects that successfully fuse during their live performances.
Ever since their July 1st Durango debut, I've heard nothing but good things about New York's Five Deadly Venoms. Gotham's bluegrassers return to the Summit on Wednesday, en route to the RockyGrass band competition, where they'll compete against, among others, Durango bands Wild Mountain and the Badly Bent. The Venoms impressed me with their musicianship on their self-titled CD, which has echoes of jazz, classical and new acoustic music in addition to bluegrass. If you think New Yorkers can't play that high-and-lomesome stuff, remember that banjo legends Béla Fleck and Tony Trischka are both Empire State natives.
On Friday at the Summit, Eastern Sunz will shed light on political and environmental issues that fail to be addressed in most rap music today. Hailing from Oregon, the Sunz have released four albums including their latest work, "Nine Triangles."
The three-piece Jake Loggins Blues Band plays the Abbey at 8 p.m. Friday and Saturday. Loggins, a guitarist and vocalist from Colorado Springs, is a bit of an anomaly, having never rehearsed or set foot into a recording studio.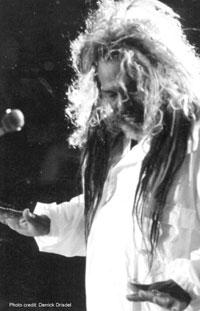 George Clinton and P-Funk return to Telluride Town Park on Saturday

The Starlight's live music this week features Salsa Night with DJ Twelfth Night at 8 p.m. tonight, FAC with Kentucky Deluxe at 6 p.m. Friday, Oatie Paste at 9 p.m. Saturday, Musica del Mundo with DJs X and Maize on Sunday, and Colin Rooney at 8 p.m. Tuesday.
This week's freebie at Telluride Mountain Village is a can't-miss affair. The Old 97's take the stage at 6 p.m. Wednesday at Sunset Plaza. Following in the footsteps of alt-country forefathers Uncle Tupelo, Rhett Miller and his crew have released seven albums since they formed in 1993. While early releases like 1995's "Wreck Your Life" are classics, their newer output on the New West label — last year's "Blame It on Gravity" and 2004's "Drag It Up" — show a veteran act at the top of their game.
It's still a week away, but get ready for KDUR's 2nd annual River Relay Race on Sat., July 18. Teams of four will float the Animas in a tube, a ducky and a raft. The post-party features Ska beer, pizza and live music. Register by July 17 and save $20. It's great fun and raises money for KDUR. Call Bryant Liggett at 247-7261 to sign up.
This week's Top Shelf list counts five flies that will get me through the next three months:
• Chernobyl Ant: Animas trout turn into finned swine when they see this float by.
• Schroeder's Parachute Hopper: In recent years, my favorite creek fly.
• Foam-wing Chocolate RS-2: My buddy Aaron Hyder ties the best around. I broke off four of them last week on the Juan.
• Parachute Adams: My all-time favorite utility dry fly.
• Bead-head Hare's Ear: The perfect dropper for the creeks and Animas.
The early wormy gets the fish? Email me at chrisa@gobrainstorm.net. •
In this week's issue...
March 17, 2022

Lake Powell drops below threshold for the first time despite attempts to avoid it
March 17, 2022

Purgatory Resort set for expansion but still faces hurdles
March 10, 2022

New health care studio takes integrated approach to healing