Leaving no mind unblown
'Revolutionary' looks back at crochet's rock 'n' roll heyday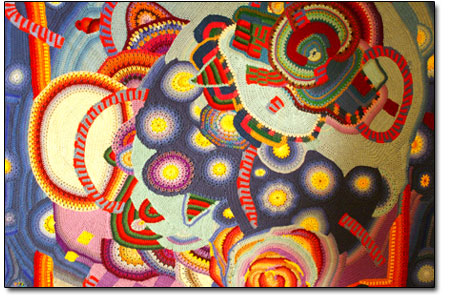 Birgitta Bjerke's hand-chocheted "Pioneer," also known as Bob Weir's bedspread, is the largest piece on display at the Center of Southwest Studies' new show, "100 % Brigitta: The Fine Art of Revolutionary Crochet."/Photo by Stephen Eginoire
by Jules Masterjohn
Random thoughts come easily while taking in a preview of the exhibition, "100% Birgitta: The Fine Art of Revolutionary Crochet." For me, the new Center of Southwest Studies exhibit inspired tugs of nostalgia for the era of sex, drugs, and rock 'n' roll, that short period between the late 1960s into the 70s. In my early teens at that time, and living in small towns in the Midwest, the "scene" merely wafted by me, like the ever-present smell of patchouli oil. My longing was not for the behaviors of this era, but for the openness of attitude that was present within society then, allowing one to explore, experiment with and challenge conventions.
Secondly, and equally as interruptive, were the flashbacks to the early '70s and seeing the crocheted afghan that adorned my granny's couch. She had made it, square-by-square, choosing earth tone colors to match her rural décor. Had I known back then that this traditional technique was being used to craft mind-blowing outfits for the rock idols of the day, that afghan might have been a bridge to our generation gap.
A photo of Roger Daltrey, founder and lead singer of The Who, wearing a floor-length crocheted jacket made by Birgitta Bjerke, hangs in the gallery beside the actual purple/blue/green-striped duster. In Birgitta's hands, a conventional craft form became a popular rage and just about every rock musician and his girlfriend wanted one of her uniquely designed garments. Nearly all of them have a "stash pocket" hidden somewhere. Some even have a little "tit slit," a peek-a-boo opening for an adventurous nipple. These garments look like granny's afghan on acid.
Truly, the king-size crocheted bedspread, commissioned by the then-partner of the Grateful Dead's Bob Weir, is a testament to a psychedelic era. Birgitta titled it "Pioneer" due to its amorphous shape, which "wanders beyond its own borders," she writes. The periwinkle blue background of the large crocheted "canvas" complements the floating, star-like spheres of yellow and orange. Perhaps picturing a landscape or maybe representing a colorful, pulsing energy field, Birgitta created it freehand. A nonconformist spirit is present, and the design looks like Van Gogh's "Starry Night" hooked up with the Beatles' "Magical Mystery Tour."
The back-story to this piece is that Weir never got to see the bedspread, let alone sleep under it. Birgitta relays in words on the gallery wall, "Unfortunately, it took two years to complete … and by the time it was finished, they (Frankie and Bobby) had broken up."
Every piece has a story, giving insight into the era, the wearers and the artist. Describing a jacket with a rainbow sunburst on its back panel, made for Susila, a Grateful Dead band member's partner, Birgitta's words read, "Like Susila, herself, absolutely fearless." Other idols pictured wearing her creations include Jimmy Cliff and Eric Clapton. There are many photos of Birgitta as a young woman modeling her then-cutting edge outfits, one of which was the see-through crocheted dress. She is pictured in London, Paris, New York and California.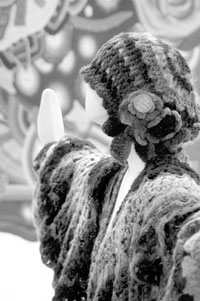 Bjerke, who later went on to work for Hollywood wardrobe sets, designe d this full-body ensemble for a trip home to visit her native Sweden. /Photo by Stephen Eginoire
Seeing the Center for Southwest Studies walls covered with wildly designed, fabulously colored, and intricately crocheted garments made for the most influential of international rock celebrities was refreshing - and perplexing. Making the connection between Birgitta and something Southwestern, Center Curator Jeanne Brako explained, "We wanted a vibrant textile show available for the biennial Intermountain Weavers Conference, which will be hosted at Fort Lewis in July. Birgitta came to our attention through a campus member who met her through the musician, Taj Mahal."
Though no justification is needed for this "far out" show, Birgitta, originally from Sweden, does live in New Mexico and, over the last 25 years, has worked on costumes for many Hollywood films that were set in the Southwest.
As a costume designer, she has worked on 11 films and her credits include "Paris, Texas" (1984), "The Legend of O.B. Taggert" (1995), "The Tao of Steve"
(2000), and "Death Valley" (2004). Birgitta was the costumer supervisor for "Dances with Wolves" (1990) and the costumer on "Deadman" (1996). A costume called Desert Rose was also made for a 1996 film, the name she has forgotten due to her "nightmare" experience with it. In spite of her difficulties with the film, the ensemble of a crocheted skirt and jacket with a matching tie-dyed T-shirt, is gorgeous. Made of soft, multi-fiber yarns, it looks like it would be exquisite to wear. The colors and design combined – muted sages, turquoise, salmon and sandy tones – speak of the subtlety of the desert Southwest at its most feminine.
On the other end of the spectrum is High Flying Bird: The Eagle Coat. A powerful totem and bold garment, Birgitta sketched out only the eagle's head, started with its piercing eye, and crocheted the entire full-length coat, free hand. Her fashions, crocheted textiles and drawings, shown all together, offer the exhibit a breadth and an intimacy that is informative and refreshing, and reveals the artist's innovative spirit. •
"100% Birgitta: The Fine Art of Revolutionary Croquet" opens to the public on Sun., Feb. 8, from 1-4 p.m. Live music and refreshments will be served and the artist will be present. Gallery hours are Mon.-Fri., 1-4 p.m. and Thurs., 1-7 p.m. The exhibition will run through Aug. 2. The Center for Southwest Studies is located at Fort Lewis
College. Call 247-7456 for more information.