Revolutionary spirit
Durango Youth Coalition mobilizes under-30 crowd

SideStory: The Youth Extravaganza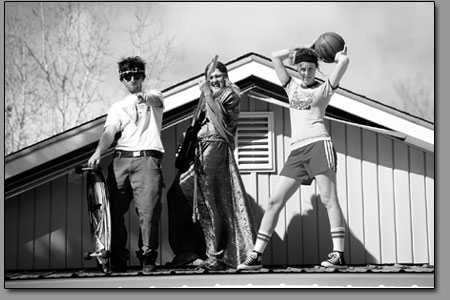 Members of the newly formed Durango Youth Coalition, from left, Eirik White, Lucy Richards and Riley Neugebauer, bust out their alter egos in advance of Friday Night's Youth Extravaganza. The event, held at St. Mark's Church hall, is a fund-rasier for the coalition and costumes are highly encouraged./Photo by Stephen Eginoire
by Missy Votel
It's been more than 40 years since the Summer of Love, but one local group is looking to rekindle that flame in local youth. Or, more appropriately, light a fire under them.
"This is a call to get off your ass," said Riley Neugebauer, founder of the newly formed Durango Youth Coalition. Neugebauer, 26, formed the group last December after leaving her post as program manager with the Four Corners Office of Renewable Energy, or 4CORE.
A solar installer by trade, she said she was spurred to action by what she saw as a lack of a local voice for those 30 and younger. "According to the 2000 census, 44 percent of the Durango population was between the ages of 15 and 30," she said. "But it doesn't seem like that when you see who's making the decisions."
In addition, Neugebauer said she saw an urgent need to address apathy and complacency and begin working on solving tomorrow's problems today. "It seems like everything is a waiting game, but we don't have 20 years to wait to address problems like climate change," Neugebauer said. "We need to understand the absolute importance of making decisions now."
To that end, the Youth Coalition seeks to serve as a collective voice for youth in local politics and decision-making with the formation of a youth advisory council to the City Council. Neugebauer also envisions the coalition as providing the tools necessary to empower young people to help affect change from a grassroots levels. "I want to tap into the idealism 4 and energy associated with young people and turn it into a positive change," she said.
As such, the coalition will offer training in a variety of areas, from conflict mediation and dismantling racism to fund-raising and social networking. Recent Durango High School graduate and coalition member, Lucy Richards, said she knows firsthand the importance of such training. Last summer, she rode her bike across the country to raise awareness of climate change. She will embark on another cross-country climate change mission this summer, as part of the national Trek to Reenergize America. "It can be scary and daunting to take an idea and put it into action," she said. "We want to give them ideas on how to get involved."
In addition to providing a voice and tools for action, Neugebauer also envisions the coalition providing start-up money to young entrepreneurs. "Unfortunately, there are not that many jobs here outside the service industry for young people," she said. "I would like to see young people be able to get their businesses off the ground. I don't want them to feel like they can't stay here because they can't find a job."
And for young artists, Neugebauer would like to see an alternative "gallery walk," showcasing the works of younger artists at unconventional venues, like coffee shops and restaurants. She also dreams of someday having a Main Avenue location, which young people can use as a meeting space, to teach classes or to use office equipment and computers, all free of charge.
But in the meantime, the coalition is still working on membership and community outreach. Last week, Richards and Neugebauer spoke to students at Durango High School and encouraged those interested to attend the group's next meeting on March 3. "We need people now who believe in what we're about and to own the organization and design what it'll be," Neugebauer said, adding that all ages, races and backgrounds are invited. "The Durango community is diverse, but segregated. We want to find out what values local youth represent across the board."
Currently, Neugebauer said there is a core of about 10 people involved in the group, with 80 on the group's e-mailing list, an amount she is optimistic about. "There's a real undercurrent of change right now, a real feeling that things need to start happening. I think the answers lie in our local communities, not at the federal level."
And while all this could be passed off by the old guard as youthful idealism, Neugebauer begs to differ. In fact, part of her inspiration for the local Youth Coalition was the Energy Action Coalition, a nationwide youth clean energy movement. It was started in 2004 by Billy Parish, who dropped out of Yale to focus his energies on mobilizing students to combat global warming. Today, the group has thousands of members and serves as the umbrella for 50 climate change groups, has signed up more than 550 colleges to the College Climate Challenge, and organized the 7,000-person "Power Shift" march on Washington.
"It's a real inspiration in terms of coalition building," said Neugebauer. "I'm interested in youth action and social power, like they had in the '60s. It's time to tap into that. The has been dead for too long." •
The next meeting of the Durango Youth Coalition takes place Tues., March 3, from 6 – 8 p.m. at the Durango Public Library. E-mail durangoyouthcoalition@gmail.com for more information.