Dale's world
Open Shutter exhibits surreal images from Dale O'Dell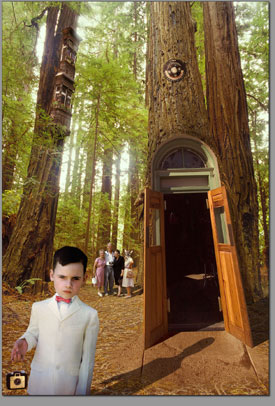 "Bring the Camera," archival print,by Dale O'Dell

by Jules Masterjohn
The most frequent comment Dale O'Dell hears about his photography is, "I'd like to live there!" His woodland environments definitely speak to one's inner hobbit. Currently on display at Open Shutter Gallery, his digital collages show us make-believe worlds, where architectural features such as doors, windows and entire rooms can be found on or inside huge trees and large boulders. Mostly set amidst redwood and aspen groves, O'Dell's fantastic environments are pieced together using his own photographs as well as vintage shots from his family, occasional clip art images, graphics editing software and, of course, a computer.
He writes in his recent book, The Surrealist Landscape: Woodlands, "I have chosen to use the 'real' or 'straight' landscape as foundation and starting point for the creation of my own fictional places. Instead of documenting a place which is truly best experienced with all five senses, my photo-digital surreal landscapes exist outside the laws of physics, logic and normalcy."
I have to disagree. O'Dell's images are totally in keeping with the attributes of the physical world. Though the elements he places within his environments are imagined juxtapositions of actual objects like the lavishly appointed room within a boulder in "Sierra Sunroom," O'Dell goes to painstaking photo-editing efforts to adjust the scale of these objects and their lighting, consistent and believable to one's real-life perception. The highlights and cast shadows of the objects pictured as well as the deep space perspective that they occupy, willingly obey the rules of physics.
Computer software is a master tool in O'Dell's hands, allowing him to "create realistically plausible unrealistic scenes." He meets his goal and does it exceedingly well. Seeing his work makes one want to rush out and enroll in the next Photoshop class, so seductive are his images in demonstrating the capabilities of the technology. Yet, at least this viewer knows she hasn't the temperament to spend countless hours cloning various size cloverleaves into the forest floor as O'Dell has done in "We Are Here." In other images, like "Bureau of Expectations," his interest in minutia is obvious, though the nearly hidden details in the picture are not.
Perhaps O'Dell inherited this passion for detail from his father, who worked for NASA as a contractor. While he was inclined to science through his dad, his mother enrolled him in art classes, so the young O'Dell developed interests in both science and aesthetics early in life. From the time he received his first camera as a teen, he knew that photography would be in his life. In 1982, he earned a B.S. in photography and continued to familiarize himself with nearly every darkroom technique. As an early devotee of digital technology, in 1983 he made history by publishing the first advertising image to be created solely using computer-generated images. O'Dell established his own commercial studio in 1986 and after many successful years, he has shifted his emphasis to fine art photography.
Today, his interest is in crafting fantasy scenes. "What excites me are things I've never seen before." O'Dell terms his work "surrealist," and in keeping with a basic tenet of surrealism, he selects his images unconsciously, snapping pictures of things that interest him with a point-and-shoot camera. "If I take this and add this," he offered as insight to his creative process, "I let the artwork go where it wants."
For O'Dell, photography is a "mining expedition." He owes this attitude of wandering through his mind to the Surrealist painters like Salvador Dali and Max Ernst. In the early 20th century, they opened the doors for visual artists to use the technique of tapping into the unconscious for images. As Steven Little, author of …isms: Understanding Art, writes, "It aimed to create art which is 'automatic,' meaning that it had emerged directly from the unconscious without being shaped by reason, morality or aesthetic judgment." The images of these early Surrealists, however, are often deeply psychological, sometimes portraying irrational and disturbing content.
In this exhibition, the closest that O'Dell comes to an unsettling image is "Perceptual Garden," a glowing orange aspen forest in autumn. Human eyes peer out from the trees in the foreground and a large eye gazes from a porthole in a boulder. The hazel eyes, which look in every direction, are so seamlessly integrated into the aspen bark that this otherwise plausible scene becomes a wee bit unnerving. Add to that the tables are turned on the normal experience of us looking at nature and not the reverse, "Perceptual Garden" holds potential psychological implications. •
O'Dell will present a free gallery talk at 6 p.m. Tues., March 3, about the history of his process and will show how his images are created on the computer. He will discuss and deconstruct his picture, "Bring the Camera," at Open Shutter Gallery, 735 Main Ave., where O'Dell is currently showing his digital collages, along with Lloyd Birdwell's hand-colored, black-and-white photo-mosaics, through March 5.