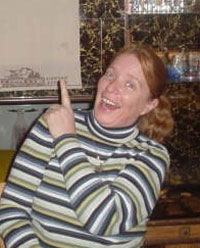 Diver: Sue from Big Red Sled Media
Interesting facts: Sue adopts an alter ego and pounces on this week's questions.
Got a dirty little secret?
Looking for guidance to remedy a sticky situation?
Seek help from the master of the kitchen! The Dish Diver has solutions to life's little messes. Send your problems to "Ask the Diver." - By mail to Durango Telegraph - Attn Diver -534 Main Ave., Durango, CO 81301; by email at telegraph@durangotelegraph.com, or by fax at 259-0448.
Dear Diver,
Everyone I know has a cold, flu or the crud right now, and you can't walk into a restaurant, gas station or grocery store without hearing a sniffle, cough or nose being blown. What preventative measures can the diver suggest for maintaining mid-winter health? What remedies would you use for those who have already fallen?
– Signed, On the Brink in Durango
Dear Brinksville:
Yes, I can sympathize. One time everyone in our house had a particularly nasty case of extreme galloping crud. We were all so beat down that we could barely make cold cereal for dinner. We finally had enough of that and braved the elements to go get takeout from a local downtown chicken shack. We got a whole bucket of broasted chicken, mashed potatoes with extra gravy, corn, and biscuits and honey – and man oh, man, was it a spot-hitter. We killed the crud with an overabundance of carbs, fats and sugar. I would suggest you do the same! Load up on some chili cheese fries and a bomber of heavy beer. Sit back and watch mindless television. You'll survive. You'll feel better, at least until the bomber wears off. Oh, and WASH YOUR HANDS FREQUENTLY!! Cheers!
– Warmly, the Diver
Dear Diver,
Please settle this question once and for all. What are the best techniques for driving on snow-packed and icy roads?
– Sandy in Hermosa
Dear Sandy,
Having learned how to drive on ice and snow back in the day when rear-wheel drive was the norm, my guess is that the word we need here is subtlety. Of course, you can't do like we did back then and hit a great big parking lot in the middle of the night and pull brodies until you could teach yourself to counter-steer out of them. Two tons of Detroit steel, eight cylinders, 400 cubes of un-catalytic-convertered power, 6 inches of snow, a K-mart parking lot and only about a dozen light poles to miss. Wheeeee! But I digress. I've found the best way to avoid all the imbeciles who think that four-wheel-drive cures all, including ice, is to try to maintain a quarter-mile buffer zone around you. You can teach others to respect your space! Be gentle with the brakes and the accelerator, but ruthless with the middle finger! (so much for subtlety…) Practice dirty looks in the rear view mirror! Those behind you will back off when they see the nasty glares you're putting out there. Those in front of you will do their best to get out of the way. Presto! Buffer zone! Space! Freedom! Either that or learn to snowshoe or cross country ski, and leave the vehicles to the masses.
– Spinningly, the Diver
Dear Diver,
We fear our new office is haunted. From day one, we've had major issues with our computers, phones and fax machine. Everything that worked perfectly on the other side of town is now going haywire. Even the techs think there may be a "ghost" in the machine. How do we bewitch these evil spirits out of existence?"
– Pete the pencil pusher
Dear Pete,
It seems as if this is an extreme case. My suggestion is to power everything up to "full speed ahead" and send a surge through every piece of electronic stuff you have. Make sure all the lights are out except maybe the blacklight, and watch for blobs of ectoplasm to be forcefully ejected. Then turn on white-hot spotlights and melt the little bastards in midair. It may take more than one application, so call out for wings, pizza and beer and stay with it! Somebody's gotta be the hero, so it might as well be YOU! You'll no longer be Pete the Pencil Pusher, you'll be Pete the Popular Tech! Trust me, that's a very difficult title to own and maintain, plus it's sort of an oxy-moron. Popular? Tech? In the same sentence? You would rock the world. Now find some electricity and get to work!
– Searingly, the Diver