Mr. Brown, Playa's Ball and the year's best grass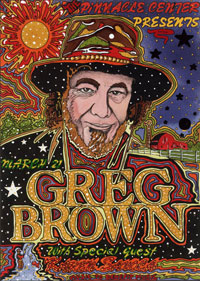 Greg Brown plays the Smiley Auditorium on Dec. 17

by Chris Aaland
The best thing about the holidays is seeing old friends and family. This week's entertainment lineup shares that same spirit, with a favorite folkie returning to town, seasonal ballet and scores of local talent.
Folk legend Greg Brown will once again grace a local stage at 7 p.m. tonight (Thurs., Dec. 17) at the Smiley Auditorium. The Grammy nominee used to play Durango regularly during the formative years of Durango Acoustic Music but has only visited once this past decade for a Community Concert Hall gig. Brown has 27 albums to his credit, including such timeless records as "The Poet Game," "Further In" and "Dream Café." His songs have been covered by a wide spectrum of artists, including Willie Nelson, Santana, Lucinda Williams and Gillian Welch. Brown's concert is presented by Bad Girls Productions, with support by the San Juan Resource Conservation and Development Council, an organization designed to provide quality service and technical expertise in the use, protection and improvement of the natural, cultural, historical and economic resources of the area.
It wouldn't be the holidays without "The Nutcracker," which returns to the Community Concert Hall for two matinees and two evening performances. Evening shows are scheduled for 7 p.m. Friday and Saturday; matinees will start at 2 p.m. Saturday and Sunday. This time around, the State Street Ballet of Santa Barbara and artistic director Rodney Gustafson will interpret the Tchaikovsky masterpiece. They'll be joined by 57 local dancers ages 5-13.
Tired of the same old office Christmas party? El Rancho is serving up a special holiday treat Friday with live music by Farmington Hill at 8 p.m. and the Lawn Chair Kings at 10. The former is the country side project of the Freeman Social and Erik and Kelly of the Lawn Chair Kings. It'll be a big ol' Yule barn dance with equal parts country, punk and Western garage. The Nord himself told me that the Kings will play CCR and GNR covers that they couldn't do because of time constraints at their abbreviated KDUR Cover Night set a few weeks ago.
Oakhurst brings its Denver citybilly, Appalachian folk and bluegrass to the Abbey at 9 p.m. tonight. Their latest CD, "Jump in the Getdown," is certainly a fun affair. I caught their act at one of the Silverton Jamborees and found myself grooving along with all of the other Carhartt-attired dancers.
Celebrate the end of Finals Week, FLC's December graduation or that extended Christmas vacation you're planning at the Playa's Ball at the Abbey from 8 p.m. 'til 2 a.m. Friday. Music includes a high-energy mix of electro, dub-step, glitch-hop, freestyle and house with performances by the Wyld Stallynz, DJ Lank with MC Fader and Bigfoot Bridges. Wear your best playa gear for the chance to win a $100 cash prize. The event is open to anyone 18 and over with valid ID.
New Mexico's premiere retro-funk band, Felonious Groove Foundation, plays the Summit at 10 p.m. Saturday. This sextet incorporates Latin, hip-hop and jazz. Expect to hear plenty of chicken-scratch guitars, turntables, slap bass, '70s breakbeats and punch saxophones.
This week's Summit bill also features DJ Peter Robot and friends on Thursday, acoustic happy hours with Rupnow and friends from 6-9 p.m. Friday and Saturday, and a 10 p.m. Friday gig by DJ Benjamin K
Witness the return of DJs El Beau and Posh Josh at 10 p.m. tonight at Steamworks. Their mix of funk, soul and house music will make you dance off some of those Christmas cookies you've been double-fisting lately.
The Starlight's slate includes the Bob Hemenger Trio from 6-9 Friday, the Same Old Band at 9 p.m. Saturday, the Daydreamers at 9 p.m. Tuesday and regular entertainment like salsa night (tonight), musica del mundo (Sunday) and Jonezy's Club Meds (Wednesday).
Elsewhere: Larry Carver and Randy Crumbaugh play rock and folk at the Diamond Belle Saloon at 5:30 p.m. Friday; Larry returns to the Belle with Nina Sasaki at 6 p.m. Saturday; the Kirk James Blues Band struts its stuff at the 8th Ave. Tavern from 8-midnight Friday and at Desperados Bar & Grill in Bodo Park from 8-midnight Saturday; Back Alley Blues does a 5-7 p.m. FAC at the Purple Haze Friday; Neil Nelson & the Saloonatics play the Purple Haze at 9 p.m. Saturday; and Formula 151 ventures back to the Billy Goat Saloon in Gem Village at 8 p.m. Friday.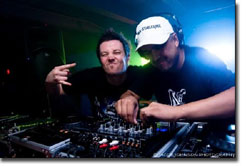 Wyld Stallynz play the Playa's Ball Fri., Dec. 18

I defer to KDUR DJ, Rock & Rye frontman and Durango Bluegrass Meltdown bookie David Smith for this week's Top Shelf list. David shares his top 10 bluegrass albums of 2009:
1. Steep Canyon Rangers, "Deep in the Shade" — Graham Sharp's songwriting is elevated to a whole new level, and Nicky Saunders is solidified as a bluegrass fiddle great.
2. David Davis & the Warrior River Boys, "Two Dimes and a Nickel" — Nobody sings it like David Davis, and nobody plays fiddle as lonesome as Owen Saunders. Hank Williams meets Bill Monroe.
3. Audie Blaylock and Redline, self-titled — From a capella to rip-roaring pickers, this is bluegrass at its best. Look for Redline in the 2010 Durango Bluegrass Meltdown lineup!
4. Songs from the Road Band, "As the Crow Flies" — A great album with a strong folk/rock/country feel.
5. Doyle Lawson & Quicksilver, "Lonely Street" — The band's lineup seems to change faster than albums come out, but the soaring vocals and solid song selections of Quicksilver never falter.
6. Jeremy Garrett, "I Am a Stranger" — Probably the most progressive album on my top 10. Jeremy is joined by very talented musicians throughout.
7. Larry Keel & Natural Bridge, "Backwoods" — Jamgrass makes the list. Fearless, rhythmical and driving.
8. Dailey & Vincent, "Brothers from Different Mothers" — I'm not a big fan of the ultra-clean, super-produced and perfectly-arranged bluegrass. But boy, oh boy, can these guys sing.
9. Hard Pressed, "From a Different Time" — Colorado makes the list! Cory Obert is best known as the fiddler for Sweet Sunny South. His wife, Andrea Lecos, showcases her talent with several originals.
10. Spring Creek "Way up on a Mountain" — The band is out of Lyons, but years back many of them called Texas their home. I like that they have a unique Texas sound that holds to their roots. •
There were hoof prints on her forehead? E-mail me at chrisa@gobrainstorm.net.
•
In this week's issue...
March 17, 2022

Lake Powell drops below threshold for the first time despite attempts to avoid it
March 17, 2022

Purgatory Resort set for expansion but still faces hurdles
March 10, 2022

New health care studio takes integrated approach to healing