Locomotives and locavores
D&SNG forges local foods partnership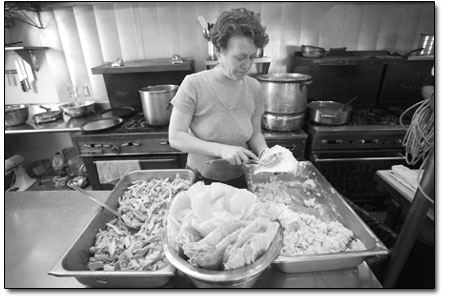 Linda Illsley prepares tamales at her Durango restaurant, Cocina Linda. Starting this winter, she and other local food producers will be supplying food for the Durango & Silverton Narrow Gauge Railroad's train to Cascade. Other offerings include local meat, beans and dessert./Photo by Stephen Eginoire
by Missy Votel
The Durango & Silverton Narrow Gauge Railroad is getting on board with the locavore movement. This winter, the train is offering locally grown and produced food on its Cascade Canyon trip in a unique partnership with local businesses. In addition, the train will also be offering side tours of Fox Fire Farms, in Ignacio, to its summer visitors.
"We are excited about the possibility of adding this to our offerings and feel it would appeal to people who appreciate organic, locally grown, unique foods and ways of living," said D&SNG Marketing Manager Andrea Seid. "As a locally owned company, the D&SNG believes in community and supporting local businesses and the local economy."
This winter, Cascade train passengers will be given the option of purchasing a package deal with their tickets, which includes a meal consisting of Cocina Linda tamales, either with Fox Fire Farms meat or vegetables; beans from Dove Creek; salsa from local farms; and a brownie made by Cake Café. "We feel this is a great offering to our passengers and offers them one more 'local' experience," said Seid.
Linda Illsley, owner of Cocina Linda, said the idea of offering local food on the train came about after a chance meeting at the Durango Farmers Market this summer. Fox Fire was trying to find new ways to market its lamb and goat, and Illsley offered to put the meat in her popular tamales, a staple for market goers. "I am always nagged by a feeling that I can do more for local farmers, so I try to help them out as much as I can," she said.
Fox Fire began offering the samples of the tamales at their booth. They were an instant success, with sales of lamb and goat seeing an increase as a result. One of the new converts to the was Gary Keil, a marketing executive at the train. "He really liked them and told me 4 the train was trying to support local farms and do more local things," said Illsley.
The two began talking, and a few months later, the new local train menu became a reality. "The two came to us with a great proposal," said Seid.
Illsley said with such a late start to the planning process, this year will serve as a trial run. Then, taking what they learned, she and the train will be better suited next spring to place their local orders for the following year. "By next year, we will be able to start sourcing more of the products locally," she said.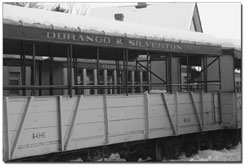 In an effort to further its commitment to other local businesses, the Durango & Silverton Narrow Gauge Railroad will be offering something new to its winter customers: a meal of locally produced items./Photo by Stephen Eginoire
Such innovative food partnerships are the wave of the future, popping up all over the country, said Illsley, a longtime proponent of using local food. But she said the D&SNG effort is particularly unique. "The beauty of it for me is this is a new kind of relationship that has a lot of benefits for the local farming community," she said. "That's what's so exciting."
In addition to offering the farmers end product, the train is offering visitors a glimpse of what goes on behind the scenes at a working farm as well. Last summer, the D&SNG began booking trips for visitors interested in driving to the farm and taking an "active tour" of Fox Fire Farms. About 300 people took the tour last summer said Fox Fire's Marketing Director Brent Wolter.
"When they come out, we have special covered wagons to take them around in," he said. "They get to see firsthand how we farm and ho w an active, organic farm operates."
Wolter said Fox Fire is a better option to large-scale farming because it utilizes multi-species as well as tiered grazing. The farm, which has been continuously run by the Parry family since 1913, is home to 30 pigs, 40 head of cattle, 1,500 lamb, 350 goats and 700 hens during the height of the production season. However, instead of grazing each species independently, they instead graze the same 1,000-acre plot in various stages, with cattle going first followed by sheep, chicken, goats and pigs. The advantage of this is that each animal takes, and leaves, something different from the land, mimicking what happens in nature. For example, cattle leave behind manure that fertilizes the vegetation for the sheep, which in turn help spread seed and leave behind food for the chickens, and so on and so forth. "It adds organic amendment to the soil, is earth friendly and sustainable," said Wolter. "We don't believe in feedlots because it's not healthy for the animals or the environment."
More and more, Wolter said people are growing suspicious of mass-produced meat and want to see where their food is coming from. Since 1998, the Fox Fire has doubled its business every year. "There are so many lies and deceptions in the food industry," he said. The latest illustration of that is the recent discovery that much of the beef in some national organic chains is no different than that at regular supermarket chains. "Most of that beef comes from the same feed lot, and they just slap a 'natural grass-fed' label on it, which is legal as long as the animals were fed grass at some time in their life.
"It's not what you think it is. What we raise here is the real deal," he continued.
In addition to the farm tour, Fox Fire also plans to offer wine and cheese tasting next summer. The farm planted vines five years ago and had its first vintage, a Riesling, bottled by McElmo Canyon's Guy Drew vineyards, this fall.
As such collaborative efforts as the one between Fox Fire and the D&SNG or Guy Drew Vineyards continue to grow, Wolter said he believes it will only help fortify the region's economy and bring more visitors. "The train really is the biggest draw around, and the more people come to ride it, the more stuff they'll need to do while they're here," he said. "This is just another aspect of the Southwest we can show them to give Durango more of a destination feel." •
In this week's issue...
March 17, 2022

Lake Powell drops below threshold for the first time despite attempts to avoid it
March 17, 2022

Purgatory Resort set for expansion but still faces hurdles
March 10, 2022

New health care studio takes integrated approach to healing