Hungry for the holidays
Durango Food Bank weathers difficult year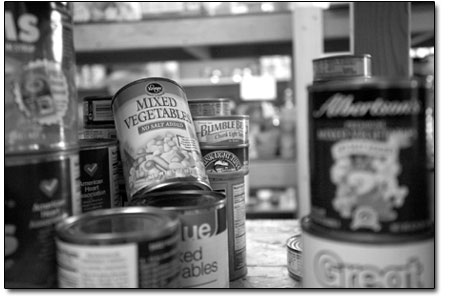 Cans line the shelves at the Durango Food Bank earlier this week. Despite national economic indicators that show the recession is coming to an end, more local residents are struggling to put food on the table than ever. According to the USDA, 14.6 percent of U.S. households didn't ahve enough food at some time in 2008, 11 percent more than in 2007./Photo by Stephen Eginoire
by Anna Thomas
The Durango Food Bank's motto of "Working to Feed Our Neighbors in Need" has taken on new meaning this season as the line between "neighbor" and "needy" becomes increasingly blurred. Despite Federal Reserve Chairman Ben Bernanke's September declaration that "the recession is likely over," an increasing number of La Plata County residents are struggling just to put food on the table.
In regards to the current influx of clients, Durango Food Bank director Sarah Smith commented, she had been surprised at the amount of seemingly middle class people coming in. "You think they're there to drop off a donation, but they're there to pick up food."
The USDA's Economic Research Service recently released a report on food security, which is defined as "access by all people at all times to enough food for an active, healthy life." According to the report, 14.6 percent of U.S. households were food insecure at some time in 2008. That equates to 49 million Americans, 17 million of whom are children. It represents an increase from 11.1 percent in 2007 and is the highest rate of food insecurity since the first survey was conducted, in 1995.
The strain is being felt by food banks across the country, reports Feeding America, the nation's leading domestic hunger-relief organization. Its September 2009 "Economic Impact Survey" of 176 food banks around the country found that a whopping 99 percent of food banks reported increased demand for emergency food assistance over the last year. The average increase was 30 percent, with Colorado food banks reporting an increase of more than 50 percent.
Reflecting Smith's observation, the survey also found that the increase in demand is particularly driven by more first-time users and, not surprisingly given the current state of the economy, more newly unemployed.
Smith said that volunteers at the food bank with full-time jobs have indicated concerns about cutbacks and forced furlough, half-joking about being on the receiving end of the food bank's services. And it is a not-so-remote possibility it seems, given recent unemployment figures unemployment rate for the past 10 years has hovered right around 5 percent. While Colorado's unemployment rate of 6.9 percent is well below the national average, still almost 350,000 Colorado residents are jobless.
In October of this year, the U.S. unemployment rate climbed to 10.2 percent, hitting the double-digits for the first time in more than a quarter century. That's almost 11 million out-of-work Americans. To put things in perspective, the average national
The Department of Labor reported last week that first-time claims for unemployment benefits rose to a higher-than-expected figure of 17,000 during the first week of December, after falling for five straight weeks.
According to Feeding America, 91 percent of food banks surveyed cited unemployment as a critical factor in the increasing need for emergency food over the last year. In contrast, in a similar survey conducted in May 2008, only 43 percent of food banks cited rising unemployment as a major factor.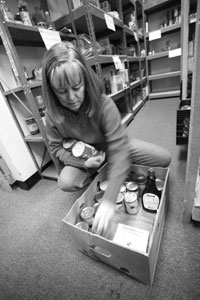 Debbie Williams, who has volunteered at the the Durango Food Bank for 10 years, fills an order for a client this week./Photo by Stephen Eginoire
All this translates to more mouths to feed for food-assistance programs like the food bank.
"We have had a huge increase," Smith said. "We've never gone over 300 clients, and in July, we had 357 clients come in, and over 300 in October. Four or five clients a day was the average. Now we're lucky if we're doing only nine or ten."
The USDA's Supplemental Nutrition Assistance Program (SNAP), formerly known as Food Stamps, has also seen a notable increase in demand for services. In September of this year, 363,738 Colorado residents were SNAP beneficiaries, up a significant 37 percent from just one year ago. (In contrast, the national figures reflected a 17.7 percent increase.) Through the program, the average Colorado participant receives just more than $131 per month.
To be eligible for SNAP benefits, applicants have a net monthly income at or lower than the official U.S. poverty level of $903. That puts those able to subsist by finding part-time work or receiving unemployment benefits in a tight spot.
The La Plata County Human Services Department, said Smith, refers 25 percent of SNAP applicants to the food bank for assistance. These are people who are either ineligible for food stamps due to the income restrictions, or who are waiting for their benefits to kick in. 1,386 households received SNAP benefits in La Plata County this November (up a significant 40% from the same month in 2008). That equates to 350 referrals per month to the Food Bank from the Human Services Department alone. Incidentally, the food bank does not have income guidelines. All that is necessary to be eligible is that the potential recipient be a county resident and be able to demonstrate need.
However, Smith pointed out, the food bank is defined as an emergency assistance program. Currently, the food bank limits each family to two weeks of food once every three months. In addition, the provision is limited to one meat item per visit.
The food bank recently got a boost from retail giant Wal-Mart. Until a month ago, said Smith, Wal-Mart's corporate regulations required the disposal of all outdated or expired food products. Through a partnership between Wal-Mart and Feeding America, all expired food is now frozen immediately after being pulled from the shelf, then donated to the food bank three times a week. In order to comply with the corporation's rules, the food bank was required to purchase a refrigerated truck to transport the merchandise, with funds contributed by LPEA and BP.
Last Friday, the truck picked up 1,380 pounds of food in one delivery. That translates to more than 10,000 pounds of food per month. In contrast, the combined amount of food donated by all the grocery stores in town ranges from 300 to 500 pounds per month.
"With Wal-Mart, we now have a tremendous amount of food that is desperately needed," said Smith.
As for individual donors, monetary donations are down, according to Smith. However, she noted, there are more people donating food items, which is still greatly needed and appreciated. "We're relying on the community to give food," said Smith. "And the community's been coming together to help out." •
In this week's issue...
March 17, 2022

Lake Powell drops below threshold for the first time despite attempts to avoid it
March 17, 2022

Purgatory Resort set for expansion but still faces hurdles
March 10, 2022

New health care studio takes integrated approach to healing