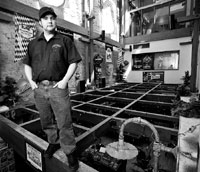 Divers: Andy, of Lady Falconburgh's fame
Interesting facts: Andy, aka Muffin, gets to handle some of the best taps in Durango
Got a dirty little secret?
Looking for guidance to remedy a sticky situation?
Seek help from the master of the kitchen! The Dish Diver has solutions to life's little messes. Send your problems to "Ask the Diver." - By mail to Durango Telegraph - Attn Diver -534 Main Ave., Durango, CO 81301; by email at telegraph@durangotelegraph.com, or by fax at 259-0448.
Dear Diver,
Please advise me why "Little Beaver" has not been put on the case for revealing the identity of the Durango City Council Chicken. You know he can do it.
– D. in Durango
Dear D & D,
This is a very sad subject for me, as I agree with your optimism. We all know that the Beav would already have this case solved, but I regret to inform you that he has taken another job out of town. He is currently at the White House trying to wrap up the so-called "Dinner Crashers" case, and through the grapevine, I heard that Obama may keep him around and promote him to head of the Secret Service. We all wish him the best, and if this doesn't pan out, I'm sure he'll be back to fighting crime in our ho-hum town.
– Diver
Dear Diver,
I have a secret confession to make. I actually like Hummers (I actually like all hummers, but am talking about the automobile). I know they're gas pigs and a symbol of Republican domination, but there's something about the Humvee that turns me on. How do I reconcile this forbidden love with a town that's not exactly Hummer-friendly? What's the best outlet for my secret fascination.
– Under Cover in Durango
Dear Under,
Wow, it turns out that I am also a fan of the hummer, so it seems as though we share something in common. Now, let's not limit this just to Republicans, as far as my research is concerned, we had a past Democratic president that was a fan as well. My suggestion is, go out and get a hummer today, and tomorrow. Christ, while you're at it, get the whole family a hummer, I bet you could get a smokin' deal down in Albuquerque. So, now that I'll be going to confession this weekend, I recommend you let down your guard, buy that gas guzzler of an automobile, and stay out of the passing lane on your way to Purg.
– Diver
Dear Diver
A decade old dream of mine has finally come true. I've been invited on a Grand Canyon river trip. There is one hitch, however. We put-on the river on Christmas Eve. What advice can the Diver offer for surviving a cold trip through the Big Ditch and returning with all my parts and pieces intact.
– Fran
Fran my dear,
Here's a thought, go in July like a normal person. Although I would also take a trip down the Big Ditch in a heartbeat, the only advice I have is dress really warm and bring a bunch of chili (the chili is for obvious reasons). I'm sure one of the many raft companies would love to outfit you in a dry suit or two. Finally, get in a boat with a veteran who knows the right lines, because it would pain me to hear you spent New Years in a hypothermic state.
–Diver
In this week's issue...
March 17, 2022

Lake Powell drops below threshold for the first time despite attempts to avoid it
March 17, 2022

Purgatory Resort set for expansion but still faces hurdles
March 10, 2022

New health care studio takes integrated approach to healing