The debut of 'Déjà Vu'
FLC premieres original play by Kari Margolis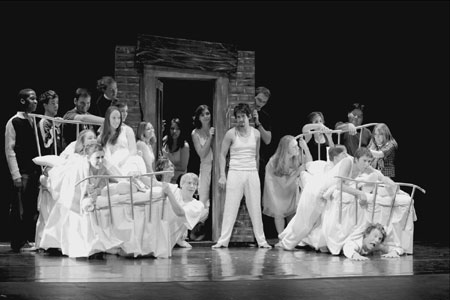 The cast of "Déjà Vu" piles on stage during a dress rehearsal at the Fort Lewis College Mainstage Theater on Monday night. The surreal play, an original work by theater pioneer Kari Margolis, opens this week./Photo by Stephen Eginoire
by Stew Mosberg
Seeing sheet-draped bodies on stage before the curtain has even gone up is a sure sign that the coming performance will be unconventional; and it is. "Déjà Vu," an original work by theater pioneer Kari Margolis, opens this Thursday at the Fort Lewis College Mainstage Theatre.
Kathryn Moller, chair of the FLC Theatre Department, first met Margolis at the Rocky Mountain Theatre Association Festival, held last year in Durango. Moller brought Margolis back to Durango last month to teach students the unique Margolis Method of Acting, culminating in the production of "Déjà Vu."
Margolis and her husband, Tony Brown, founded the Margolis-Brown Adaptors Company in New York City 25 years ago. During that time, she authored and directed 15 productions, and her works have toured internationally as well as in the United States. In the late 1980s, after spending seven years abroad, the couple returned to New York where Margolis developed her trademarked techniques that provide a unique physical approach to the training of actors.
The Dec. 3 opening performance of "Déjà Vu" (French for "already seen") celebrates the culmination of the renowned artistic director's collaborative endeavor with the FLC Theatre Department. Those who have experienced a déjà vu moment know it is an overwhelming sense of familiarity with something that shouldn't be familiar at all. The nonstop presentation is a multimedia journey into the psychology of dreams and nightmares. It is a revisiting of deep-set fears and fantasies, and reaches into the unconscious mind. The play, running about an hour, is visionary, creative and, arguably, off-beat theater.
Margolis' teachings, her direction, conception and production deliver an original perspective on how theater can stimulate thought and provoke introspection. Viewers may wonder if what is taking place on stage is intended to be real or a dream; is it a vision or reality?
The production also reflects a creative collaboration with Tony Brown, Margolis' husband of 32 years, and spotlights his original music, video projection and sound, and special effects. The result is an effect that will leave audience members wondering how the illusions were created. Spider webs, a floating man, giant meshing gears and rolling beds are as much a part of the action as are the ensemble players. The staging of each of the vignettes, dreamlike in their execution and theme, are fascinating to watch and all too soon fade to black.
The student ensemble cast achieves a high level of professionalism, delivering sparse remarks comically or dramatically, and on one brief occasion, paying homage to Shakespeare (hint: it's from "Hamlet.")
Dance movements play a large part in the staging, and while it is more of a collective narrative than a pas de deux, it occasionally borders on ballet or gymnastics and is engaging to watch. The Mainstage Theatre is a perfect venue for this performance, offering a sufficiently large stage and a seating capacity that doesn't overwhelm. Durangoans are encouraged to purchase tickets early as these shows are certain to sell out. Margolis has intentionally used everyday objects in the show, things that can be found at a Home Depot; items that are so familiar they might appear in audience members' dreams. In "Déjà Vu," PVC piping, shutter doors, a red beach ball, and chrome metal rings take on new meanings in our subconscious and become something other than our normal perception.
"I want the audience to explore," she explained, "to realize that there is magic in everyday objects." The Margolis Brown Adaptors Co. has been training actors for years using Kari's distinctive method of exercise and movement that ultimately connects actors to the audience. That goal of "connecting" led to the name "Adaptors," as Margolis described it, "much the way hardware adaptors are used to connect pipes and circuitry." After more than 30 years in theater, she said, "I still love the process." Since its inception, her workshop has served thousands of actors. "The Margolis Method," she declared, "has reached critical mass."
She and Brown are now certifying a new generation of actors that have gone though the process and can teach the method. "It's all about empowering the actors," she said, "if the training is great, the product is great!" Audience members at "Déjà Vu" will get the chance to see the results of the process and also have the opportunity to join in a question-and-answer period following the performances.
After working with Kathryn Moller and the students since the beginning of November, Margolis glowingly credits the ensemble's ability, talent and eagerness in embracing her method and the play. "Much of the credit goes to Kathryn for what she has accomplished with the theatre department through her energy, enthusiasm, knowledge and fund-raising effort," Margolis said.
When asked specifically about the unusual production and what she hopes the audiences will get from it, Margolis concluded, "People need to understand that this is not a linear play, but it is not experimental theater either, it's a dreamscape." •
In this week's issue...
July 21, 2022

Land swap approved in Southwest Colorado, but not without detractors
July 21, 2022

The latest strategy to save the San Luis Valley's shrinking aquifer: paying farmers not to farm
July 14, 2022

Despite SCOTUS ruling, San Juan Generating Station plans to shut down