Ski areas get green grades
Colorado resorts upping commitment to conservation

SideStory: Riding for charity: DMR announces Locals Days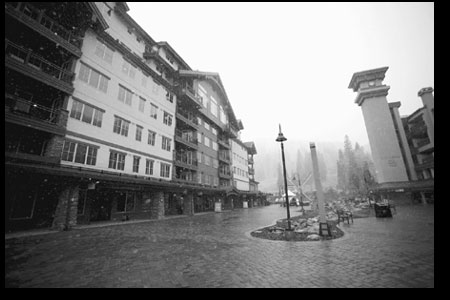 An early season storm settles over the plaza at Durango Mountain Resort earlier this year. The local hill received a C grade in the latest Ski Area Report Card. The resort was docked for its recent Legends expansion and real estate development but received high marks for protecting lynx habitat and offering carpool incentives./Photo by Stephen Eginoire
by Missy Votel
Colorado ski resorts once again have been put to the environmental test, and they all made passing grades. Of the state's 20 resorts rated on the annual Ski Area Environmental Report Card, there were only three Ds and no Fs. Southwest Colorado resorts fared reasonably well, with Durango Mountain Resort receiving a C, mostly due to real estate development, and Telluride and Wolf Creek both mustering Bs.
The report card, a project of the Ski Area Citizens Coalition, a partnership between Colorado Wild and the Sierra Nevada Alliance, has been ranking more than 80 Western ski resorts for the last 10 years. The report card scores are based on environmental policies and practices using 35 criteria. For 2009-10, instead of receiving one all-encompassing grade, resorts were graded in four areas: habitat protection; watershed protection; efforts to address climate change; and environmental policies and practices. The final grade is an aggregate score.
Although often dismissed by industry officials as subjective, the report card issuers say it is an important gauge for customers in the increasingly competitive ski-area market. "It gives consumers more to go on when deciding where to ski," said report card Research Director Paul Joyce, of Colorado Wild. As people become more aware of the impacts of global warming, they are demanding more environmentally friendly measures from resorts, he said.
This year marked the third straight year of marked improvement from resorts, with Colorado making the strongest showing in the environmental policies and practices category. "The ski industry, by its very nature, is very energy consumptive, and I think resorts are starting to respond to that," Joyce said. Nevertheless, the steps, albeit positive, are small. "Somehow these little things don't really make up for the fact that there are 14,000-square-foot homes with heated driveways sitting empty most of the year. These are small steps for a big industry."
Four resorts gained As this year: Aspen Mountain, Aspen Highlands, Buttermilk and Powderhorn. The Aspen resorts scored well mostly due to a lack of active real estate development and an aggressive renewable energy program.
One of the most promising things Joyce sees among Colorado resorts is the willingness to tout their green commitment, effectively holding them to the environmental fire. "A lot of them are putting that eco-friendly message out there, and in doing so are accepting some level of responsibility," he said. "The way I see it is, if you see a Coke can in a trash can, you have the right to go to them and complain."
He also said with improvements in technology and reductions in costs, resorts are seeing energy efficiency as more attractive from a fiscal standpoint "Energy retrofits don't just save energy, they save money. And resorts are always looking at ways to save money," he said.
Despite this year's relatively good news, Joyce said many of the resorts still attained Ds or Fs in at least one category. A low spot for DMR was a D in the watershed category for its recent 71-acre Legends expansion. DMR also received a C in habitat protection for its 25-year master plan. "DMR's master plan calls for a very large real estate development," he said. "They also got into a little bit of wetlands and were docked for snowmaking."
He said the resort gained points for removing lynx habitat from the initial expansion proposal. And although he commended the resort for not building any roads and hand-felling trees in the expansion area, he said any disturbance of the forest will have a negative impact on wildlife. "Expansion is one of the biggest impacts a ski area can have," said Joyce. "Protecting high-country forests, watershed, habitat and vegetation is the goal of Colorado Wild, so that's part of the score card that we take a hard look at."
On the flip side, Joyce said DMR has done an admirable job shoring up its energy consumption by retrofitting snow guns; exploring on-mountain wind, solar and microhydro projects; and instituting employee carpool incentives.
DMR Communications Director Beth Holland said the resort is not overly concerned with the report card standings. "As long as we have real estate in our master plan, we can't influence our score," she said. "There's nothing we can do about it. It isn't very motivating."
Instead, she said the resort is focusing on things it can do, like recycling, using biodiesel in its on-mountain fleet and energy- and waste-saving retrofits. Although there is no one person in charge of green initiatives at the resort, there is an environmental committee made up of representatives from various departments that meets several times a year.
The big push for the 2009-10 season is transportation, with the resort reinstating its ski shuttle. The bus will leave every day from the city's new Transit Center at 8:30 a.m. with stops at Durango High School and Animas Valley Elementary. The shuttle will also make stops at Fort Lewis College on the weekends. Round trip passes are $10, or riders can buy punch cards for 12 round trips for $99.
"If we can get even 100 riders a day on the bus, that will make a huge difference on the road as far as emissions, traffic and safety," Holland said.
DMR will also be offering a reverse "shopper's shuttle" to take resort dwellers to town for the day. These buses are in addition to the employee shuttle that DMR already offers to its workers. DMR also has a carpool incentive program, whereby employee drivers with two or more passengers receive between $5 to $10, depending on distance.
As far as the renewable energy part of the equation, DMR is facing a tougher solution. Right now, the resorts lifts run on electricity, but a lack of steady wind has ruled that out as a source; there is not enough water pressure for microhydro; and solar is still too cost prohibitive. But the resort is keeping its options open. "As soon as there's technology available at a price that makes sense, we'll do it. We just haven't found any feasible alternatives yet," Holland said.
As for the marks against DMR for its expansion, resort officials still maintain that the method used was the best practice available and actually enhanced the health of the forest by getting rid of dead or dying vegetation, producing habitat and opening up the canopy. "Everything was done to Forest Service guidelines for forest health," said Holland.
And while Joyce, with Colorado Wild, agrees that the expansion was done with a light hand, he said making pristine areas easily accessible to large numbers of people always has a negative impact on wildlife. "Next thing you know, there's snowmaking, a ski patrol hut and the lynx are scared off."
Instead, he would like to see the industry move toward a self-reliant backcountry model, like Silverton Mountain. "There's a real market for backcountry skiing," he said. "Why not require people to bring their beacons, shovels and probes and send them into the backcountry to enjoy it?"
Nevertheless, he said the era of massive terrain expansion may be coming to an end with the recent Forest Service denial of Crested Butte's Snodgrass Mountain and Breckenridge's long-stalled Peak 6. "It used to be that you'd expand and everyone gets excited and wants to come ski it," Joyce said. "But now it seems that the Forest Service is starting to look at these real estate projects using public lands, like ski-in, ski-out, as a selling point, with a more critical eye. The industry could be headed for a big change."
For more on the Ski Area Citizens Coalition report card, go to: www.skiareacitizens.com
In this week's issue...
July 21, 2022

Land swap approved in Southwest Colorado, but not without detractors
July 21, 2022

The latest strategy to save the San Luis Valley's shrinking aquifer: paying farmers not to farm
July 14, 2022

Despite SCOTUS ruling, San Juan Generating Station plans to shut down