Adventure 101
Living and learning with Outdoor Pursuits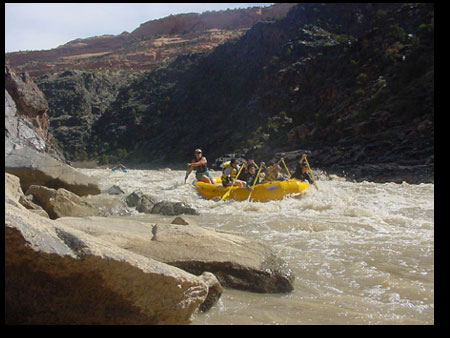 Fort Lewis College students negotiate the inner gorge of Westwater Canyon early this spring as part of Outdoor Pursuits' Weekend of Whitewater trip. O.P. has provided a recreation resource for the college since the mid-1970s and taken students everywhere from the summit of Mt. Elbrus to obscure slot canyons right in Durango's backyard./Courtesy photo
by Brandon Mathis
Ice tools, snowshoes, kayaks, mountain bikes, backpacks, paddles … .The equipment inventory at Fort Lewis College's Outdoor Pursuits Office reads like an expedition wish list, and it keeps getting bigger every year: telemark skis, snowboards, helmets, sleeping bags, headlamps, crampons … .
Students and faculty are constantly in and out of the office, located in the Student Life Building, dropping off gear, or signing some out. Maps and guidebooks to exotic, coveted locations fill bookcase shelves, climbing and skiing magazines are flipped through by almost everyone that walks in. Sleeping bags hang in a gear room, along with every other kind of gear imaginable. At the front desk, one scruffy male student returns an avalanche beacon and describes his day snowboarding on Red Mountain Pass while a female gathers up fuel canisters and a stove for her trip to the Utah desert.
The Outdoor Pursuits program has deep roots that can be traced to two journey-minded visionaries from the Exercise Science Department in 1975 – professor Walt Walker and student Dolph Kuss, who shared an idea of an outdoor classroom. Having supplied the campus with outdoor equipment and adventure for nearly 35 years, Outdoor Pursuits is the largest participatory program at Fort Lewis, and it has a big impact on and lends appeal to Colorado's "Campus in the Sky."
"Our mission is to introduce students to the Four Corners from a recreational standpoint," said Brett Davis, Coordinator of O.P. "Our hope is that we get them out there and it becomes a passion for them. Leave no trace, be conscience of safety."
Davis, who cut his teeth at several other outdoor-oriented collegiate programs around the country, says that O.P. has a membership of more than 500 students, and with winter on the way, the program should see that more than double.
O.P. offers an array of trip options for those who want to get outdoors, from climbing local 14ers or canyoneering in the nearby slot canyons of Utah and Arizona to bigger trips like the annual weeklong Thanksgiving Grand Canyon backpacking trip. But it doesn't stop there. "We do bigger stuff as well," said Davis. "The program has a history of something big every 18 months or so. This year we're going sea kayaking in Baja, Mexico. Then there is a 26-day wilderness trip to Alaska we are offering. It's a little different. We want to just get out there."
Davis said the expedition-style trip to the Arctic National Wildlife Refuge will include backpacking and climbing peaks along the way, then re-supplying with rafts and conducting a source-to-sea float all the way to the Baltic Sea. however, many of the options are not as farflung. "We've got this higher level of things we do, but we also do things right off campus," he said. "Mountain biking, hiking, we just did an edible plant hike. We call them 'backyard adventures,' and they're great – minimal carbon footprint and it doesn't cost a thing. There's something for everybody."
Alex Scholtz, O.P.'s operations assistant, added that the program can have an effect on students beyond the classroom. "It touches people's lives," he said. "We are able to initiate a change in some people, if that's what they are looking for."
Scholtz, an avid backcountry skier, paddler and backpacker, oversees much of Outdoor Pursuits' day-to-day, including finding interns, purchasing gear and keeping track of inventory, among other things. She fills the same role for the Adventure Education Department at the college and said she loves teaching students in the outdoors. "We are outdoor educators teaching life skills and leadership lessons," she said. "That has to be learned through experiences, and providing those experiences is what we do."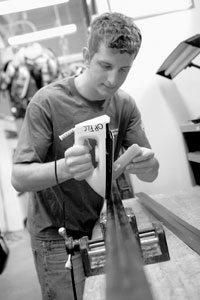 A student waxes a pair of skis in the O.P. gear room earlier this week./Photo by Stephen Eginoire

That thinking was what first gave rise to the Adventure Education Department. A relatively new program at Fort Lewis, Adventure Ed currently has 90 student majors. It focuses on experiential learning, a rather nontraditional form of teaching that uses adventure as a role model. Lee Frazer has been a professor with the program for three years and has a 15-year history of teaching with entities like Outward Bound. He said that A.E. is similar to other educational preparation programs, but just using the outdoors as a classroom. "Our focus is preparing educators for working outside, and particularly to use adventure as a learning modality," Frazer said. "We are not an adventure program, but an adventure-education program."
The cutting edge department relies on O.P. for its gear inventory, permits for use of public lands, and more. "We share gear, permitting," Frazer said. "We have a vision of creating a stronger outdoor scene on campus … O.P. is amazing in that it's a great program in itself. We just share some goals."
So, with Outdoor Pursuits providing the keys for adventure, and Adventure Education teaching students how to use it as a learning vehicle, one might ask the simple question: what exactly is adventure?
"Adventure is a leisure activity that is entered into intrinsically, but it has some components that differ from other leisure activities," said Frazer, a die-hard climber known for his new routes at higher elevations. "There's risk, there is hazard, and hazards create risk. There's uncertainty – that's a big one. Adventure requires challenge, and it can create an amazing place for learning and growth. That's our focus as educators."
Back at the O.P. office, Davis is planning the winter and spring schedule for the program. Avalanche training, backcountry skiing, hut trips in the mountains, day hikes and ice climbing instruction are all on the roster. Photographs of travels from all over the world hang on the walls – Russia, South America, Alaska. Outdoor Pursuits gets around.
"Fort Lewis has a really good track record in terms of safety and the history of what we've been able to do with students. I don't know of another program that has sumitted Denali," Davis said, referring to the highest peak in North America. "That's a big mountain."
Nathan Vandermost, an intern with O.P. "responsible for making everything work," said that the program offers students great opportunities. "You can go somewhere you've never been and do something you've never done," he said. "Some things we do require a great deal of technical knowledge, like our canyoneering trips, and our staff can provide support so students can learn in a safe environment."
Kayla Whatson, a junior in the Adventure Education program, added that Outdoor Pursuits safely opens the mountains and deserts to students. "I would never be able to afford an avalanche transceiver right now," she said of the backcountry safety device. "I don't have a shovel and a probe. It's a huge opportunity for safety, and that's the most important thing," she said.
Outdoor Pursuits has thrived largely because of Fort Lewis College's location in the Four Corners and proximity to peaks, canyons and rivers. "It's attractive for students to be here, but also for myself and other professionals," Davis said. "We are in avalanche terrain. These are class 4 rivers we are running. It's the real deal."
Scholtz agreed, saying, "Durango is amazing. You have anything you want within driving distance."
And like many at Outdoor Pursuits, Watson is looking ahead to the coming season with excitement. "O.P. shows you that you can get out there and do all these things," she said. "It's like, 'Wow, I can really go out there and have an adventure this weekend.'" •
In this week's issue...
July 21, 2022

Land swap approved in Southwest Colorado, but not without detractors
July 21, 2022

The latest strategy to save the San Luis Valley's shrinking aquifer: paying farmers not to farm
July 14, 2022

Despite SCOTUS ruling, San Juan Generating Station plans to shut down