A community vision
La Plata County sets its framework for the future

SideStory: Pioneers, Prospectors and Trout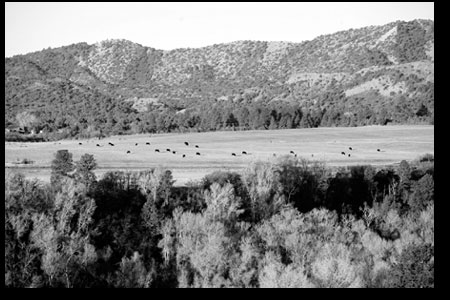 Cows dot the landscape off County Road 235 early this week. La Plata County recently released its draft Community Vision Statement as part of its ongoing comprehensive plan revision. Hundreds of local residents and dozens of organizations weighed in during the process and called for a future that resembles the current state of La Plata County./Photo by Stephen Eginoire
by Will Sands
La Plata County is doing its best to gaze into the future. After an ambitious effort, the local government is working to solidify a community vision, and the blueprint will help guide the shape of the local landscape over the next two decades.
La Plata County recently released its draft 2030 Community Vision Statement. The collective vision for the future was the result of dozens of public visioning sessions; sit-downs with groups ranging from the La Plata Seniors to conservation groups to the La Plata Cattlemen's Association; and hundreds of hours of analysis and review by county planners, consultants and volunteers. Once adopted, the vision will be the backbone of the new-and-improved Comprehensive Plan, La Plata County's guiding document.
"We've gone way above and beyond in terms of community involvement," explained Jason Meininger, manager of the project. "We've hosted 50 public events and met with dozens of groups. We're now taking this vision back to the public and asking, 'Did we hear you correctly?'"
La Plata County heard a strong message from residents as it worked to take the local pulse – keep La Plata County the way it is. Meininger noted that the majority of feedback asked for the protection of existing lifestyles, resources and amenities.
"What we heard is that people love La Plata County and don't want to see much change," he said. "People really value the views, the working landscape and the ability to access recreational resources. There was also a strong desire to see more planned growth in place of the scatter- gun approach prevalent in the past."
Meininger added that the visioning sessions sent another strong and nearly unanimous message – local residents want to see progressive government. "People want changes that result in more intergovernmental collaboration, help diversify the economy and support local businesses, provide a great place to raise families, and create affordable and livable neighborhoods," Meininger said.
But while Durango area residents have voiced a desire for little to no change, the outside world might have different designs on La Plata County. The state demographer has projected local growth at 2 percent per year, according Meininger. Over two decades that will translate into a significant number.
"I can't imagine that people won't continue moving to La Plata County," he said. "According to the state demographer's numbers, we're looking at 20,000 to 30,000 new residents in the next 20 years. Where and how they're going to live is what we're trying to address now."
With respect to future growth, the public has also put out the call for concentrated development surrounded by extensive green spaces. In addition, La Plata County heard a mandate for strong neighborhoods and communities that are sustainable, clean and resource friendly.
"The direction we're getting is to move away from the weed-ettes, the 35-acre developments that are too small to grow and too big to mow," Meininger said. "Working around existing development and becoming more self-sustaining both appear to be priorities for this community."
La Plata County will now go back to the public to make sure that it got the correct read on the local vision. Four community workshops have been scheduled to allow the public to review and refine the county's draft goals – economic vitality, transportation, sustainable development, healthy natural environment, healthy communities and housing, and organizational excellence.
The workshops begin this Sat., Dec. 5, at the Durango Public Library with an in-depth overview of the planning process and time for discussion and opportunities to refine the community goals.
Once the goals are accepted, the county will begin to craft strategies and actions for achieving the community vision and goals. These concrete steps are expected to begin after the New Year. In the end, La Plata County hopes that the extensive process will lead to a landmark document and exceptional framework for the local future. Meininger said that he believes that the local effort is on track to meeting and exceeding its goals.
"We began this process to set La Plata County aside as the preeminent county in the Intermountain West in terms of dealing with land use issues," he said. "I believe we're on track to reaching that goal and releasing a document that is reflective of all local residents."
Meininger concluded that local citizens have made these strides possible and been at the heart of the effort since the beginning. "This really is and will be the community's plan," he said. "After all, if we don't plan our growth, somebody else will come in and plan it for us." •
Voice your vision
Local residents have three opportunities to weigh in on La Plata County's Community Vision. The planning team is continuing to collect feedback and will be holding the following meetings:
-Sat., Dec. 5 – 9 a.m.- noon at the Durango Public Library (refreshments and child care provided)
-Mon., Dec. 7 – 6-8 p.m. Ignacio Public Library
-Thurs., Dec. 10 – 6-8 p.m. Fort Lewis Mesa Elementary School
For more information, visit www.laplatacountyplan.com.

In this week's issue...
July 21, 2022

Land swap approved in Southwest Colorado, but not without detractors
July 21, 2022

The latest strategy to save the San Luis Valley's shrinking aquifer: paying farmers not to farm
July 14, 2022

Despite SCOTUS ruling, San Juan Generating Station plans to shut down