The carbon count
La Plata County and Durango tackle giant carbon footprint

SideStory: A quick look at local climate change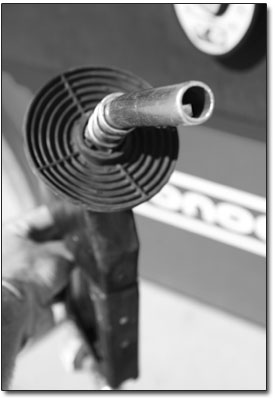 One of the biggest greenhouse gas culprits stares La Plata County in the face. The greater Durango area has taken the first steps toward cutting the 7.6 million metric tons of carbon it emits each year./Photo by Stephen Eginoire
by Will Sands
La Plata County and Durango are taking the first steps toward tackling the carbon footprint. The region recently got its greenhouse gas grades, and there is definite room for improvement. Now, a cooperative effort involving the public and governmental entities is undertaking the daunting task of lightening that load.
By signing the U.S. Mayor's Climate Protection Agreement, La Plata County, Durango and Ignacio resolved to lighten their emissions of carbon dioxide – the largest contributor to global warming. In line with this resolution, the two started to develop the Climate and Energy Action Plan (CEAP), and tasked the Four Corners Office for Resource Efficiency, or 4CORE, with coordinating the effort.
The first step to finding solutions to local global warming was fully identifying the problem. The City and County retained the Brendle Group to complete a Greenhouse Gas Emissions Inventory as a baseline from which to work. That inventory looked at all sources of pollution in the county. Following several revisions and considerable controversy, it was discovered that La Plata County emitted upwards of 7.6 million metric tons of greenhouse gases in 2005.
"We have a lot of work to do," commented Aileen Tracy, executive director of CORE. To put that number in perspective, Fort Lewis College conducted a similar inventory and determined that it emits 15,329 metric tons of carbon dioxide into the atmosphere on an average year. Fort Lewis also offered a visual metaphor of its much smaller impact, saying 15,329 metric tons represents a column the size of the college's footprint that would extend 37 miles into the sky.
The oil and gas industry is a major contributor to the local footprint, according to the Brendle Report. Activities associated with the development of oil and gas emitted nearly 2.5 million tons of carbon in 2005, more than 30 percent of La Plata County's total load.
That said, the Climate and Energy Action Plan is about finding solutions not pointing fingers, according to Tracy. She added that the CEAP process is intended to engage all segments of the local community and provide an opportunity for the collaborative creation of solutions to local climate change.
"From an emissions perspective, it is what it is," Tracy said. "What we want to do is create grassroots solutions and have residents, businesses and governmental agencies develop those measures."
The first phase of the Climate and Energy Action Plan is now complete, and it contains hundreds of prospective measures for cutting carbon emissions. They range from simple steps like composting and weatherizing homes to sweeping changes like requiring carbon neutral construction and increasing local food production. 4CORE is currently taking the public pulse on which measures could fly.
"Everything is out there and on the table," Tracy said. "We've got a huge list of potential measures, and now we're putting it to the public. As people look at the measures and respond to them, we'll figure out how we'll get to solutions."
Phase II of the plan – which will include a revised list of measures and a more concrete plan for action – should be complete by late this year. However, cutting into 7.6 million metric tons of carbon will be no easy task, especially given the ambitious targets set by the plan – greenhouse gases must be cut 80 percent by 2050. To get there, CEAP suggests that La Plata County derive 80 percent of its electricity from renewable sources by 2020; cut transportation emissions by 80 percent by 2050; reduce residential and commercial energy use by 10 percent; and divert 50 percent of waste from landfills by 2020.
Whether Durango and La Plata County can make these ambitious strides remains unknown, Tracy said. Trimming 80 percent of emissions in 40 years will require aggressive strategies. However, Tracy concluded that the Climate and Energy Action Plan is gaining momentum, and the players are optimistic about positive outcomes.
"Until we start to put some of this into perspective and identify measures that will work, we don't even know if it will be possible," she said. "But so far, I think we're doing a great job and have already covered a lot of ground." •