Chile on the brain, KingBilly and Liquid Cheese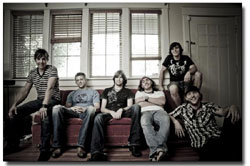 KingBilly, of Memphis, plays the Community Concert Hall 7:30 p.m. Saturday

by Chris Aaland
Those Telegraph editors can really get inside my head. As if three ads touting chile roasting wasn't enough, los jefes stuck Stephen Eginoire's bushel of Big Jims on the front cover and gave a thumbs up to the aroma of roasting pods.
Throughout happy hour on Thursday and Friday, all I could think about was my next pot of green. By the time I potatoed up onto my couch Friday night for the Rockies game, I already had pork, elk loin and bags of last year's Foxfire greenies defrosting. By 9 a.m. Saturday, the cauldron was boiling.
Sunday found the whole family at Nature's Oasis to buy our first two bushels of the summer. With chile on the brain, hollow-eyed and shaky, I couldn't wait. A stop at the Durango Diner provided a quick fix of eggs, hashbrowns and rellenos smothered in green. Three hours later, I'd bagged enough to get me through another winter. I saved eight long, meaty ones to stuff with queso fresco and fry that night for dinner.
I had to buy early this year because I'll be out of town this weekend. I'll miss Gazpacho's 18th annual chile roast on Friday and Saturday to watch my wife's Fort Lewis volleyball squad open its 2009 campaign — and sneak off to Red Rocks (me, not them) for backstage shenanigans with Yonder Mountain String Band. Meanwhile, chileheads will line up for bushels of Hatch on 2nd Avenue. The event also serves as Gazpacho's anniversary party, with fresh relleños and green chile cheeseburgers in the restaurant and margarita specials in the bar. Learn from my mistakes: last year, I got shut out by showing up Saturday morning.
The Durango Farmers Market and Nature's Oasis also roast chilies, but both sell out early. In fact, the guy selling at Nature's Oasis made an overnight trip to Albuquerque last Saturday night after getting cleaned out earlier that day.
Friends of Jerry, unite! David Gans, best known as the host of the Grateful Dead Hour, performs with The Lindells at the Dolores River Brewing Co. at 6 p.m. Sunday. Gans is the keeper of the vault of every live Dead show, which is broadcast weekly on NPR stations across the country, including 9 p.m. Saturdays on KSUT. Local bluegrass crooner David Smith says Gans is quite the guitarist. His former Rock & Rye and Stoney Creek Ramblers bandmate, Rob Lawrence, once opened for Gans in Virginia in the mid-'90s.
KingBilly, a Nashville sextet that features Top 40 country hooks, bluegrass chops and classic rock riffs, plays the Community Concert Hall at 7: 30 p.m. Saturday. Ty Gummersall opens.
Two rootsy, up-and-comers jam at the Abbey on Friday: Devon Allman's Honeytribe and Carolyn Wonderland. The son of Gregg, Allman plays blues-based Southern rock. He's shared the stage with the likes of Les Paul, Dickey Betts and Billy Gibbons. Wonderland is a blues singer and multi-instrumentalist with a host of Austin and Houston music awards.
Sarah Siskind & Travis Book play a free members' concert for Durango Acoustic Music at the Ska Brewing World Headquarters at 6 p.m. Tuesday. Siskind is a Grammy-nominated songwriter who has penned tunes for Alison Krauss, Randy Travis, Bon Iver and others. Her husband, Book, is a former Durango resident who plays bass and sings in the Infamous
If El Patio had a roof, it would surely be torn off by the Lawn Chair Kings, Freeman Social, Farmington Hill and Jaki & the Joysticks during El Patio-Palooza from 5-10 p.m. Saturday. Bryant Liggett will emcee and encourage the crowd to pick KDUR's next Cover Night featured artist.
The Derailed Saloon hosts the second annual CarverFest and Pro-Jam tonight (Thursday) from 7 'til midnight. What started as a birthday celebration at Larry Carver's hacienda last year has turned into an event that features members of High Altitude Blues, Kirk James Blues Band, Tumblin' Dice, Jelly Belly Boogie Band, Edgar Mack Blues Band, Lisa Blue Trio, Mr. Soul, Nina and others.
Steamworks holds a CD release party for Liquid Cheese at 10 p.m. tonight, Aug. 27. "Six Days Late" was recorded live at Steamworks and copies will be handed out throughout the show. Friday marks the return of the monthly theme party at Steamworks. Groove to the music of Vanilla Pop and party Vegas Style! Want to avoid the cover? Simply dress to the nines for free admission and a free drink.
The Summit's slate this week includes RedEyedJinn tonight, Aftergrass on Friday and Ground Up on Saturday. The latter is a five-piece rock outfit from Denver that is making waves on the Front Range jam-band scene.
In addition to regular events like tonight's salsa night, Sunday's musica del mundo and Wednesday's Club Meds, the Starlight offers jazz on the patio at 6 p.m. Friday and the Formless at 9 p.m. Saturday.
Local bluegrass band Wild Mountain plays tonight's Ska-B-Q at 5 p.m. at the Ska Brewing World Headquarters.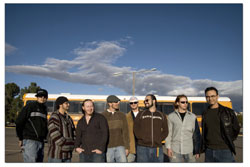 Liquid Cheese holds a Cd release party at Steamworks on Thursday, Aug. 27

This week's free show at Telluride Mountain Village features Hill Country Revue, the latest brainchild of North Mississippi Allstar Cody Dickinson. He calls it "back to the roots of blues … funky and really nasty." Music starts at 6 p.m. Wednesday at Sunset Plaza.
Drinking for a cause is always a good thing. The Irish Embassy Pub is selling a $5 loyalty card that gives 10 percent of your purchases during the next year to the men's and women's soccer teams at Fort Lewis College. Based on last week's exhibition win over Air Force, look for the Skyhawk men to dominate again this year.
This week's Top Shelf list features 10 things I use green chile for:
1. Rellenos. I usually stuff mine with a mixture of cheddar and cream cheese.
2. Huevos rancheros. With ranch beans and over-easy eggs, please.
3. Pheasant burritos. I came up with this on a Hermosa Creek camping and fishing trip a decade ago.
4. Bacon green chile cheeseburgers.
5. Steak ranchero.
6. Grilled chicken breasts.
7. Posole. I know, it's supposed to have dried red chile (which mine does). But a few chopped Big Jims never hurt anybody.
8. Egg rolls? You bet. With baby shrimp, cream cheese and green chile strips!
9. Flu remedy. It'll cure what ails you, especially when mixed with habañeros.
10. Hangovers.
Gonna upset your backbone, put your kidneys to sleep? E-mail me at chrisa@gobrainstorm.net. •