The road rift
Colorado's Bicycle Safety Law goes into effect

SideStory: The great bicycle ban
by Will Sands
Friction between cyclists and motorists has hit a boiling point in the Durango area. However, riders and activists do see relief just around the corner. Colorado's new Bicycle Safety Law goes into effect this week on Aug. 5, and there is hope it will head off potentially deadly situations.
The conflict between cyclists and motorists exploded in Durango last weekend. On Saturday morning, a small Durango Wheel Club group ride of 8 riders was making its way down County Road 501 and back to Durango following a ride to Vallecito Lake. From nowhere, a large pickup truck buzzed the riders so closely that several were forced into the ditch. The driver, Todd Grooms of Bayfield, then made a rapid U-turn, veered into the wrong lane and drove directly at the group. Later, the man parked his truck in the middle of the road and began verbally abusing the riders. Throughout, he had a pistol holstered at his side.

"It was just short of someone getting killed, and that was by no means an isolated incident," said Spencer Compton, managing director of the Durango Wheel Club. "We deal with constant conflict between bicycles and cars in the Durango area."

Grooms was arrested, charged with felony menacing and was released on $5,000 bail on Monday. While Compton said that he and others were relieved that the group ride dodged tragedy, the incident highlighted a deteriorating situation in Durango. Despite perception and Durango's recent Bicycle Friendly Community designation, conflicts between cars and bicycles appear to be on the rise in Durango.
"The situation seems worse in Durango than in other areas in the state," Compton said. "Even back on the East Coast, you never have this kind of thing happen, where people in big pickups are driving wildly, flipping you off and trying to run you off the road. We're very close to something terribly horrible happening in Durango."
However, Colorado cyclists also pedaled slightly closer to the safe lane this week. Colorado's new Bicycle Safety Law went into effect on Aug. 6, promising to make road riding safer all over the state.
Bicycle Colorado, a non-profit dedicated to improving cycling opportunities in the state, has long championed the legislation. "We're very excited to have the law go into effect," said Dan Grunig, the group's executive director. "We believe it will make Colorado's roads safer for all users – whether they're bicyclists or motorists."
Most significantly, the law requires that automobiles give riders 3 feet of clearance when passing and allows motorists the leeway to cross the centerline when doing so. Another "common sense rule" clarifies that cyclists can ride as far right as is safe or to the far left on one-way roads with more than one lane. Cyclists can also ride side-by-side if they are not impeding the normal and reasonable movement of traffic. Lastly, throwing an object toward a bicyclist would be a class 2 misdemeanor, and driving toward a bicyclist in a dangerous manner can result in a careless driving offense. Following a complex legislative process, the House and Senate passed the bill in April, and Gov. Bill Ritter signed off on the law in May. For Compton, the law is rolling into Colorado and Durango at an opportune time.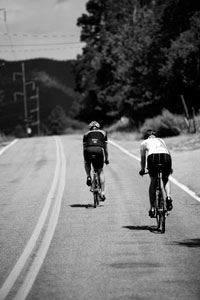 "I'm optimistic," he said. "The law itself is clear and it's also very common sense. It really will protect cyclists. But a lot will hinge on public awareness. A lot of people don't know what's required when sharing the road with cyclists."
Many cyclists also ignore laws, Compton acknowledged, and the new safety law serves as reminder that everyone must play by the new rules. Specifically, Compton noted that the law opens the door to side-by-side riding but only when it does not impede traffic. With this in mind, cyclists carry the burden of sending a positive message back to motorists.
"The law is also a reminder for cyclists that we are vehicles and must also obey the laws," he said. "We can't blow through stop signs, and riding two abreast is as much as we get, and that's only if we're not impeding traffic. If we demonstrate that as cyclists we can obey the rules and work within the system, others will have to follow suit."
Compton added that bicycle friendliness is setting deeper and deeper roots in Durango. He encouraged his fellow riders to put aside their irritation in favor of fostering community solutions.
"I know that a lot of cyclists are frustrated with the situation," he said. "The local roads and intersections aren't designed for us. But breaking the law isn't the answer. If you want change, you need to get involved in the process."
Grunig and Bicycle Colorado agreed that changes is coming to roads in Durango and Colorado. Vaulted by the new Bicycle Safety Law, Colorado jumped 9 spots to 13th overall for state-level bicycle-friendliness in the League of American Bicyclists ranking system. But 13th is still not good enough, Grunig said, and Bicycle Colorado has its eye on the top 10.
"Our hope is to continue to improve the environment for cycling and get into the top 10," he concluded. "The fact is that Colorado is a major destination for cyclists from throughout the world. There's no reason why we shouldn't be at the top of the rankings for bicycle friendliness." •