Song and dance
Youth theater shines at Arts Center


by Judith Reynolds
"Into the Woods, Jr." opened last weekend at the Durango Arts Center featuring a youthful company under a new name. Imaginary Friends Productions is the title of an umbrella organization that incorporates two well-regarded companies: Merely Players and Durango Performing Arts Co. These entities have banded together to reignite youth theater in Durango. If the first production is any evidence, the effort has paid off.
The one-act version of Stephen Sondheim's contemporary spin on old fairy tales is a gem of musical storytelling. "Into the Woods, Jr." interweaves many characters from the Brothers Grimm pantheon: Cinderella, Little Red Riding Hood, Jack and the Beanstalk, and Rapunzel, to name a few. The musical begins with a deceptively simple song, "I wish." It gradually reveals every character's secret desire. Before the play is over, and it's accomplished within one hour, there's a satisfying dramatic conclusion to all that dreaming. The plot involves going into the woods, Sondheim's metaphor for growing up, facing life, and dealing with one's wishes, desires, and the world – however uncertain it may be.
"Into the Woods" is a perfect, if difficult, musical for young performers. The complex plot offers a broad spectrum of characters. The music and lyrics are not easy, but if young people can master tricky lyrics with tantalizing internal rhymes, sing the playful and often interrupted lines, and follow speedy stage directions, they participate in a musical for our time – witty, gritty, lyrical and thought provoking.
The company did just that on opening weekend. Director Traci Lyn Thomas and her production team created a clear platform on which the players could illuminate the story. A colorful proscenium stage has been designed for a fairy tale world with movable flats that represent various settings including a tower for Rapunzel. The playing area expanded as the action heated up and included aisle entrances and solos sung from the back. Credit Thomas' direction and player flexibility.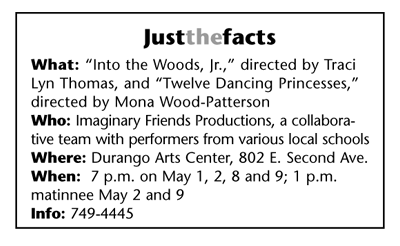 The company performed with confidence. Everyone had been coached in projection, so almost every word could be heard. The singing, however, was uneven with some students benefitting from vocal training and others just beginning, but that's to be expected in educational theater. It's the confidence to be on stage that counts. The singers had head mikes and first-rate, pre-recorded music underscoring their efforts. Director Thomas staged the complicated plot for clarity and speed; the actors seamlessly made their entrances and exits. The costumes fit the tone, and the hour sped by to a satisfying conclusion. Congratulations to all.
Act I for the evening displayed the abilities of a younger company with the premiere of "Twelve Dancing Princesses." Mona Wood-Patterson, Durango High School drama program director and key member of Imaginary Friends Productions, rewrote the fairy tale. She created a format for a one-hour dance show with a narrative frame. It begins with a beleaguered king who has a dozen recalcitrant daughters. The dilemma involves their future, of course, but the twist here is the desire of all 12 to be seen as individuals. That enables a dozen dance numbers to unfold in different styles. Suzy DiSanto's imaginative choreography could be seen as the dancers streamed through tap, jazz, ballet and modern pieces – all driving to a harmonic conclusion and a dozen new pair of shoes.
The combined program runs for two more weekends. •
In this week's issue...
July 21, 2022

Land swap approved in Southwest Colorado, but not without detractors
July 21, 2022

The latest strategy to save the San Luis Valley's shrinking aquifer: paying farmers not to farm
July 14, 2022

Despite SCOTUS ruling, San Juan Generating Station plans to shut down