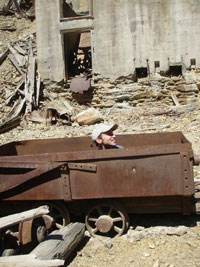 Diver: Scott from the Durango Cyclery
Interesting facts: Scott can twist, wrench and dial with the best of them
Got a dirty little secret?
Looking for guidance to remedy a sticky situation?
Seek help from the master of the kitchen! The Dish Diver has solutions to life's little messes. Send your problems to "Ask the Diver." - By mail to Durango Telegraph - Attn Diver -534 Main Ave., Durango, CO 81301; by email at telegraph@durangotelegraph.com, or by fax at 259-0448.
Dear Diver,
One of my favorite watering holes in Durango has a policy of charging around a buck for an eco-friendly takeout container. I don't have any problem with that at all. My problem is that they then put that eco-friendly container in a PLASTIC BAG. What gives?
– Signed, No Bag Lady Here
Dear No Bag Lady Here,
What has given is logic and common sense. My sources have revealed to me that if you pay this said establishment an even larger fee, you can reduce your footprint even further. For $5, an underpaid, hourly employee that probably has a masters or PhD, will actually hand feed you, reducing your impact by not using a container or bag at all. Then, if you really want to save some carbon for future generations, pay the $10 charge, and your food will actually be composted before ever being served to you. This may bring you peace of mind knowing that nothing was ever really accomplished.
– Diver
Dear Diver,
Larry, Larry quite contrary, how does my garden grow? I'm breaking ground on a veggie garden right now and in need of some good Durango crop choices. Any tips for a freshman grower?
– Larry in Grandview
Dear Larry in Grandview,
I have been hearing complaints from a few of my single female friends that this town is lacking a substantial population of descent single men. My advice to you, if you are single, is to capitalize on this situation. First, put the garden plot on hold. Second, grow some muscles, brawn and a sense of how to treat a lady right. Third, with your new found He-Man looks and appreciation for all things beautiful, attend the local farmers market in search of veggies, eggs and single, healthy women. And finally, if you still feel the need to cultivate and sprout something, I suggest spending your time on lengthening those underrepresented whiskers on that stubbly upper lip.
– Diver
Dear Diver,
My husband refuses to submit to medical attention. He claims it's in the interest of saving money, but he's actually just trying to be tough (or is scared). Well the long and short is that he's now got a scratched cornea and a new eye patch that could have easily been prevented. How do I get him out of the wood shop and into the hospital waiting room?
– Mrs. Tough Guy
Dear Mrs. Tough Guy,
You're going to have to open your eyes and your mind for this one. With all the recent news of Somali Pirates, eye patches are again in vogue. Look at this misfortune as an opportunity. It's time to bring out that dirty nurse Halloween outfit a good number of you have leftover from attending Fort Lewis and put it to real use. A Dungeons and Dragons fan I am not, but here's your chance to use role playing to turn this loss of sight into something easy on the eyes.
– Diver
In this week's issue...
July 21, 2022

Land swap approved in Southwest Colorado, but not without detractors
July 21, 2022

The latest strategy to save the San Luis Valley's shrinking aquifer: paying farmers not to farm
July 14, 2022

Despite SCOTUS ruling, San Juan Generating Station plans to shut down