Nice cans, Spinning Wheels and May Day



by Chris Aaland
May Day. It's not just for pasty-faced English girls holding hands and dancing around the May Pole or French kings offering lilies of the valley to ladies in waiting anymore. In fact, the date has held a variety of spiritual and social meanings around the world for centuries.
Along these lines, there's no truth to the rumor that a stripper's pole has been added to the stage at the Ska Brewing World Headquarters. Still, blondes (and redheads, brunettes and bald guys, for that matter) can rejoice as Ska unveils True Blonde in a can this Friday at 5 p.m. If you must Morris dance, the Lawn Chair Kings bring music to the party. Ska's recent purchase of Oskar Blues' old canning system has allowed the Bodomeisters to augment their aluminum lineup from one (their elegant ESB) to three (their new juggernaut, Modus Hoperandi India Pale Ale, and their old stalwart, True Blonde). For backpackers, boaters and beer koozie aficionados alike, this is a good thing. As more than one friend has told me, "True Blonde just became the official beer of summer tubing." Just don't toss those empties into the River of Lost Souls … yours truly hates fishing out cans and bottles when casting caddis for brown trout.
Durango Acoustic Music presents legendary singer-songwriter Steve Forbert at 7:30 p.m. tonight (Thursday) at the Hank in a 21-and-older affair. Beginning with "Romeo's Tune," a song that reached No. 11 in the Top 40 charts in 1980, he's drawn comparisons to Bob Dylan and Bruce Springsteen. With nearly 30 albums to his credit, Forbert's recent efforts tackle issues like the environment and the war in Iraq, while paying homage to the likes of Rick Danko and Jimmie Rodgers. His latest album, "The Place and the Time!" was released less than a month ago.
Satire and Texas are a dangerous combination; a pairing that spawned a few venomous letters from angry Top Shelf readers a few weeks ago. Be forewarned: The Community Concert Hall hosts the long-running theatrical comedy "Greater Tuna" at 7 p.m. Saturday. This lampoon paints a panoramic view of life in rural Texas, with Tuna as the Lone Star State's third smallest town. Promotional material for the two-actor play calls Tuna a place where "the Lion's Club is too liberal, Patsy Cline never dies, the Smut-Snatchers are vigilant, and the high school essay contest produces entries such as 'Human Rights – Why Bother?' and 'Living with Radiation.'"
One of New Mexico's top R&B singers, Hillary Smith, plays the Abbey with her funky blues outfit, Soul Kitchen, on Saturday in a 21-and-over show. The Abbey also hosts Rashaan Ahmad of the Crown City Rockers in an all-ages gig on Sunday with special guest DJ Vajra.
The Summit's lineup this week includes The Formless on Friday, the Good Neighbors in a graduation bash on Saturday, and reggae by the Meditations, a Dub Rock Band and DJ I-Gene at 7:30 p.m. Sunday.
Moe's Starlight Lounge has lots o' fun in store this week. On Friday, it hosts its FAC with food and drink specials, plus live music from blues guitarist Doug Phillips. Saturday marks the halfway point to Halloween. Wear a costume and get a free drink, plus listen to Johnny Deadly. Tuesday is open mic night with Lisa Mullins.
Steamworks hosts a graduation party on Saturday with a performance by DJ Vajra of Denver. Vajra is a world champion on the turntables.
The Spinning Wheels is a pseudo-local band, with half its members living in Durango and half in New York City. The local half (vocalist/rhythm guitarist John Toolan and drummer Peter Ortego) play the Mancos Valley Distillery at 7 p.m. Friday. The group refers to its music as "sonically charged Americana" and their debut CD, "Hummingbird World" was produced by local soundman "Scooter" Smith. Toolan notes that the Mancos Valley Distillery makes its own kahlua and rum.
Two high-test honky tonk shows on the horizon have recently been announced. The Community Concert Hall hosts BR5-49 frontman Chuck Mead on Wed., May 20. With BR5-49 on an extended hiatus, Mead is touring with members of Asleep at the Wheel, Marah and some of the BR5 boys. On Saturday, May 15, DAM brings Genuine Cowhide to the Summit. Cowhide is fronted by Dale X-Allen, best known for his axe work with Dave Insley's Careless Smokers. Cowhide is rumored to be on the verge of releasing its second album of Western swing-influenced twang in the coming weeks.
This week's Top Shelf acknowledges 10 things to celebrate during the first week of May: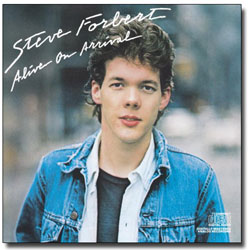 '80s hitmaker Steve Forbert plays The Hank this Thursday

1. No weekend parking meters! You may not have noticed, but Durango adopted a year 'round 8 a.m.-6 p.m., Monday-Friday meter schedule in 2009. In past years, we'd start dropping Saturday dimes on May 1.
2. Lei Day. Since 1928, Hawaiians have presented leis and kisses to one another on May 1.
3. International Workers' Day. A May 1 holiday that commemorates the international eight-hour workday movement in England, launched during the Industrial Revolution.
4. Stanley Cup Playoffs. Even sans Avalanche, it's the most magical time of the year. Go Bruins!
5. The 135th running of the Kentucky Derby. Get that bottle of Early Times, simple syrup, fresh mint and silver Julep cups handy. NBC's broadcast starts at 3 p.m. Saturday.
6. Walpurgis Night. Pagans, Satanists and Roman Catholics all built May 1 bonfires during the Middle Ages to keep away the dead and chaotic spirits that lived amongst them.
7. NBA Playoffs. As of my Monday night deadline, Denver had built a commanding 3-1 lead over New Orleans. The Nuggets haven't won a playoff series since 1994.
8. Beltane. The May 1 Celtic holiday marks the start of the pastoral season. Envision Spinal Tap's Nigel Tufnel … "And oh, how they danced, the little children of Stonehenge."
9. Cinco de Mayo. South of the Border, it honors the Mexican Army's unlikely defeat of the French at the Battle of Puebla in 1862. Here, it's a celebration of Mexican pride and culture.
10. Fort Lewis College's 46th graduating class hits the pavement and looks for work. Commencement ceremonies are scheduled for 8:30 and 11:30 a.m. Saturday.
Where the dew drops cry and the cats meow? E-mail me at chrisa@gobrainstorm.net. •
In this week's issue...
July 21, 2022

Land swap approved in Southwest Colorado, but not without detractors
July 21, 2022

The latest strategy to save the San Luis Valley's shrinking aquifer: paying farmers not to farm
July 14, 2022

Despite SCOTUS ruling, San Juan Generating Station plans to shut down