Indigenous, the Good Reverend and Durango's best grass Broke Mountain beginnings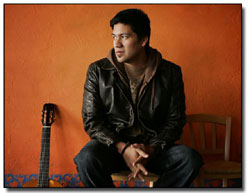 Mato Nanji is the leading man for Indigenous, which plays the FLC Concert Hall 7:30 p.m. Friday

by Chris Aaland
That makes a festival special isn't the music that's played or the beer that's drank or even the friends who share the experience with you. Rather, it's the little moments that happen in the fringes.
No festival presents more of these moments than the Durango Bluegrass Meltdown, which blew through town last weekend in three hazy days. From 80-year-old grandpas in overalls picking in the Strater Hotel lobby to wide-eyed babies in strollers, its nice to remember that it's folks who put the folk into music.
Along those lines, my 2-year-old, Otto, learned three new words last weekend. "Songs!" he'd shout whenever a band took the stage or rehearsed in the green room, then point to the musicians who were picking and singing. "Elwin," he declared when seeing the white-bearded former president of the Meltdown. And "Emmett," he repeated while waiting for David Smith and Karin Becker's son to appear from his Saturday morning slumbers.
There are plenty of songs, in a variety of genres, for Otto, Emmett and Elwin to hear this week.
Indigenous brings blues to the Community Concert Hall at 7:30 p.m. Friday. The band's founder and guitarist, Mato Nanji, draws comparisons to Stevie Ray Vaughan, Jimi Hendrix and Carlos Santana. When I saw an earlier incarnation of Indigenous several years ago at the Silverton Jubilee, I thought Stevie Ray was indeed channeling himself through Nanji, a Nakota Sioux whose name translates to "Standing Bear."
Jonatha Brooke's legacy in Durango dates back to 1994, when she played in a duo known as The Story at the Diamond Circle Theatre (now known as the Hank) for DSCPA (now known as DAM). She's come a long way since those humble beginnings, drawing rave reviews from Rolling Stone, People magazine and others. Brooke returns to Durango on the strength of her latest album, "The Works," which features unreleased Woody Guthrie lyrics set to contemporary music. This time around, she plays the Community Concert Hall at 7:30 p.m. Saturday.
The Klezmatics perform at Henderson Fine Arts Center in San Juan College's Silhouette Series at 7 p.m. Saturday in Farmington. With 10 albums under their belt, New York's Klezmatics play traditional and neo-klezmer music in Yiddish, English and other languages. Their album titles expose a bit of humor, too: "Rhythm and Jews," "Jews with Horn" and "Woody Guthrie's Happy Joyous Hanukkah" are among their titles.
The Reverend Horton Heat returns to the Abbey on Monday night. While Jim Heath and crew haven't recorded a proper album since 2004, they've been busy with nonstop touring and Heath's RevOrganDrum project. The salvation delivered by the Good Reverend is blistering guitar and songs about hot rods, dwarves, drunks and slutty women. The Soda Jerks are also on the bill.
Three local groups take over the Derailed Saloon on Saturday as the Lawn Chair Kings, Baby Toro and the Miserabillies share the bill. LCK killed it last week opening for Halden Wofford. Chap Myers, host of KDUR's "Go Pogo" from 9-noon on Saturday mornings, calls Baby Toro his favorite new band. The Miserabillies are one of the top country bands in the region.
The Mayflies bring jam rock and bluegrass to the Summit on Friday and Saturday. They're becoming favorites in the Midwest and Front Range by drawing on such diverse influences as Jerry Garcia, Tommy Iommi, Willie Nelson, Django Reinhardt and John Entwistle.
The Summit's lineup this week also features Voodoo Organist tonight (Thursday), with "Halfthegrass" opening; and hip-hop on Wednesday with Black Pegasus, Tullie the Rapper and Diabolic Sound Platoon.
Local rap takes center stage at Steamworks on Friday with XClan, 2Mex, Medusa and Artikle. Liquid Cheese and BPM bring upbeat reggae and world grooves to Steamworks on Saturday.
The Daydreamers, featuring Staci and Elijah, play the Starlight at 8 p.m. Tuesday.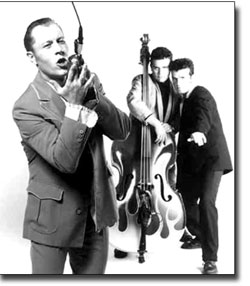 The Rev. Horton Heat and Co. plays the Abbey Monday night

If you didn't get enough bluegrass last weekend, head north to Montrose for Pickin' at the Pavilion Friday through Sunday. Highlights include the Claire Lynch Band, Bluegrass Etc. with Byron Berline, the Bluegrass Patriots, Finders & Youngberg, the Badly Bent and Lonesome Traveler Bluegrass Band.
This week's Top 10 list features my highlights from last weekend's 15th annual Durango Bluegrass Meltdown:
10) The Burnett Family Band giving me a shout-out for a recording I'd made of their epic 2007 Meltdown performance.
9) The Coal Porters ending the festival with an unplugged sing-a-long of the Faces' "Ooh La La," turning the Ron Wood and Ronnie Lane classic into a Socialist work song.
8) Chance McCoy & the Appalachian String Band paying homage to old-time music.
7) The annual Bloody Mary Sunday in Elwin Johnston & Steve Williams' room. My Bloodies include the Goat, Freshies mix, "See Dick Burn" hot sauce, Worcestershire, pickle juice, celery salt, black and white pepper, fat squeezes of fresh lemon and lime, and no fewer than seven garnishes.
6) Waiting on Trial and Wild Mountain collaborating during the Super Jam. These two local bands are the rising stars of the Four Corners bluegrass scene.
5) David Smith looking like Davy Crockett when he sported Cowboy Bruce's tanned elk leather shirt during Rock & Rye's lone set. All Smitty needed was a coonskin hat and he'd have been right at home at an Old West rendezvous.
4) Kenny Smith playing some of the cleanest guitar leads this town has ever heard during the Kenny & Amanda Smith Band's sets.
3) Junior Sisk & Rambler's Choice soldiering on despite Junior battling a nasty chest cold. Junior's voice is one of the best in bluegrass and he tried his damndest to beat "the crud," as he called it. Bassist Tim Massey and others filled in on lead vocals.
2) Finders & Youngberg. I was fortunate enough to catch all three of their sets. From Amy Finders' humor and stage presence to Mike Finders' songwriting to the familiar presence and musicianship of Aaron & Erin Youngberg, F&Y stole the show.
1) Cindi Trautmann harmonizing with Amy Finders and Erin Youngberg during the Super Jam. Simply put, Cindi has the prettiest voice in Durango and we don't get to hear her nearly enough.
You drank burnt coffee and ate cashews? E-mail me at chrisa@gobrainstorm.net. •
In this week's issue...
March 17, 2022

Lake Powell drops below threshold for the first time despite attempts to avoid it
March 17, 2022

Purgatory Resort set for expansion but still faces hurdles
March 10, 2022

New health care studio takes integrated approach to healing