Meltage, the Coal Porters and Durango grass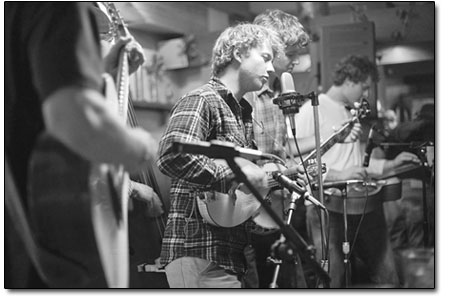 One of Durango's hot, new bluegrass acts, Waiting on Trial

by Chris Aaland
Fifteen years is forever in the music world. The Beatles lasted half that. For a handful of grassroots renegades hell-bent on presenting affordable, traditional bluegrass at a variety of local venues, those 15 years have been great ones.
From Friday through Sunday, the Durango Bluegrass Meltdown blows out the candles on its 15th birthday cake. The best part? These guys bring in traditional artists that you've never seen before. I'm a huge bluegrass fan who has attended Telluride Bluegrass for 12 consecutive years and Rockygrass for 11. Not including local acts, there's just one band at Meltdown that I've previously seen.
This year's lineup features the Kenny & Amanda Smith Band, Junior Sisk & Rambler's Choice, Chance McCoy & the Appalachian String Band, Sawmill Road and Steve Smith & Hard Road with Bill Evans. Dig a little deeper and you'll find Finders & Youngberg, the Burnett Family Band, the Coal Porters, Dehlia Low, the Bar-D Wranglers, the Badly Bent and countless others. Look left to page 16 for a complete schedule. Artists will be playing at such venues as the Hank, the DAC, the Abbey, the Railroad Museum and the Durango Elks Lodge.
My picks? Don't miss the Coal Porters. Sid Griffin, the band's leader and mandolin player, was a leader in the Paisley Underground of the '80s with the Long Ryders, one of the founding fathers of alt-country. Having grown weary of Reagan-era politics, Griffin moved to the UK and formed the Coal Porters, a vehicle for his obsession with Byrds- and Gram Parsons-influenced roots rock. Over the years, the Coal Porters evolved into England's top traditional bluegrass outfit. Griffin is also an author and music historian, penning such books as Million Dollar Bash: Bob Dylan, The Band, and the Basement Tapes and Gram Parsons: A Musical Biography.
Also, Junior Sisk is the real deal. Few voices in bluegrass rival Junior's. You may recall him from a previous Meltdown appearance with BlueRidge.
My best advice is to arrive early, get your seat and stay there throughout the day. The bands rotate every hour, so you can see and hear them all in one venue.
Several local establishments are offering Meltdown-related acts, some of which are free to those wearing festival wristbands. These include Whistlestop and Dehlia Low at Carver's at 7 and 9 p.m. Friday, respectively; Waiting on Trial at Carver's at 9 p.m. Saturday; and the Badly Bent at Steamworks at 10 p.m. Friday.
Durango Acoustic Music presents Denver honky-tonk icons Halden Wofford & the Hi-Beams on Friday at the Summit. With two albums to their credit, Wofford and crew rank among Front Range hillbilly idols like Slim Cessna's Auto Club, 16 Horsepower and the Railbenders. They stole the show at last summer's Silverton Jamboree during Ska's Bloody Mary Sunday. The Lawn Chair Kings open at 9:30 p.m., with the
On Saturday, stop by the Summit for more post-Meltdown madness, this time by former Durango rockers BoXcar. Meltdown always gives BoXcar a chance to return to town to add their Dead-, Panic-, Truckers- and Allmans-influenced rock, blues and alt-country to the mix.
Catie Curtis is back at the Millwood Junction in Mancos at 8 p.m. Sunday. Curtis, a past winner of the Telluride Troubadour contest in the early '90s, has performed in Durango and Mancos several times before. In 2005, she and Mark Erelli won the grand prize in the International Songwriters' Competition for their Hurricane Katrina response, "Take a Look Around."
Guitarist Andreas Kapsalis is no stranger to the Summit. Tonight (Thursday), the jazzy six-string guru returns as part of the Megitza Quartet, a Gypsy group from Chicago. Fronted by vocalist Malgorzata Babiarz, the group pulls music from Eastern and Central Europe, the Balkans and South America.
Hear Rocky Mountain reggae by a dub rock band at Steamworks at 10 p.m. Saturday. It's free for the ladies!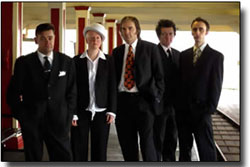 The Coal Porters

Starting this Sunday, the Diamond Belle Saloon hosts a gospel brunch each week. An assortment of talent from the Durango Bluegrass Meltdown will perform at the Belle from 1-3 p.m. this Sunday, with local musicians continuing in following weeks. The brunch menu will be available at 11 a.m.
This week's Top Shelf list was provided by David Smith. If he's not the Godfather of the Durango bluegrass scene, then he's at least Sonny's son, Vincent, from Godfather III. David is the host of "The Sweet By & By" on KDUR, vocalist and guitarist for Rock & Rye, and a longtime member of the Durango Bluegrass Meltdown Board of Directors. In honor of Meltdown, David provides his Top 10 bluegrass happenings in Durango:
10. Bluegrass and folk music being a staple of Sunday nights at the Diamond Belle Saloon with George Usinowicz holding down the spot with the Blue Moon Ramblers and others since 1986.
9. Local bluegrass stars the Badly Bent having released two CDs, "The Badly Bent" and "Olive or Twist."
8. Hugh Felt recently celebrating his 15th year on the air as host of KSUT's Thursday night bluegrass program, "The Grass is Bluer."
7. Ska Brewing continuing to book local bluegrass at their World Headquarters in Bodo Park.
6. A wonderful flood of new, young and enthusiastic bluegrass bands in town including Waiting on Trial, Wild Mountain and Sourmash.
5. A wealth of summer bluegrass within a short drive — from McElmo to Telluride, Joe Moore to Pagosa.
4. The vibrant and long-running weekly bluegrass jam on Wednesday nights at Durango Brewing Co. bringing out the closet pickers and singers.
3. The Bar-D Wranglers' 2008 debut at the historic Ryman Auditorium in Nashville for the one and only Grand Ole Opry.
2. The Durango Bluegrass Meltdown celebrating its 15th anniversary and helping to keep traditional bluegrass alive and well in the West.
1. A generation of Durango musicians teaching and inspiring the next. Huge thanks to Pat, Hugh, Don, George, Red, Bruce, Steve, Jeff, Bill, Gary and on and on!
Have you ever heard Camp Cookie sing? E-mail me at chrisa@gobrainstorm.net. •