Greening the local economy
Four Corners' first 'green expo' takes off

SideStory: The Four Corners Green Living Expo at a glance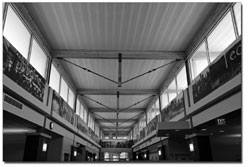 The Durango Public Library, a Gold LEED certified building, stands out as the first of its kind locally. Organizers of this weekend's Four Corners Green Living Expo are hoping this kind of environmental trend will continue in Durango. The inaugural event will serve as a two-day "green"hub for residents and businesses seeking environmental answers and resources./Photo by Stephen Eginoire.
by Will Sands
Two varieties of green are coming together in Durango this weekend. The first-ever Four Corners Green Living Expo is set for April 18 and 19, and greening the Durango economy is a major theme of the informative event.
Eco Logic Events and the Sustainability Alliance of Southwest Colorado (SASCO) are teaming up to host the expo, which is designed to immerse residents and businesses in the "green" scene. Sustainable businesses and
Carol Clark, who co-owns Eco Logic with Kristin Muraro, said the pair hatched the idea for the expo and their company after attending the Green Festival in Chicago last year.
"The Green Festival is really the mackdaddy of them all, and it was incredibly inspiring for us," Clark said. "We came back to Durango and started looking at the4 possibilities of doing something similar locally."
One goal of the expo is to create a local green hub where area residents interested in lightening their impacts can find answers, resources and options. "We are bringing together like-minded companies and organizations with community members who are both curious and committed to the preservation of our region and planet," Clark said.
Another goal is to share the message in a fun and positive way. To this end, Eco Logic has scheduled an interactive Durango Discovery Kid's Corner, youth classes on environmental practices, a community clothing exchange, local foods and libations, live music, and more. And to walk the talk, the Expo will be a zero-waste, carbon-neutral event with offsets for each attendee and a major emphasis on local and recycled goods. "The other piece is to really have fun with this," Clark said. "So many of these talks, seminars and events are so serious – and these issues are serious. However, lightening it up opens the message to a much wider audience."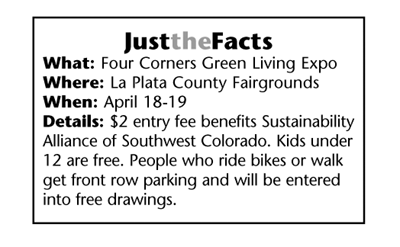 A series of informative workshops will also run throughout the two-day festival, and greening the economy will be a consistent theme. The Green Economy Forum, hosted and organized by SASCO, is set for 11 a.m. on Sat., April 18, and features keynote speaker Rob Dietz, of the Center for the Advancement of the Steady State Economy. The Steady State Economy model – which advocates no economic growth in favor of a sustainable economy – carries a strong local message that fits well with several ongoing Durango trends.
"The importance of this forum is that we as a community are going to start looking at how to further develop a sustainable economy," said Muraro. "We believe discussions like these lead toward more jobs and services that help our economy and environment right here at home, including keeping our dollars flowing locally."
Durango has a real opportunity to lead on these issues in the region and nation, added Werner Heiber, chair of SASCO. "At 3½ hours away from the nearest interstate, there are few communities that are as isolated as Durango," Heiber said. "Isolation has its drawbacks, but it also provides great opportunities since we are less affected by outside influences. It's in our own self-interest to start helping each other on the path to self-sufficiency."
Heiber acknowledged that Durango will never be a hub of industry. However, the region's abundant renewable energy resources – solar, geothermal and biomass – offer a unique opportunity for businesses and residents. Heiber related the example of Samso Island, Denmark – the largest carbon-neutral settlement in the world. After aggressive development of wind and solar resources, Samso produces all of its own energy and exports an additional 40 percent off the island.
"It's true that we will never produce cars here," Heiber said. "But we have the resources and can certainly produce our own energy from renewable sources. We can also reduce our dependence on the outside world and impact on the planet by growing much more of our own food.
Heiber, Clark and Muraro all agreed that conservation must be the first step down any of these roads. The hope is that this weekend's Four Corners Green Living Expo will help spread that message.
"Changing our habits and reducing our impacts are valid whether you believe in global warming or not," Clark concluded. "As Americans, we consume 25 percent of the earth's resources. Each of us has the ability to start making those changes."