Explorations in scale
Shy Rabbit opens 'For the SMALL of it' exhibit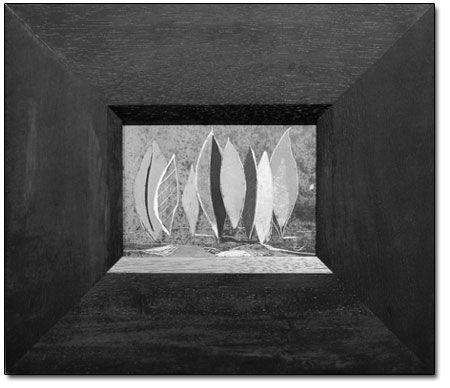 Marti Bledsoe's "Leaves and Seeds," a 5"X7" ink monoprint, is among the small works currently showing at Shy Rabbit./Courtesy Photo
by Jules Masterjohn
"For the SMALL of It" is the exhibition currently on display at Shy Rabbit Contemporary Arts in Pagosa Springs. The word play implies at least two distinct ideas that inform artmaking. First, it references the spontaneity that can underlie the creative process: "I made it just for the heck of it!" Secondly, for an artist to create a work smaller in size than is typical can be refreshing. Exploring scale can bring a new way of seeing the world. In much of the art on display at "For the SMALL of It," this sense of play and discovery is palpable.
Fifteen artists, many of whom have participated in other shows at Shy Rabbit and most from Colorado, were invited to make work for "SMALL." Their challenge was to create work smaller in scale and price relative to their usual work. "These works were to represent or embody the characteristics of their larger work, only in a scaled-down version," offered Denise Coffee, Shy Rabbit's co-owner and participating artist. "Many of the artists featured in the show embraced the challenge of creating new work specifically for the exhibition that was personal to them and their working process. This work became more intimate, belonging to and characterized by their deepest nature."
This is a revealing remark for Coffee. Her contribution to the exhibit is a series of diminutive ceramic figurines, named "Mort," "Corky," "Bess" and "Floyd." Her caricatures of little beasts are whimsical and quirky expressions that combine animal and human qualities. These were born from the tradition within the ceramic art world and her practice at Shy Rabbit. She makes the clay guardians – god and goddess figures – that watch over the kiln firings that her ceramic artist husband and Shy Rabbit co-owner, D. Michael Coffee, undertakes.
Ever the aware businesswoman, Coffee chuckled, "My demographic is solidly with the 8- to 12-year-olds." These fanciful miniatures are expressions of her fun-loving nature and she acknowledges, "My inner child is coming out with this work."
Los Angeles-based ceramic artist Randy Au is also interested in whimsy. His wildly glazed ceramic pottery – salt-and-pepper sets and cups – originally began as garlic bulbs, green peppers, and mini artichokes from which he made molds to create the vegetable-shaped pottery. To complete the building process, Au adds wheel-thrown and hand-built elements to the slip cast clay vegetable vessels.
It can be challenging to identify the vegetable shape under the layers of turquoise, purple, citron, blue, orange and yellow glazes energetically brushed over each piece's surface. While referencing fine hand-painted china found in cultures around the world, his use of metallic gold luster unifies the abstractly painted pots, pulling the many varied elements together. Au successfully combines the precious and the playful in his functional and affordable ceramic objects.
New Mexico artist Debra Blair found a "new way of working" while creating small pieces for the exhibition. Using gestural lines and a defined palette, her acrylic-on-clayboard paintings portray ambiguous and intimate spaces. From a distance, Blair's paintings can look like blurry aerial views or perhaps topographical maps. Viewed up close, their subtly worked and physically active surfaces become a record of the artist's making and a map for the viewer's journey. Various layers of grey, white, blue and yellow paint have been worked – sanded, scratched and nicked – exposing the colors that lie beneath in an excavation of subtle detail. Bold drips and flowing lines of shiny black paint snap one's eye back to the painting's surface.
Marti Bledsoe, who divides her creative time between Pagosa Springs and Texas, presents her ongoing series of reductive process monoprints, "Leaves and Seeds." Her small ink prints are compositionally similar, offering variations on the theme of shape, line and color. A pleasing rhythm is established through her use of varying hues and values that define each leaf/seed shape. These overlapping shapes, which appear flame-like to my eye, hover slightly above the linear suggestions of tiny landscape features, scratched through the ink's surface. Bledsoe creates an intimate environment while implying immense scale in these visually and conceptually interesting works.
Though abstraction dominates the subject matter of and approach by most of the artists in the exhibition, other artists find their passionate play in representing forms from nature. Jill Sykes' series of linocut prints, "Sycamore House," show with near realistic quality, silhouetted branches of Sycamore trees dangling from the top of the picture plane. This arrangement of formal elements places the negative space on the bottom of the composition. An unusual perspective, Sykes' prints literally turn our conception of a tree upside down.
"For the SMALL of It" not only encouraged participating artists to approach their creative process differently, it also invites the viewer to slow down and look more closely, experiencing art in a new way.
Featured artists are: Randy Au, California; Michael D. Barnes, Illinois; Debra Blair, New Mexico; Marti Bledsoe, Texas; Denise Coffee, Colorado; D. Michael Coffee, Colorado; Sarah Comerford, Colorado; Ron Fundingsland, Colorado; Jean Gumpper, Colorado; Karl Isberg, Colorado; Shaun Martin, Colorado; Al Olson, Colorado; Brad Schwieger, Ohio; Christopher St. John, New Mexico; and Jill Sykes, California. •
"For the SMALL of It" is on display through Jan. 17 at Shy Rabbit Contemporary Arts located at 333 Bastille Drive, two blocks north of Hwy 160, off of North Pagosa Blvd. Gallery hours are 10 a.m. to 4 p.m, Thursday-Sunday, or by appointment. (970) 731-2766.