The art of conscious giving
A global take on locally made gifts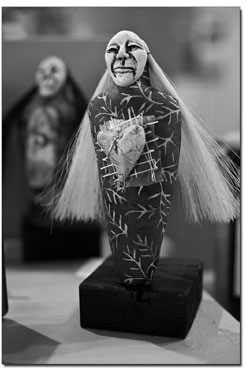 Two members of the "Wild Hair Tribe," by Deborah Gorton, are on display at the DAC./Photo by David Halterman
by Jules Masterjohn
hanksgiving signals the beginning of the mega-buying season, offering each of us the opportunity to consider the impact of holiday gift giving. As we weave our ways through the labyrinth of concerns that conscious consumers ponder, buying local goods seems to be a favored practice. To add to our thoughtful choices, hand-made goods are plentiful at the various holiday sales presented this season.
Holiday Art Olé, a boutique-like sale featuring the work of nearly 40 regional makers, opened last week at the Durango Arts Center. This weekend another longstanding event, the 11th Annual Artisan's Holiday Gift Show and Sale, will be held. With each of these events, and the many more, we can buy local and handmade, keeping our well-earned dollars right here while supporting creative people in our region.
Yet, as much as we like to believe that our money stays close, the truth is we live in a global economy. Though retailers based in our area bank and live here, most if their products come from somewhere else on the planet. Our holiday buying supports communities all over the world and demonstrates the interconnectedness of national economies.
Until silver mining in the San Juan Mountains becomes feasible again, jewelers like Peggy Maloney will continue to buy silver from Nevada, or more likely from Canada, Mexico, Peru or China. The agates she uses can be found almost everywhere in the world. Closest to home would be South Dakota, but they are also mined in Russia, Europe and Canada.
Cultural references, as well as the natural and human worlds, also merge in Maloney's hand-made jewelry. Her bracelets, necklaces and earrings often combine semi-precious stones, fossil coral, dinosaur bones and freshwater pearls with a Japanese technique of alloying metal. Some pieces also have Chinese pot
tery shards incorporated into them. She creates in Mancos, is showing at Holiday Art Olé in Durango, and her materials come from all over the world, reminding us of our global citizenship.
Another artisan showing at Holiday Art Olé, woodworker Dave Sipe, also creates just over the hill in Mancos. Not only locally made but Sipe's work could also be labeled "sustainable" by the fact that his whimsical creatures are carved from felled and dead local trees. The pigments used in his colorful paints, however, most likely come from minerals mined halfway around the world. If he used only yellow paint, chances are he would be supporting Colorado mines or perhaps those in Utah that extract umber, a mineral source for yellow pigment. But his gorgeous blue hues probably are made from azurite and lazurite, possibly from deposits as far flung as Kazakhstan, Afghanistan, Russia or Chile. The bright reds used to color his cheerful Santas' coats might come from cinnabar, which is mined in the Ukraine or China, or may be synthetically derived from mercury found primarily in Spain, China and Algeria. As for the gasoline that feeds his chainsaw as he frees each elf figure trapped inside those tree stumps, chances are he is supporting Venezuela's petroleum industry with his craft.
Like Sipe, seamstress Lindsay Porter is recycling materials for use in her meditation cushions, yoga mat totes,
silk eye bags and table runners. Her fiber works are made from fabric scraps left over from the interior design items she makes for clients. The blended fabrics are dominated by cotton, mostly likely grown in California, Texas or any of the 13 other southern U.S. states; processed in Africa; and woven in India or China.
If photographer Howard Rachlin uses Kodak paper to print his colorful images, it may be produced in Windsor, Colo. His digital camera is most likely manufactured overseas in China, yet his images are quintessentially southwestern: buttes silhouetted at sunset and slot canyons blazing with light.
Potter Collette Webster creates in the far reaches of our region, making Dolores her home. She, like the majority of the artisans making work for sale this season, depends upon resources from others states and across the globe, to fuel their creative fires and fill our gift giving desires. Webster's stoneware clay recipe, the high-fired oven-safe type, probably uses ball clay from Kentucky, fireclay from Missouri, and kaolin from Georgia. The electricity or natural gas she uses to fire her kiln is probably produced right here in the U.S., and probably in the West.
If buying things – even hand-made local items – does not resonate with the spirit of the season, try donating money to the SEVA Foundation or Heifer International as gifting possibilities. These globally based, nonprofit organizations are dedicated to relieving suffering in the world through various means. For a $50 donation to SEVA, a Guatemalan woman can have her sight restored through cataract surgery. About the same amount purchases a hive of honey bees for a Third World family to help them find a sustainable source of income through honey, wax and pollen sales.
Regardless of one's gift-giving approach, we are impacting the lives of people all across the planet. As we make informed and thoughtful choices, we act on behalf of all people and reinforce our roles as citizens of the world. •
The 11th annual Artisan's Holiday Gift Show and Sale is set for Sat., Nov. 22, from 9 a.m.-4 p.m. at the Durango Discovery Museum at the Powerhouse, 1333 Camino del Rio.
Holiday Art Olé runs through Dec. 24, Tues. –Sat., 10 a.m. – 4 p.m. at the Durango Arts Center, 802 E. Second Ave. 259-2606