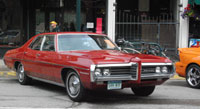 Diver: Sue out in the Big Red Sled
Interesting facts: Sue's Big Red Sled has no runners. It has wheels.
Got a dirty little secret?
Looking for guidance to remedy a sticky situation?
Seek help from the master of the kitchen! The Dish Diver has solutions to life's little messes. Send your problems to "Ask the Diver." - By mail to Durango Telegraph - Attn Diver -534 Main Ave., Durango, CO 81301; by email at telegraph@durangotelegraph.com, or by fax at 259-0448.
Dear Diver,
So, my neighbor has these snowmen doll things that are supposed to make snow. He left them out all summer and I think they need to be recharged or something cause they aren't working. I also heard that having sexual intercourse with plump chicks makes it snow, but they seem to be haters of pow days cause they keep turning me down. What am I doing wrong? My Dad is starting to get disappointed in me. As he always says, "Love the plumps to ride the bumps."
– Obviously not a pickup artist yet (but still trying), JJ in Durango
Dear Poor Misguided Child:
This question presents itself as two issues: First, why do you let your DAD HELP CHOOSE YOUR POTENTIAL SEXUAL PARTNERS? Creeptastic, man. No wonder there isn't any snow. Or sex. Yuck.
But, on to the important stuff. Ancient civilizations have prayed and chanted to the gods that be for whatever weather they wished for. We here at Diver Headquarters actually know of a method for you to beseech them for the snow so you can have your pow and shred it too. You must do the following: Stand naked in your yard (preferably after dark), hop on one foot and perform the following chant, slowly and quietly at first but increasing in volume and speed as you go: "I! AM! STEW! PED! SOFA! KING! STEW! PED!"
Trust me, the louder and faster you go, the better. But remember, it's got to be after dark. I guarantee you precipitation of some form will rain down upon you! It may be the neighbors throwing a can of PBR at you to shut up, but don't get discouraged! There WILL be snow! As far as sex, I believe you are on your own there. Possibly permanently, unless
Dad gets out of the way. Jeez.
– Go forth in peace and quiet, The Diver
Dear Diver,
I just moved in with my girlfriend of two years and got a pretty major shock the other day. It turns out she puts the toilet paper on the roll underhand. My family (going back several generations) has always put the roll on overhand. Is the relationship doomed? Please advise.
– A. Wipe, via e-mail
Dear A as in Anal, or Amazing,
I would hazard a guess that the only shock wasn't yours. I bet your girlfriend was surprised that you actually CARE how the paper is put on the roll! I know I am! You have a PREFERENCE? OMG!! You are single, right? You care about the appearance of the butt wipe and its configuration. Wait, don't tell me, you even put the seat down, right? Tell that girl she's lucky to have you, because with attributes like that you won't stay single for long! But, by the way, she's been your g/f for two years, and you're just now noticing how the tp is hung? You don't use the facilities at her house? I'm thinking that you are the nature dude that pees on trees. Plus you've been "takin care of business" at home. How sweet. Just remember, they call it courtesy spray for a reason! Use it!
Oooh, that smell!
– The Diver
Dear Diver,
My husband and I are looking for an inexpensive Xmas get-a-way. We'd rather not fly, only have about $800 to spend and wouldn't mind getting warm (I know, good luck right?). Where does the Diver escape for his/her low budg holidays.
– Already shivering in Durango
Dear Cold 'n Broke:
So, a warm, inexpensive getaway for less than $800. This presents a difficult problem. I often have to choose between activities because of lack of fundage. Should I go to Ska-B-Q and get free food? Should I go to Steamworks and get cheap beer on Friday? Should I stay home and get a life? Well. You want heat and fun for a few bucks. There are a few ways to get this done.You could go to the airport and watch planes take off and imagine where you would be going and what you would be doing if airline fees weren't so stupidly high. The airport has food, beverage, shopping and it's heated!
You could go to Espanola, N.M., and drive a minivan that says "Narcotics Department Official Agent Recruiting Vehicle" and you'd get a LOT of heat, but I don't think that's the type of heat you're looking for. My advice is to hit the thrift stores for all that cool leftover unwanted long underwear, mismatched gloves, hand knitted scarves and '80s ski jackets. Wear several layers, all the time. Keep telling yourself that you're LUCKY to live in such a paradise as Durango! By the end of the winter, you'll have saved so much on your heat bills from wearing all that warm stuff that you'll actually be able to afford to go somewhere COLD! And, you'll look forward to it! It's all perspective! Have fun with that!
– Warmly, The Diver