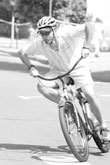 Diver:Glen from Carver Brewing Company
Interesting facts:Glen once made the mistake of "dropping" and then riding his bike into a Hermosa Creek hunt camp
Got a dirty little secret?
Looking for guidance to remedy a sticky situation?
Seek help from the master of the kitchen! The Dish Diver has solutions to life's little messes. Send your problems to "Ask the Diver." - By mail to Durango Telegraph - Attn Diver -556 Main Ave., Durango, CO 81301; by email at telegraph@durangotelegraph.com, or by fax at 259-0448.
Dear Diver,
Can you recommend a post-election recovery plan? I need a good way to take my mind off reality for a little while (Please limit your suggestions to fit a recession-based pocketbook.).
– Fried in Durango
Dear Fried,
Can you say L.S.D.? The best vacation from reality available, and cheap, holy shit is it cheap! However, it is illegal and hard to find a good source, so I recommend lots and lots of PBR. Plus with hallucinogens that powerful you may never be the same. But that might not be so bad since you think that election season has anything to do with reality. Honestly though, try turning off your cell phone and TV and when the static in your head dies down you might notice that life went on during the election and those vaguely familiar people around you are your family and friends. Whether red blue or purple they can help.
– Gratefully yours,
The Diver
Dear Diver,
I'm ready for my midlife crisis tattoo. What do you recommend, a Celtic cross, or perhaps some form of Native American
armband? (I'm not Native American, but I feel like I've been here long enough I deserve one, I don't even like fry bread and my friend Victor's mother makes the best fry-bread!). I've already cut off the sleeves on my workout shirts so when I go to the Rec Center people can see how badass my tattoo is. What do you recommend?
– Mac, via email
Dear Mr Sagging Self Esteem,
You're kidding right? If not, I recommend tattooing "I'm a vain idiot" on your forehead. It would save people the time of figuring that out for themselves. Or since you think midlife is a time to try denial on for size rather than aging with a little grace I might suggest a tattoo of yourself driving a red sports car that looks like your head swells when you pump iron. Let's face it. There is no one looking at the fat old guy with the stupid tattoos doing curls. Get over it!
– Diver
P.S. Sleeveless shirts let the old man stink out, so get some sleeves.
Dear Diver,
A friend has invited me to join his family at hunt camp next week. The hitch is that I've never even seen a rifle and don't feel very comfortable in blaze orange. Any advice for blending in with the Bubbas?
– Gun shy
Dear G.S.,
Well gun shy, never seen a rifle? Don't look good in orange? Then
what the hell? Why not insist on having your own gun, shooting at everything that moves, drinking mass quantities of beer/whiskey, and roosting an ATV whereever you want, trail or not? Then you'll fit in just fine with most of the hunters I've seen. Or if you're lucky, you could learn something about where meat comes from. By the way blaze orange is a lot less uncomfortable than a gunshot wound any day.
– Happy hunting,
The Diver