Climbing for change
Durango memorial reaches out to inner-city kids

SideStory: From Main Ave. to South Central LA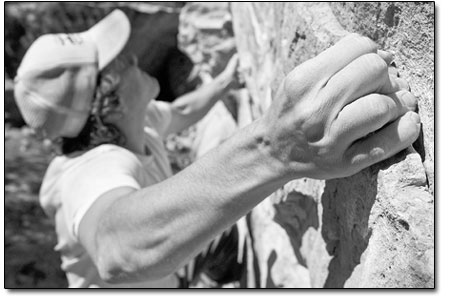 Mike Muldoon pulls down at the Turtle Lake boulders on Monday. A memorial scholarship has been created in honor of Greg Walker, a local climber who lost his life 10 years ago on Pico de Orizaba. Efforts are now under way to raise nearly $20,000 for "Climbing with Kids,"a program dedicated to getting at-risk kids onto the rock./Photo by David Halterman
by Will Sands
A decade-old Durango climbing tragedy is growing into an opportunity for youths who have never seen, let alone summited, peaks.
Ten years ago, La Plata County native Greg Walker succumbed to acute mountain sickness and eventually fell to his death while mountaineering in Mexico. The well-loved, local figure had been attempting to climb Pico de Orizaba, an 18,500-foot volcano outside Mexico City.
The 23-year-old's disappearance touched off difficult times for his family, friends and his new fiancé. In what could only be described as a "nightmare," the search for Walker's remains lasted months. Communication between Durango and Mexico was limited, and friends and family waited for news in the dark.
Nonetheless the local community rallied around the incident. A benefit raised more than $15,000 at Lady Falconburgh's – Greg's place of employment. The Walker family then paid a personal visit to the volcano and donated the funds to the Search and Rescue team, local mountaineers and families in the Orizaba region. A memorial to the local climber was also erected on Orizaba, where it still pays tribute to the young man's life.
"Greg was almost Buddha-like," local climber Shane Nelson said of Walker. "He was welcome in every group and brought people together. His bounce and energy were contagious, and he reminded us of the gift that every days is. Greg was definitely his own person."
Ten years later, Walker's loss is continuing to create positive spin-offs. A memorial scholarship is currently being created in Walker's name. The fund's purpose is to share his love of adventure and the outdoors for those who need it most – at-risk students stuck in inner-city environments.
Durango climbers Nelson and Kristy Graves are spearheading the scholarship, and they're doing it with a plan to raise $18,490 – $1 for every foot of Orizaba's elevation. In December, they will revisit and summit the peak that claimed their friend's life. The funds will go to Bay Area Wilderness Training and "Climbing for Kids," a nonprofit that gets kids out of inner-cities and into the backcountry.
"This is memorializing Greg Walker," Nelson said. "This is honoring him and his spirit and what he gave us. I know without a doubt that he'd be reaching out to these kids."
Nelson spent the last three years working with Bay Area Wilderness Training and Climbing for Kids. In that time, he led trips and workshops for kids from challenging neighborhoods like Compton and South Central L.A. and was exposed to remarkable young, human beings.
"These kids are at-risk because of where they live, not because of who they are," Nelson said. "They aren't choosing to be in gangs. They're choosing to survive the walk home from school."
Split between ocean and mountain environments, the experiential education program offers an insight into the outdoors and leadership skills not available to most urban dwellers. By raising funds for the Greg Walker Memorial Scholarship, Nelson hopes to share a piece of Durango with inner-city Los Angeles.
"We are living in this town because of lifestyle, and many of us work jobs that suck in order to pursue that lifestyle," he said. "This will basically share some of that with kids who would never come close to it."
Nelson and Graves have been raising funds and support for the Orizaba climb since August. A major step toward the summit push will be a benefit set for this Sunday at Lady Falconburgh's (see sidebar). A similar event is scheduled for San Francisco a week later. Grassroots energy will be essential to the climb and putting nearly $20,000 toward bringing the backcountry into others' lives, according to Nelson.
"There's been a constant outpouring," he said. "This community has been amazing. People either remember Greg, the incident or have no relation, but everyone is digging deep during a hard time."
And Nelson and Graves are counting on that outpouring to carry beyond the borders of La Plata County. "This is the town where I learned to care about other people," he said. "Durango taught me that I'm not the center of the universe. I'm hoping we can share that message, which was Greg's message." •