America's best idea
Durango gets a Ken Burns sneak preview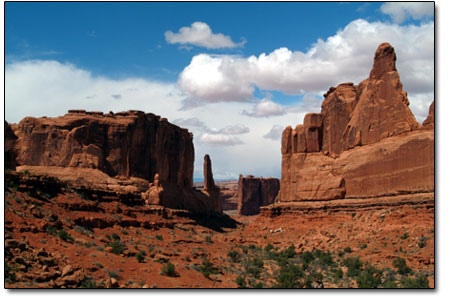 Arches National Park, as photographed by Craig Mellish, is shown in this scene from "The National Parks," a Florentine Films production due out in fall of 2009./Courtesy Florentine Films.
by Judith Reynolds
Who are we as Americans?" Writer and producer Dayton Duncan asks the question every time he speaks to an audience. Duncan was in Durango on May 2 to give film and history buffs a sneak peak at "The National Parks: An American Story." Due out in the fall of 2009, the six-part, 12-hour documentary is the current project of Florentine Films, a creative enterprise headed by Duncan and long time colleague and business partner, Ken Burns.
"We've been working on this project for 10 years," Duncan said. "It's part of our exploration of the question: Who are we as Americans?"
For more than a decade, the Burns-Duncan team has been asking that question by sifting through American history. Together, Duncan and Burns have made three series: "The Civil War," "Baseball" and "Jazz." In addition, Duncan is the author of eight books, many of which are companions to documentary films he wrote and produced. At Fort Lewis College earlier this month, he skimmed through several of the subjects his company has concentrated on, including Thomas Jefferson, Elizabeth Cady Stanton, Jack Johnson and the Statue of Liberty. "We've looked at what American inventors tell us about ourselves," he said.
As far as the national parks go as subject matter, Duncan said it took him "maybe 15 or 20 seconds" to convince Burns to do the film. "The national parks idea is an American invention, a uniquely American idea – born in this country," said Duncan.
The new documentary will not be a travelogue or a nature film, Duncan said. "It's not about where the lodges are. And it's not a listing of what's the best in every park. It is what we do best – tell a story about the history of the parks."
The narrative begins in 1855 and traces the birth of the national park idea through 150 years. Like other Florentine films, it incorporates what's come to be known as "the Ken Burns style:" archival photographs, first-person accounts of historical events and analysis from contemporary historians. As chief writer, Duncan appears early in the film, and later other American historians join his company.
To do the subject justice, Duncan said he and his crew filmed every national park in every season over a five-year period. "You will see a lot of scenery in that time," he said. In fact, the film contains more contemporary footage than any Burns/Duncan 4 film since the 1997 "Lewis & Clark."
As he has been on all of Burns's films, Buddy Squires is chief cinematographer. In addition, Burns himself has taken some footage and another long-time cameraman Allen Moore shot more than 800 rolls of footage in 53 parks. "It's a massive effort," Duncan said. "We also conducted more than 40 interviews, only 20 of which appear in the film."
Among the onscreen personalities, viewers will see former Secretary of the Interior Stewart Udall and local historian Duane Smith. Actor Peter Coyote serves as narrator, and voice overs are provided by Tom Hanks, Andy Garcia, Sam Waterston, Eli Wallach, Amy Madigan and other actors.
Duncan screened the opening section and Episodes Two and Five to an overflow crowd at the Center of Southwest Studies. The 13-minute introduction begins in deep time. It's filled with spectacular footage of primeval earth: volcanic eruptions, lava flows, streaming light and steaming crevices. Two themes surface through the opening John Muir quote: constant change and startling beauty. These themes echo throughout the rest of the prologue, and no doubt through the remainder of the film.
Duncan summarized Episode One: it establishes background for the first national parks in 1872, Yosemite and Yellowstone. Episode Two is titled "The Last Refuge: 1890 – 1915." Duncan chose to screen this in Durango, because it illuminates the convoluted efforts to establish Mesa Verde as a national park in 1906. The real jewel in the legislative crown, however, was another piece of legislation.
"In 1906," he said, "Congress also passed the Antiquities Act. It is the greatest conservation act in American history. In the film, you will see how the Act rumbles through the next century."
Duncan thanked local historians and the institutions that helped him research and film the Mesa Verde portions of the documentary: "All the people at Mesa Verde who gave us access to photographs and sites," he said. He also thanked Wetherill expert Fred Blackburn, Local historian Duane Smith, and my late husband, David, and me, as Nordenskiöld experts.
One of the Mesa Verde shoots took place in 2004 over three beautiful October days. My husband and I spent one of those days with Duncan and his crew out at Long House and drove him back to Durango for an evening presentation. David and I had recently completed our own 10-year project, the first full-length biography of Gustaf Nordenskiöld. He was the young Swedish scientist who, in 1891, made the first scientific study of the cliff dwellings at Mesa Verde. Subsequently, he published the first major monograph on the subject. When it was translated and published in English, his massive work introduced Mesa Verde to an international audience.
During a long afternoon of filming at Long House, Duncan interviewed us about Nordenskiöld's project and its impact on the push toward preservation in America. The plan was to wait for dusk and see what the light was like before driving back to Durango. The sunset didn't disappoint, and his crew got some magnificent footage.
After a wrap, we three drove into Durango for Duncan's public lecture. My husband drove so that Duncan and I could pore over all the Nordenskiöld materials I was donating to the film project. In particular, he wanted to know about the Wetherill-Nordenskiöld friendship and working arrangements, and especially the controversy over the removal of artifacts for a Scandinavian museum. That episode, which involved a house arrest at the Strater Hotel, involved a trial that caused an international incident. For the first time in its young life, Durango made headlines in Denver, New York and Stockholm. The attorney general of the United States and three presidential cabinet members got involved. But since no existing laws had been broken, charges were dropped. Nordenskiöld's collection left the country and continues to be the largest assemblage of Mesa Verde artifacts outside the United States.
The Nordenskiöld controversy, however, spiked interest in preservation. It took an additional 15 years for the wheels of government to roll out the Antiquities Act and declare Mesa Verde a national park.
All of that is condensed in the film. You won't see the famous "cowboy" photograph of Nordenskiöld, taken at Gonner & Hurd Studio on Main Avenue in the summer of 1891. But you will see a splendid studio portrait of Gustaf taken in Stockholm in 1895. It was discovered in the Wetherill Archive at the Anasazi Heritage Center by my colleague Fred Blackburn. In an excited phone call to us, Blackburn said that Nordenskiöld had sent the photo to the Wetherills as part of their continuing correspondence after he left the country.
Although the sneak preview contained only the introduction, and Episode Two and Three, the spirit of the film is clear. Celebratory in nature, "The National Parks" is also a story of constant tension – between preservation and exploitation, between individual rights and the community, between local and national issues.
"The use versus preservation conflict was embedded from the get go," Duncan said. "From the beginning, people carved their names on trees and rocks, they dropped fence posts into geysers to see if they'd pop out. Tourism to parks is constantly on the rise. Our parks are being 'loved to death.'
"This is a story of the land and its people, rich and poor, famous and unfamous, idealists, artists, entrepreneurs, people who were willing to sacrifice to preserve something of the land they love in this great democracy." •