Weighing off-road options
Forest Service releases OHV management draft

SideStory: Commenting on The Lakes EA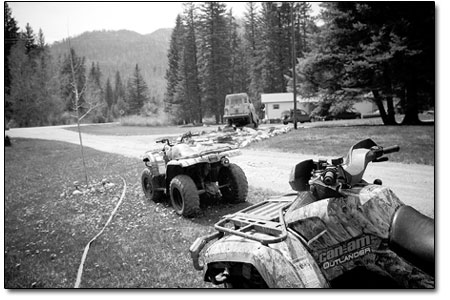 Several rental ATVs sit at the ready at "ATV's at Vallecito" on Monday. While a big business at Vallecito and elsewhere throughout the San Juan National Forest, the Forest Service is currently developing a travel management plan for ATVs and other off-road vehicles in an effort to curb damage from overuse and abuse./Photo by David Halterman.
by Missy Votel
With snow melting on the area's trails and roads, the discussion over off-highway vehicle use is also heating up.
Last week, the San Juan National Forest's Columbine Ranger District released a draft environmental assessment on OHV travel management on forest lands north of Durango and Bayfield. The 67,000-acre parcel, which surrounds Lemon and Vallecito reservoirs and is known as "The Lakes" area, is the first of several landscapes the Columbine District will be examining in coming years under the 2005 Travel Management Rule. The rule was a directive of Forest Chief Dale Bosworth who, in 2004, deemed unmanaged, cross-country OHV use as one of the top threats to national forests. As a result, all forests are now required to designate specific roads, trails and areas for motorized use.
The Columbine District will be collecting public comment on the draft proposal until June 9, with an open house scheduled for Mon., May 19, from 6 – 8 p.m. at the Vallecito Community Center. Cam Hooley, environmental coordinator for the Columbine District, worked on the draft EA and said the open house is a time for the public to ask questions and familiarize themselves with the four alternatives.
"We've been through a lot of evolution with the alternatives," said Hooley. "We know people are very interested, and we expect there will be some passionate people there."
The Lakes EA process kicked off more than a year and a half ago with public scoping meetings. Hooley said the problems from OHV abuse and overuse locally is similar to that seem across the West, and the country. "The forest chief was responding to a lot of concerns, such as erosion, impacts to wetlands and disturbance of wildlife," she said. "Those are the types of things we're concerned about here."
She noted that while OHV abuse, such as traveling off road over sensitive alpine habitat is one concern, the sheer quantity of OHV users also necessitates attention. "The amount of usage is one of the big things," she said.
Nationally, OHV use increased 174 percent between 1995 and 2003, from less than 3 million vehicles to more than 8 million, according to a 2005 report by the Forest Service. All-terrain vehicles, or four-wheelers, accounted for 70 percent of OHV numbers (which do not include four-wheel-drive vehicles and trucks). Likewise, the number of OHV users in the United States has risen dramatically, from 5 million in 1972 to nearly 40 million today.
"It seems like (OHV) use is always increasing," said Hooley, who has worked with the Columbine District for six years. In addition to this, the vehicles themselves are always changing, she said. "They are always coming out with more powerful machines with new technology," she said. The latest to enter the ATV realm is the "UTV" – short for utility vehicle – which Hooley described as a "golf cart on steroids."
Given such, the Forest Service did not list a preferred alternative in The Lakes Management EA, opting to leave open the possibility of combining various aspects from each alternative. "We did that intentionally because we just don't know until the public weighs in which one will be the preferred alternative," Hooley said. "This way, we can pick and choose from each."
The four alternatives range from doing nothing (Alternative 1) and keeping 80 miles of roads, trails and logging roads open to motorized use, to the most conservative, Alternative 3, which would keep 45 miles of road and trail open to motorized use. All alternatives would reserve 42 miles of trail for non-motorized use.
One sticky topic has been that of motorized use on the Middle Mountain Road past Tuckerville, an old mining settlement close to the Weminuche Wilderness boundary. Currently open to motorized travel except for bighorn lambing seasons, Sept. 10-Dec. 31, the approximately 1½-mile stretch would be closed either year-round or through June 15 under two of the alternatives. "Currently, it's open seasonally," said Hooley. "It's really important to some people who like to go four-wheeling up there."
A majority of the proposed designated trails are old logging roads, said Hooley, although some proposed routes are user-created or cow trails. There also is some old singletrack being proposed for motorized use, although it would likely not be opened immediately. "We would need to go in, when we have the resources and money, and do some work with drainage, etc.," she said. "There might be some reconstruction or rerouting as well."
Despite what the Forest Service sees as a workable document, some local OHV users see the recent proposal as putting the brakes on their rightful use of public lands.
"I, and probably our group, am disappointed with the EA," said Gary Wilkinson, a board member for the local OHV advocacy group, San Juan Trailriders. "I don't believe the EA is representative of public comment at the scoping meetings or in the best interest of the general public."
While Wilkinson agrees that OHVs should not be allowed to run "helter skelter" across public lands, he said if there was a substantial network of trails available, riders would have somewhere to go. "If routes aren't designated, it's a system doomed to fail," said Wilkinson, who has been riding dirt bikes on public lands since 1969. "If the Forest Service would do a better job providing OHV opportunities, the majority of riders would be taking advantage of them. It's the 'if you build it, they will come' premise."
To that end, Wilkinson said his group, which counts 400 members, recently presented the Forest Service with its own version of a comprehensive travel plan, which was largely ignored. "We developed what was probably the most comprehensive OHV travel plan that's been done in the state and laid out routes historically used, analyzed by district from the forest's east to west boundary," he said. "By and large, they ignored it."
However, he noted that it will become increasingly difficult to ignore OHV users. "As a user group, we are growing exponentially in number every year," he said. Wilkinson also pointed out that his group has adopted 150 miles of trails in the San Juan National Forest and that OHV users provide thousands of dollars in revenues for the forest in the from of the annual $25 permits. "We're their customers."
He said that although there is no one alternative the group prefers, they all have some good and some bad points. "We'd like to see the Forest Service work more closely with us in providing off-road opportunities," he said. By coming together with the OHV community, the Forest Service can come up with a better way of mitigating use. "By using a lot of those existing roads, it would require no construction other than connections," he said. "This way, it would mitigate a problem by giving OHV users what they deserve and putting them someplace where they won't conflict with other user groups. We'll all be better off if we work together."
Hooley also agrees with the idea of collaboration, noting that once the plan is finalized, likely next fall, it will require the cooperation of the OHV community. "We're hoping to get cooperation from the motorized community and clubs on education, etc.," she said. "It's hard for us to be out there policing all the time. Peer education goes a long way." •
In this week's issue...
June 13, 2019

In the words of the great Salt-N-Pepa, let's talk about sex (baby.) There, we said it.
June 13, 2019

The plan to bring more singletrack to Silverton is rolling forward. Last week, the Bureau of Land Management announced the beginning of a 30-day public scoping period on its proposed Silverton Area Travel Management Plan.
June 10, 2019

Snow, avi debris, high flows force cancellation