'Ruby Slippers'
Kitty Kitty Boom Boom hosts artist Marie McCallum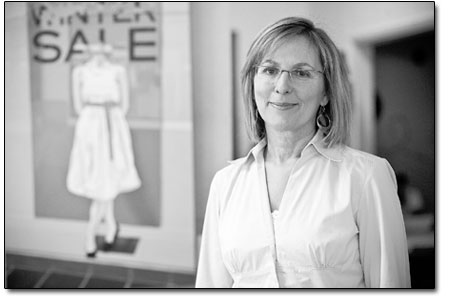 Durango artist Marie McCallum stands among her oil paintings in the gallery space at Kitty Kitty Boom Boom early this week./Photo by David Halterman.
by Jules Masterjohn
One local spot that is not on the map for the annual Spring Gallery Walk held this Friday night is Kitty Kitty Boom Boom, a recently opened shop on Second Avenue. It's not an official art gallery, yet, like many other non-art businesses in town, there is ample wall space reserved for artwork. KKBB, as it is known by its devotees, is filled with racks of in-house designed and cottage-industry clothing and accessories as well as fabrics, patterns and a sewing lounge. The oil paintings by local artist Marie McCallum presented in their mini-gallery space are a nod to past fashion and a fitting addition to the shop's atmosphere.
McCallum, who admits to loving clothes and grew up sewing all of her own, was indoctrinated early into the do-it-yourself school of fashion. Her grandmother was a trained tailor, and three-generations of the family made frequent visits to downtown Los Angeles to take in the latest fashions. Often peering through the large display windows of the department and clothing stores, the women would get ideas for their purchases of fabrics and patterns in which to craft their wardrobe for the next season. Knowing this background adds an informative dimension to viewing McCallum's work.
Her Window Shopper series, a selection of eight paintings each depicting what is seen through a clothing store window, has a vintage feel to it and, as a body of work, effectively conveys a sense of nostalgia. As I look at her realistically painted women's suits, collared blouses and a burgundy undergarment, recalling the fashion in the 1940s, I can hear Ingrid Bergman saying, "Play it again, Sam."
This homage to a bygone era is achieved through the clothing styles she has chosen and through her color choices. Browns, beiges and shades of gray dominate her palette, with the occasional use of pastel pink or subtle tones of other hues. Direct overhead lighting within the store windows gives her images a starkness reminiscent of Edward Hopper's paintings. There is a sense of stillness and melancholy in his scenes, which the artist stated was not intentional, yet his work expresses a sense of 20th century urban alienation.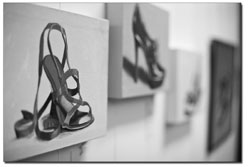 McCallum's "Ruby Slippers" series is a coming of age statement that references Dorothy and the "Wizard of Oz."/Photo by David Halterman.
Like Hopper, McCallum didn't consciously intend to imbue her images with sadness or a sense of longing. The resultant emotion is conveyed through the artist's adeptness with her tools and techniques, both the materials and visual vocabulary. She did discover as she was making paintings, however, that she had something to express beyond the formal elements and her connection to clothing. In her artist statement McCallum writes, "The Window Shopper series deals with the external appropriation of identity and personal image through consumerism. Shop windows are the places that hold the mysterious possibilities of who we might become inside these clothes, poised in the window for our fantasy's sake."
Much is expressed through McCallum's minimal imagery, dynamic composition, color palette and high value contrast. Worn by headless mannequins that are tightly confined within the harshly lit, shallow space defined by the department store window, these outfits can be read as disguises hiding the estrangement that can arise from a preoccupation with image-conscious and consumer-oriented cultural values. The clothing becomes a metaphor for a happy, successful life while draped over a hollow, stuffed form that is the stand-in for the human being.
Her creative process involves photographing store windows or clothing from department stores. Ultimately, she gravitates towards fashions that evoke a timeless quality, the "classics" as she refers to those styles that never seem to be abandoned by womanly women. She oftentimes severely crops her photograph to achieve a desired feeling. She then employs an opaque projector to transfer the image onto the canvas. The use of the projector offers her more time to apply the paint, which is what she enjoys the most. "I am a good drawer and spent years drawing realistically. Using the projected image is something I learned in my commercial art days: it is a production technique used in sign painting. I use it now because I'd rather spend my time painting than drawing."
With art training from California's Otis College of Art and Design and more than 15 years in the commercial art world as a sign painter and gilder, thinking graphically and painting realistically is natural for McCallum. This can be witnessed in her Ruby Slippers series, where I expected to see my reflection in the larger-than-life patent leather stiletto shoe. Making reference to Dorothy in the "Wizard of Oz," this series is McCallum's coming of age statement. She equates surmounting obstacles and difficulty with strength and inner wisdom. Her red high-heeled shoes, not in pairs but pictured solo, are her symbols for discovering personal power. She writes, "When Dorothy wore the Ruby Slippers, she had the power to do what she wanted most, but she didn't realize this at first … We all have the power within ourselves to be and do what we want, even if we have to wear the Ruby Slippers to figure it out." •
Marie McCallum's painting can be viewed through May 29 at Kitty Kitty Boom Boom, 600 E. Second Ave. Hours are Mon-Friday, 10-7 p.m., Saturday 10-6 p.m., Sunday, 12-5 p.m.
In this week's issue...
May 14, 2020

Shrouded in unknowns, the timeline for re-opening some businesses in Colorado came into clearer view Tuesday.
May 15, 2020

Pandemics often bring pandemonium. It is easy to be fearful about coronavirus. But we already possess the greatest weapon on Earth against it: our amazing body and its powerful immune system.
May 7, 2020

It may be hard to imagine, but while us humans are shuttered away in our houses, or hiding behind facemasks and Zoom meetings, the natural world is going on without us.