To the rescue
Spring Creek Horse Rescue aids equines in distress

SideStory: Leading a horse to slaughter - American icon faces an ugly fate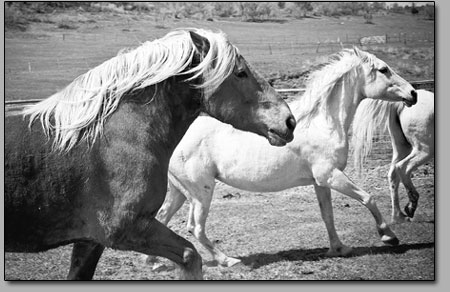 Three rescue horses enjoy a run on Saturday morning at Spring Creek Horse Rescue in Gem Village. Diane McCracken has been saving unwanted, neglected and abused horses for more than three decades. The local effort is largely volunteer and donation driven, and the operation's ultimate goal is to locate the horses into stable, permanent homes./Photo David Halterman
by Anna Thomas
A shaggy horse roots incessantly in its bare pasture for something green, pronounced hips and ribs belying a life of hardship and suffering. Everyone's seen it, and most feel compassion. Some wish they could do more. For the past 32 years, Diane McCracken, of Spring Creek Horse Rescue, has been doing just that.
Two years ago, McCracken got a call about a colt that had been run through a barbed wire fence by a dog and left there for three weeks, severely wounded and separated from his mother. By the time he was rescued, he was half the size a yearling should be due to malnutrition and severe dehydration, and deathly afraid of humans.
"I used to lie next to him in the barn at night and tell him he was worth somethin', that someone loved him," McCracken says. "The cowboys, they don't understand that."
After two years of constant care, love and attention, "Colton" is a happy, healthy, extremely intelligent horse who has filled the niche of "greeter" for newcomers, both equine and human. However, he can be skittish about sudden movements, especially around his face. His life of prior abuse is still evident in these small ways.
Such is the case with most of the animals at Spring Creek Horse Rescue. They come from all over the Southwest with all manner of health issues and histories. Ms. M, a dun mare whose owner had never groomed her, came to the rescue with 8 inches of fur. "She looked like Chewbacca," McCracken remembers. Some are injured, like Colton, while others are emaciated and dehydrated due to improper or insufficient feeding. Some have health issues that have gone unnoticed or misdiagnosed for years, so by the time they come into the hands of the team at Spring Creek Horse Rescue, they require rehabilitation and attention that might take months or even years.
All that work is accomplished mostly with the help of volunteers, grants and donated services and equipment. Volunteers that come to the barn are essential to the day-to-day operations of the rescue. Some perform chores that are vital to the upkeep of the corrals, pastures and stalls. That can include feeding, watering, mucking and constructing fences. A current fence construction project is being carried out to make room for two more horses due to arrive in the next few weeks, with the materials being donated by a local oil and gas company. The volunteers – who McCracken calls "horsey," those with a horsemanship background – come to groom, brush, bathe, walk and ride the horses. Exercise is in most cases an essential part of the horses' recovery and, as with humans, beneficial to their physical and mental well-being.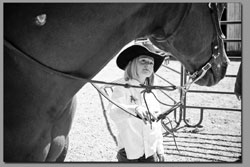 Claire Belmear gazes at Calvin, a 14-year-old rescue horse, before going for a ride ... pleae fill out will./Photo by David Halterman
Children are also welcome to volunteer. Those that come with their parents to help out are provided instruction on the basics of equine care. They are shown how to pet a horse without spooking it, how to feed treats safely, and how and how not to move around a horse.
But, says McCracken, "It's not just about getting the work done. We want people to grow." She has seen frequent visitors, especially children, blossom during the time spent at her barn. The therapeutic effect of learning to care for and provide attention to the once-neglected animals is evident, she says, in the way a shy child with no prior experience with horses will suddenly turn into a proud authority on the subject.
While McCracken is willing to provide a temporary home for any horse she has room for, the ultimate goal of Spring Creek Horse Rescue is to adopt the horses out to stable, permanent homes. There are dozens of success stories of contented horses and their new families. Some of the horses that have been adopted have world class lineage. Those adopting these horses have jumped at the chance to rescue a horse that might cost tens of thousands of dollars if not for a health issue that demands special attention. One of these horses went on to become a champion in Western Pleasure shows, an end even McCracken couldn't predict. Other older horses have been adopted solely as companion animals for the family and other horses or pets.
So what's next for Spring Creek Horse Rescue? The biggest issue on the table right now is lack of space. "We are limited with how many horses we can take in only by the amount of fencing we have," McCracken explains. "Also, land donations are a tax investment." Their current location in Gem Village is a rental, while they are seeking a larger, permanent home with the help of contributions from community members.
Summer riding lessons are planned, with instruction given by a local trainer for children and adults of all skill levels. This, however, is pending the donation of a "round-pen," a circular arena that provides a contained area in which to ride. As resources are perpetually scarce, McCracken's hope is that someone will provide one for the operation soon.
In the meantime, the barn door at Spring Creek Horse Rescue is always open for anyone who wants to do more than simply wish they could help an animal in need.
Visit the Spring Creek Horse Rescue website at www.springcreekhorserescue.org for more information.