Becoming 'Bicycle Friendly'
Durango Bike Summit to advocate for two-wheeled access, safety

SideStory: Growing the ART: City works toward completion of transportation 'spine'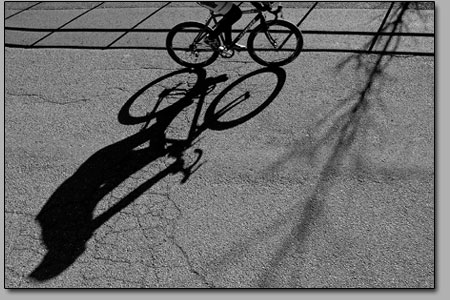 A road rider casts a shadow onto a downtown Durango roadway recently. A cooperative effort is under way to earn Durango an official "Bicycle Friendly Community" designation and increase safety and access for cyclists, whether for commuting or recreation purposes. / Photo by David Halterman
by Missy Votel
Durango will soon be putting its pedals to the mettle. At the first ever Durango Bike Summit, to be held next week, community and business leaders and bicycle advocates will focus on becoming a "Bicycle Friendly Community" – not just a self-bestowed title, but one that comes with the seal of approval from the League of American Cyclists.
"The whole point is making city and county roads safer and more accessible to cyclists, whether for transportation or recreation," said summit organizer Mary Oswald.
Oswald, who moved here 12 years ago, said over that time, her family has had its share of bicycling accidents and incidents due to incomplete or unsafe thoroughfares, including one that landed her daughter in the hospital. "When I first moved here, the River Trail only went as far as the train bridge over the river," she said. "I used to have to haul my kids in the Burley trailer along Main Avenue, and it was scary. People shouldn't have to be scared."
And while she wholeheartedly agrees that Durango has come a long way since the days of playing chicken with the train, there are still areas for improvement. "It's not to say we don't appreciate all the work that's been done so far, but Durango is a small mountain town with narrow roads and a growing population. It's getting harder and harder to get around, and people are getting less patient," she said.
An occupational therapist and self-described "shlepper" who admits to not being a hard-core cyclist, Oswald said the idea for the Bicycle Friendly designation came to her while dropping off her daughter – long since healed from the ill-fated bike ride – at Colorado State University last fall. "We arrived in Fort Collins, and I saw a 'Bicycle Friendly Community' sign, and it sparked my interest," she said.
From there, Oswald let her fingers do the walking, researched the program online. She then got in touch with Mary Monroe, of Trails 2000, who agreed to collaborate on the idea. "The greatest thing is, the designation takes into account all the means people can get around by bike and how it connects," said Monroe. "The big question is, 'Can you get to the trailhead without driving?' It's about getting the bike paths and lanes to work together."
The two set about forming a task force to look at the issue more formally. Over the winter, the group worked on submitting an application for the Bicycle Friendly designation and getting the community more involved. Bicycle Friendly Communities are ranked by four levels: bronze, silver, gold and platinum. Other Colorado cities that have obtained Bicycle Friendly Community status include Fort Collins (silver), Denver (bronze), Steamboat Springs (bronze), Boulder (gold), and Longmont (bronze.) The only city that has obtained platinum Bicycle Friendly status is Davis, Calif. Although the task force has not set its sights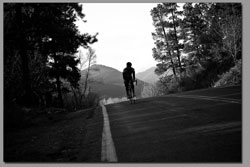 Sean Peck crests a hill on County Road 250 Monday afternoon. A local effort is taking a look at bicycle infrastructure needs and feasibility./ Photo by David Halterman
on any specific level, at the very least, it would like to obtain bronze.
However, task force members realized it would take a concerted and organized effort to even get that far. As such, they decided to invite various players in the bike community to sit down at the same table. "We see the summit as an opportunity for everyone to come together and not rehash old problems but come up with solutions to making Durango safer and more accessible for bicycles," Oswald said. "We are going in open for ideas, brainstorming and problem-solving."
According to Oswald, communities are ranked based on their achievement in the "five E's:" engineering, encouragement, enforcement, education and evaluation. "They want to see a community that's well rounded in at least three of those areas," she said. "While we really shine in a few of those areas, we need to address the engineering section, which has to do more with infrastructure."
To that end, city planners will also be involved in the summit, since the city is responsible for building and connecting many of the bicycle routes. "Generally, we're all working toward the same goals, like an underpass or overpass on Camino del Rio and a bike lane on Florida Road," said Monroe. "The purpose of the summit is to find out what is feasible."
In addition to strategizing, the summit will also include some "field work" – a short bicycle tour around town. "We included a bike ride so decision-makers who aren't familiar with what it's like to ride a bike around town have an opportunity to see what it's like," said Oswald.
Summit organizers said the event is pertinent for a number of reasons. "With the Florida bond issue likely coming up next November, the topic is timely," said Oswald. "As part of the bond, they are planning on including pedestrian crossways and looking at multi-modal transportation use, which is something we on the task force really support."
Kendra Holmes, coordinator of the recently formed Safe Roads Coalition and fellow task force member, said the topic of bicycle accessibility and safety is also timely given skyrocketing fuel costs and concerns over the environment. "By being more bicycle friendly, it creates a healthier community by reducing pollution from cars, reducing our reliance on gas and oil, and making for healthier people."
However, she noted that the purpose of the summit is not just to look at ways to improve the cycling experience but to improve the dynamic among all modes of transportation. "With $4 gallons of gas, we need to make sure everyone can get around, no matter how they do it," she said. "That means cyclists being courteous, observing the rules of the road and realizing they can't ride five abreast, for example. It definitely goes both ways, and we understand that."
In addition to making the summit an annual event, organizers said they hope to leave the table with firm plans on how to accomplish their objectives. "We want to look at the community's infrastructure and see where we're wanting and try to fix it," said Holmes, "especially if we're touting ourselves as a tourist destination and a healthy community – we need to follow through on that."