Approaching non-attainment
Deteriorating local air quality expected to trigger EPA action

SideStory: The best of the worst: San Juan County earns dubious pollution distinction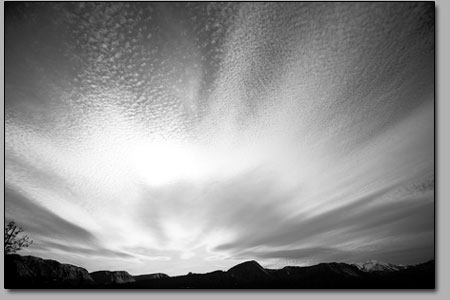 An unusual cloud formation blows in over Durango recently. There is more to the local air than meets the eye, according to recent monitoring in the region. An ozone monitor near Navajo Reservoir is currently making failing grades, and La Plata County is one the verge of exceeding new ozone standards. The violation at Navajo is expected to trigger Environmental Protection Agency action./Photo by David Halterman
by Will Sands
The future is looking murky for the Four Corners region. As the local cloud of pollution grows thicker, particularly in northern New Mexico's San Juan County, newly adopted air quality standards are promising to trigger federal action both there and in La Plata County.
The region's two coal-fired power plants, tens of thousands of oil and gas compressors, motor vehicle exhaust, industrial facilities, and gas and chemical vapors are major contributors to the region's worsening air quality. When these nitrogen oxide emissions combine with volatile organic compounds and cook in the sun, a substance called ozone forms. Ozone, or smog, is particularly toxic for children and those who are active outdoors. When inhaled, ozone triggers respiratory ailments, including reduced lung capacity, bronchitis and aggravation of asthma. Repeated exposure over only a few months can cause permanent lung damage.
Recognizing these health hazards, the Environmental Protection Agency significantly strengthened its air quality standards for ground-level ozone in early March. By signing its most stringent ozone standards ever, the agency took steps to improve public health and protect sensitive trees and plants.
"America's air is cleaner today than it was a generation ago. By meeting the requirement of the Clean Air Act and strengthening the national standard for ozone, EPA is keeping our clean air progress moving forward," said EPA Administrator Stephen L. Johnson during the March 12 signing.
Improving the standard to 75 parts per billion from 80 ppb could have relatively immediate impacts in the Four Corners. Two years ago, the New Mexico Environmental Department installed an ozone monitor at Navajo Reservoir. In that time, the monitor has registered an average ozone reading of 79 parts per billion, well above the new standard
"We would need to see a reading of 64 this year at that station to stay in compliance," explained Mary Uhl, of the department's Air Quality Bureau. "Consequently, we are projecting that San Juan County will go into non-attainment."
Uhl added that ozone is a mysterious pollutant that accounts for the high reading in the relatively remote areas near the reservoir. Nitrogen oxide often migrates before a chemical alteration occurs and ozone forms. And as chance would have it, the Four Corners Power Plant, located just southwest of Farmington, is the nation's largest single emitter of nitrogen oxide.
"Ozone is a regional pollutant," she said. "You can take a low reading in the middle of a source like a big city. But higher readings don't show up until you're farther downwind. It's likely that the high concentrations at Navajo are from other sources of pollution."
Just north of the Navajo Reservoir monitor in Southwest Colorado, air quality is dim but not quite as desperate. Ongoing ozone monitoring by the Forest Service, Southern Ute Indian Tribe and National Park Service has revealed a pollution picture that remains in compliance, but only barely.
Christopher Dann, of the Colorado Air Pollution Control Division, commented, "All of the monitors on the Colorado side of the border are in compliance but also at risk with the new, tighter standards. We've been aware of the emerging air quality issues in the Four Corners for some time."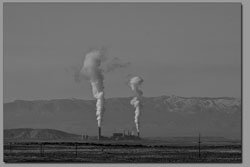 The San Juan Generating Station, near Farmington, cranks out the CO2./Photo by David Halterman
Christopher Dann, of the Colorado Air Pollution Control Division, commented, "All of the monitors on the Colorado side of the border are in compliance but also at risk with the new, tighter standards. We've been aware of the emerging air quality issues in the Four Corners for some time."
Dann added that a variety of factors are at play in the region's deteriorating air quality. "Certainly, the existing power plants and proposal for a new power plant, along with impacts associated with oil and gas development, are a big part of this," he said. "But the region's booming population is also coming into play, and you're seeing more cars and more emissions all the time."
The San Juan Citizens Alliance sees another culprit for the impending non-attainment. Mike Eisenfeld, the alliance's New Mexico coordinator, noted that more than 10,000 new gas wells have been approved in northern New Mexico in recent years. And each of those wells will have a gas compressor without emission controls that runs 24 hours a day.
"We've been very concerned about the amount of natural gas infrastructure that's come online in the last four to five years," he said. "The problem is that you're permitting tens of thousands of new natural gas compressors, and that adds to the existing issues associated with the Four Corners Power Plant and the San Juan Generating Station."
The Denver Metro area is the only region in Colorado that is not in compliance with the EPA's new standard for ground-level ozone. And whether or not La Plata County follows San Juan County into non-attainment, it is still likely to be a part of the solution, according to Dann. "It's the same airshed and the same general area," he said. "The EPA could include a couple counties in Colorado in its effort to bring the region back into compliance."
Returning to compliance will be a major and costly undertaking, according to Uhl. She said that she expects the federal agency to have an action plan in place by 2010 and off-sets and mitigations on all new and existing pollution sources should hit shortly thereafter.
"We're already looking at ways to be proactive," Uhl said. "We know this is coming, so we're doing our best to come up with solutions. The state will have to come up with a plan that shows the EPA the steps that will be taken to bring the area back into compliance."
Dann added that a variety of approaches will have to be taken, depending on how the EPA reads the problem. "Ozone is a very complicated pollutant, and there is no magic bullet for dealing with it," he said. "You have to look at industrial controls; you have to look at different types of fuels; and you have to look at catalytic converters. And then you figure out a plan of attack."
Regulating future point sources of pollution also will be a necessary but tricky proposition. With the Desert Rock Power Plant currently seeking approval to build on the Navajo Nation, it can be regulated only by the Navajo Nation EPA. Likewise, the states and New Mexico and Colorado would have to collaborate on any action plan.
"We have jurisdiction to control the power plant and oil and gas emissions only in New Mexico," Uhl said. "We don't have control over Colorado or the Navajo Nation. We'll have to work with those entities to bring the area into compliance."
For its part, the San Juan Citizens Alliance would like to see more than band-aid approaches. Rather than minor mitigations, Eisenfeld called for a sweeping measure.
"I think the EPA, as a federal agency, and the Navajo Nation EPA have a responsibility to look at the region as a whole," he said. "If we're going to have new sources of pollution coming on board, I think they're going to need to decommission one or both of the region's existing, polluting power plants." •